State 4A/3A/2A track and field: Mt. Spokane boys, Mead girls win 4x400-meter relay championship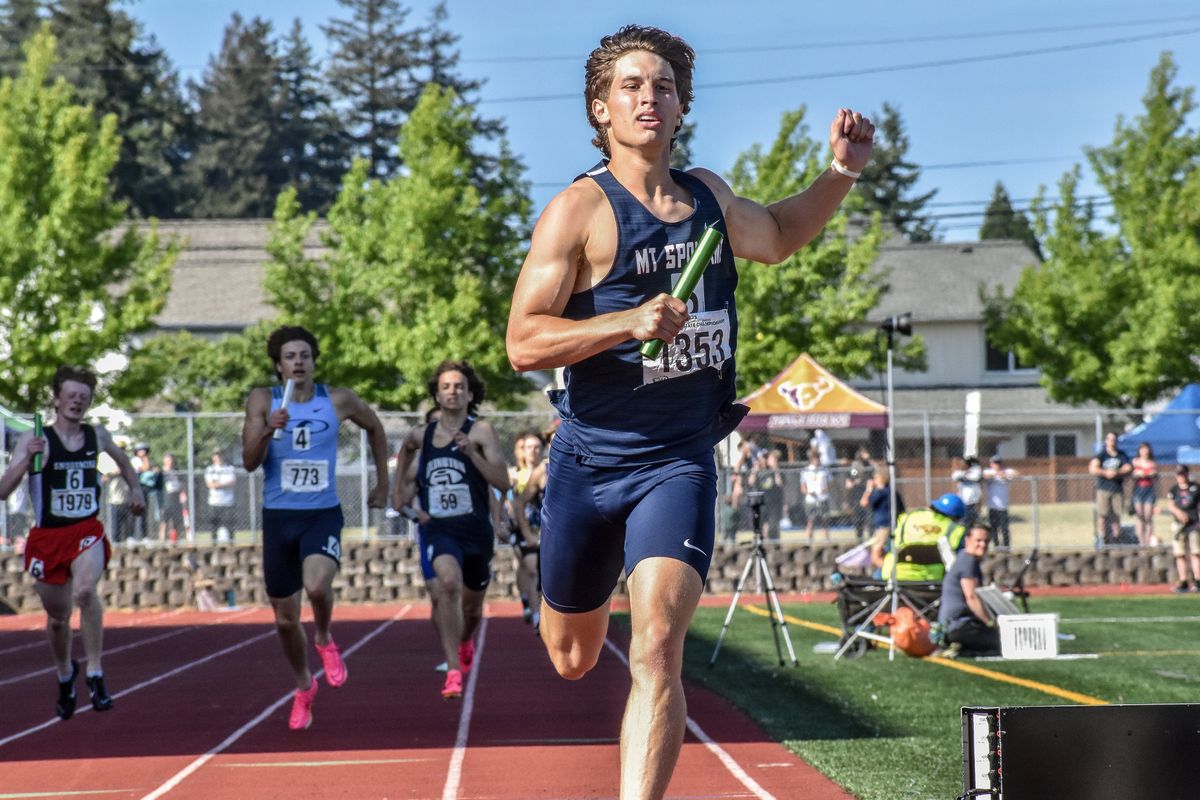 TACOMA – It was destined for Mt. Spokane; it was redemption for Mead.
Both the Mt. Spokane boys and Mead girls 4x400-meter relays knew what was at stake when they took to the start line at Mount Tahoma High School on Saturday for the final race of the 2023 Washington state track and field championships. In the end, they both came out on top in their respective races.
The Mt. Spokane team of Bradley Runge, Jackson Hale, Ben Sonneland and Bode Gardner put together a State 3A meet record in a time of 3 minutes, 18.34 seconds to repeat as state champions. The previous record was held by Lake Stevens in 3:18.74.
"We wanted that record," Runge said. "We won state, and that was cool, but we wanted our names not in the sand, we wanted it in concrete and set in stone. That's what we came here to do."
Runge carried the torch from the start, leading off with a great first leg before handing it off to Hale, who increased the lead on his 400 leg. Hale then handed off to Sonneland to keep the lead out front for Gardner to finish out strong.
Gardner got the baton from Sonneland and never lost sight of first. As the junior charged down the final straightaway, the rest of the pack was nearly 20 meters behind him.
"It's been a journey, man," Sonneland said, who finished second in the 800 earlier in 1:53.34. "I'm very grateful for this team and this opportunity. Even if we didn't win, it's a win-win anyways."
Along with the 4x400 title, the Mt. Spokane boys scored 51.5 points to finish second in the team standings behind Yelm's 59 points. Contributing to scoring on the final day was Gardner (48.04, second) and Hale (51.16, seventh) in the 400; Runge in the 300 hurdles (39.10, fifth); Parker Westermann (9:01.66, sixth) and Ben Smith (9:08.91, eighth) in the 3,200; Jarom Liljenquist in the shot put (50-1 3/4, fifth); and Zachary Travis in the high jump (6-2, eighth).
"One of the most fun (groups) I've had around," head coach Danny Figueria said on his team. "You know, buying into workouts, brewing things together. One of the most rewarding groups I've coached."
While Mt. Spokane celebrated a repeat in boys 4x400, the Mead girls 4x400 team of Nora Cullen, Liv Ferraro, Teryn Gardner and Charlotte Cullen redeemed its second-place finish from last year's state meet, winning the 3A girls in 3:54.45.
"It was amazing," said Charlotte Cullen, who finished second in the 800 in 2:11.39.
"I was trying so hard. I thought there were girls right behind me and I was like, 'I just gotta go.' We've been chasing dreams and setting goals and reaching for greatness."
Nora Cullen got it going out of the blocks for the Panthers with an early lead with the handoff to Ferraro on the second leg. Ferraro then handed to Gardner, who increased the lead more for Charlotte Cullen to anchor the final 400 to victory.
"It was awesome," head coach Dori Whitford said. "They've been working for that for a long time."
After 10 points from the 4x400 team, the Panthers took home the fourth-place trophy with 39 points, getting help from Nora Cullen (58.63, sixth) in the 400 and Raegan Borg (10:55.55, fifth) in the 3,200 on the final day.
4A highlights
Gonzaga Prep's Rhyan Madden finished fifth in the girls 400 in 58.11 and sixth in the 300 hurdles in 47.02. The Bullpups girls 4x200 team placed fifth in 1:43.97.
Lewis and Clark's Evan Bruce took fifth in the boys 3,200 at 9:28.35.
Central Valley's Nicole Bissell finished second in the girls 3,200 at 10:48.83. CV's 4x400 girls team took third in 3:59.14.
LC's Owen Swanson placed fourth in the boys pole vault, clearing 14-6.
3A highlights
Mead's Dominick Corley took home the boys state title in the 200, running 21.30. Cheney's Braxton Hinton was sixth in 22.44.
Mead finished third in the 3A boys 4x100 relay, running a season-best  42.07.
Ridgeline's Preslie Young finished fifth in the girls 200 in 26.26 and led the 4x200 team to sixth in 1:44.8.
University's Kyla Roberts earned eighth in the girls 800 in 2:19.07.
North Central's Cameron Dewey ran 39.34 to finish eighth in the 3A boys 300 hurdles.
Mt. Spokane's Karissa Lindner completed her busy week with a fifth-place run in the 3A girls 100 in 12.58, and she helped the Wildcats finish eighth in the 4x100 relay in 50.26.
Ferris' Ella Brinkman took fourth in the girls triple jump at 35-11 1/2.
Cheney's Catilin Shaffer won the girls 800 wheelchair race in 4:12.54.
University's Dylan Schauble placed third in the boys 200 ambulatory race in 29.17.
North Central's Alaina Gott finished second in the girls 200 ambulatory race in 33.92.
Taylor paces big day for Rogers
The Pirates will remember the 2023 state meet for a long time as their girls 4x100 team and Ellabelle Taylor found their way to the top the podium.
Taylor found a way in the end to edge out girls 100 defending champion Chayse Flick-Williams of Bellingham's for the title in 12.46.
"It's just been so awesome," Taylor said. "Every year I've worked super hard. I've had my coaches tell me I could it and I finally know now it's possible that I can do it."
A half-hour later, Taylor anchored the Pirates' 4x100 team – featuring Akeelis Muhammad, Emily Peabody and Iedaezia Grayson – to a state title in 49.46, outkicking Ridgefield.
Peabody won the 400 in 1:02.09.
The Pirates girls placed ninth as a team.
"It's something that I can't explain," Rogers sprint coach Kahlil Winfrey said, a former Rogers and University of Washington athlete.
"As an athlete, it was just me and a couple of others coming to state. To bring a girls relay team, to win it. We told them this is the standard now. It can only go up."
The same girls team also finished third in the 4x200 in 1:45.73.
2A highlights
Shadle Park's Josie Anselmo and Abi Caprye won state titles – Anselmo the pole vault with a clearance of 11 feet and Caprye the high jump at 5-3. The Highlanders girls placed sixth as a team.
Shadle Park's Liam Newell took fourth in the boys 300 hurdles in 40.94.
West Valley's McKenzie Sargent (second, 5-2) and East Valley's Avy Phillpot (fifth, 4-10) also placed in the high jump.
East Valley's Makenzey Gillespie was fifth in the girls 300 hurdles in 48.73 and Abby Crossley placed seventh in the 3,200 in 11:35.82.
Rogers' Aaron Kinsey (10.89) and Clarkston's Christian Howell (10.98) finished third and sixth, respectively, in the boys 100. Howell was also sixth in the 200 in 22.69.
Rogers' Joshua Reed was sixth in the boys triple jump at 42-2.25. The Rogers boys 4x100 team finished third in 42.68.
Lauren Matthews of West Valley finished third in the girls 200 in 26.17 and took eighth in the 100 in 12.91. Roxanne Fredericksen ran 11:28.56 to finish fifth in the girls 3,200 and Hadassah Duff was eighth in the girls 800 in 2:29.58. West Valley girls finished sixth in the 4x400 in 4:11.94. 
West Valley's Jayden Barta ran 48.32 to finish second in the boys 400 and Rosko Schroder took seventh in boys javelin at 157-7.
Pullman's Timothy Chapman took eighth in the 200 in 22.88 and Liam Fitzgerald finished eighth in the boys 800 in 1:56.71. Jennabee Harris was seventh in girls 300 hurdles in 48.81.
Pullman's boys and girls 4x400 relay teams earned podium finishes – the boys sixth (3:29.55) and the girls seventh (4:13.07). 
---