'She was still a person': Family fears prejudice tainted initial investigation into sex worker's death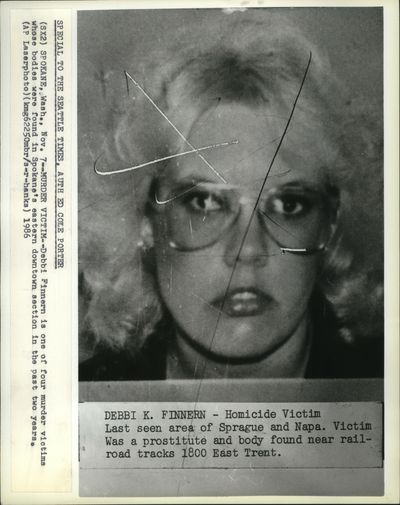 Editor's note: The Spokesman-Review selected four cold cases to highlight along with stories about genetic genealogy. Investigators declined to say whether any of these cases are good candidates for the new technology; however, they did say new tips or information about any of the victims could help move the investigations forward. Tips can be called into Crime Check at (509) 456-2233.
For years, no one cared about what happened to Debbi Finnern, or so it seemed.
Then her brother Steve Finnern learned more about his sister's stabbing in 1984 while she was working as a prostitute in Spokane. The subsequent investigation was lackluster, he said, due to his sister's profession and his own parents' willingness to write her off.
"She still was a person – that had kids," Steve Finnern said. "She was a human being, you know?"
Finnern, 30, had just moved to Spokane when she was killed on June 22, 1984, her brother said.
Steve Finnern, 66, frequently researches her case in hopes of finding who killed her and looking them in the eyes.
"I would like to know what gave this person the right to … take somebody else's life," Steve Finnern said. "Who made you God? Who said you could take this knife and stab my sister in the lungs and the heart and have her die."
Her body was found by railroad security officers in the 1800 block of East Front Street about 1:40 a.m., according to a Spokane Daily Chronicle story at the time.
Investigators believe she was dead less than an hour before she was found. Police had little to go on, with no weapon or suspects in the early days of the investigation.
An autopsy showed Finnern had sex shortly before her death. Finnern was stabbed six times in the torso, including twice in the back.
Family ties
As children, Debbi and Steve Finnern, along with their younger brother, were put up for adoption after their biological parents' difficult divorce.
Debbi and Steve were adopted together by a couple in Omaha, Nebraska, while their younger brother was adopted by another family and moved to Texas.
"Debbi was a pretty smart girl," Steve Finnern said of their childhood.
She was a cheerleader with good grades and a job that allowed her to buy her own car, Steve Finnern recalled. Then toward the end of high school, she got pregnant.
"That was a pretty traumatic thing for my parents, to have a pregnant girl at home that wasn't married," Steve Finnern said.
Her parents forced her to sign over custody to them, and they raised her daughter as their own child, Steve Finnern said.
Eventually, Debbi moved out and married. She had two more children, both boys. Steve and Debbi spent time together with their spouses and kids, and things were good. Then Debbi got divorced.
She gave up custody of her sons and started doing sex work. Her parents disowned her, Steve Finnern said.
"To me, that was not the right thing to do," Steve Finnern said. "When someone has that kind of problem, you don't push them away; you pull them closer."
The siblings lost touch, but eventually, Steve Finnern heard she had moved to Washington, which puzzled him. He believes someone coaxed or lured her out West, maybe a pimp.
She had only been in the area for a few months when she was killed, her brother said. His parents told him what had happened but quickly moved on, choosing not to have his sister's body sent back to Nebraska for burial.
His parents barely followed up with investigators, something that always bothered Steve Finnern, he said. After their deaths a few years ago, Steve Finnern called Spokane Police, encouraging the department to review the case.
Now he calls the detective assigned to the case at least once a year.
Little information
The same day Finnern's body was discovered, a torso was pulled out of the Spokane River. Last month, the body was identified as Ruth Belle Waymire through genetic genealogy.
Two days after her death, investigators released photos of Finnern and asked for tips. The next year, 12-year-old Marsi Belecz was found stabbed to death. Investigators said there were similarities between the two cases.
Belecz's killing also went cold but was eventually solved in March 2020 through genetic genealogy. Police say Clayton Carl Giese, a Montana man who was 22 at the time, killed Belecz. By the time DNA connected Giese to the case, he had died.
It's unclear whether Giese could be linked to Finnern's killing or whether the Waymire case could also be connected.
Over the years, Finnern's case was mentioned in connection to other unsolved killings of Spokane sex workers, but few new clues emerged.
Steve Finnern believes the initial investigation in 1984 was sloppy. Detectives never called the Omaha Police Department or asked about his sister's associates there, Steve Finnern said.
That bothers him, because he thinks his sister was killed by someone she knew.
"She was street smart," Steve Finnern said.
In recent years, Steve Finnern has reconnected with his nephew, one of Debbi's sons. The nephew, who was adopted after Debbi released custody, used genetic genealogy to connect with his family tree. He, too, wants to find out who killed his biological mother.
With Steve Finnern's parents and siblings dead, his relationship with his nephew is one he treasures. The pair frequently go fishing together.
Both hope that one day, they'll know what happened to Debbi. Every time an Inland Northwest case is solved by genetic genealogy, they get a little boost.
"I just get this little flash of hope that just keeps pulling you," Steve Finnern said.
"We're going to find who did this, and we're going to be able to face him if he's still alive," he tells his nephew. "If you keep praying, it will happen eventually."
---