Washington State expecting Idaho transfer Beyonce Bea to help Cougars 'take that next step'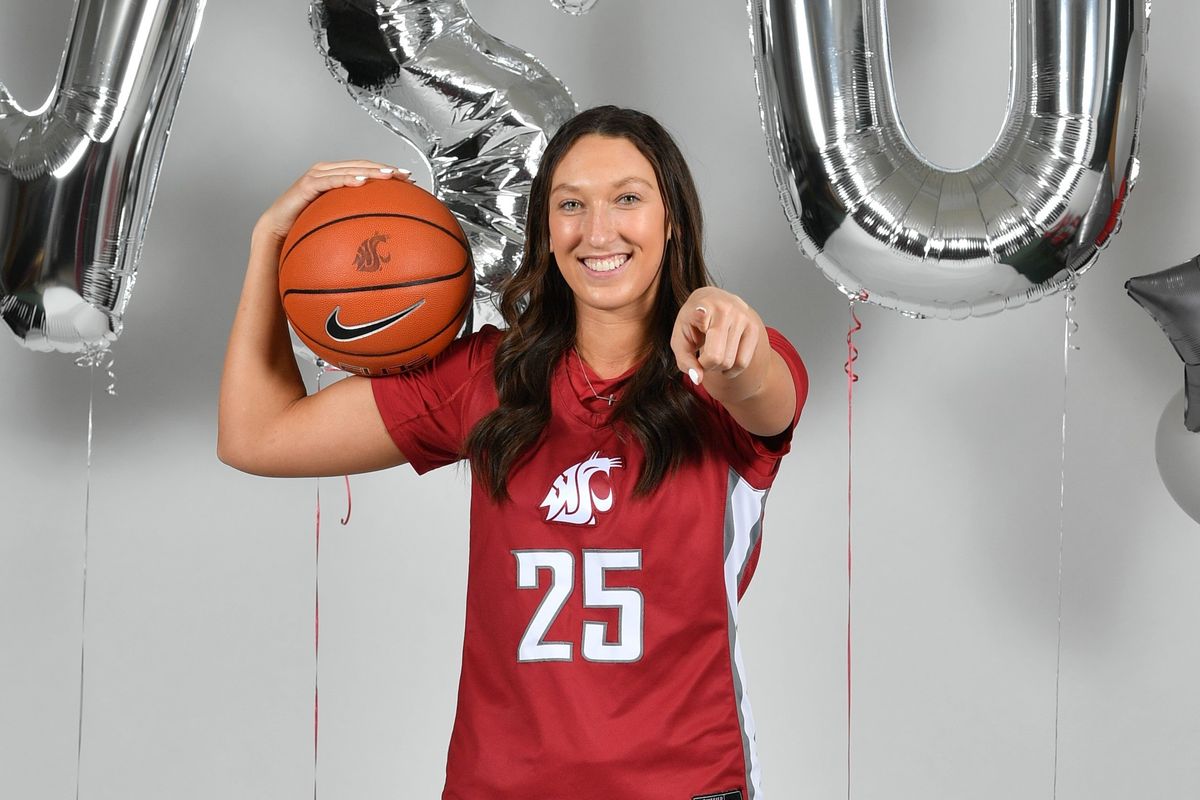 PULLMAN – Coming off its best season , the Washington State women's basketball program went searching for a recruit who could fill a starting role right away and help the team build upon its historic campaign.
The Cougars didn't need to look far.
Earlier this month, WSU landed one of the top players in the transfer portal, signing former Idaho star Beyonce Bea.
Last year, the Cougars claimed their first Pac-12 Tournament championship and made their third consecutive appearance at the NCAA Tournament. They bowed out in the first round for the third straight year.
A grad transfer forward, Bea bolsters WSU's aspirations in 2023-24 – defending its Pac-12 crown and making a deep run in the NCAA tourney.
"They were looking for someone with experience who could step in and help the team take that next step," Bea said recently on a Zoom call with The Spokesman-Review.
Bea entered the transfer portal in mid-April, not long after the Vandals parted ways with longtime coach Jon Newlee. Bea received several offers from high-major suitors, including TCU and Utah, but a few factors made WSU the ideal destination – the program's reputation is rising steadily; the school is close to home; and there was an opportunity for Bea to start immediately.
WSU has become a Pac-12 contender under coach Kamie Ethridge. The Cougars didn't have much history of success before she showed up – they had qualified for the NCAA tourney just once, in 1991. But Ethridge quickly took the program to an unprecedented level.
"The team has just gotten better and better every year under (Ethridge)," Bea said. "They just won a Pac-12 Tournament championship, which is exciting. They have a really solid culture and are a really good defensive team. Those are great things to have when looking for a new team."
The Cougars lost one starter to graduation after the 2022-23 season: forward Ula Motuga. The 6-foot-1 Bea will replace Motuga in the starting lineup.
"They had a position open – that '4' position, where I play," Bea said. "They were looking for a player to fill Ula's spot. It seemed like a great opportunity. With one year, you want to go somewhere and have an impact."
As a bonus, Bea will play her final collegiate season in her home state, and she won't have to uproot her life. The Washougal native has resided in Moscow for the past four years. Bea won't move out of her apartment, which she shares with her younger sister – Skylar Bea, a junior forward for Idaho.
"I get to play in front of family and friends, and I get to stay where I've been," said Beyonce Bea, who led Washougal High to a State 2A title as a senior in 2019.
Bea leaves the program as one of the greatest players in Vandals history.
With 1,938 career points, Bea is the program's No. 2 all-time scorer.
A four-year starter for the Vandals, Bea was a unanimous selection for the All-Big Sky first team in each of the past three seasons.
She finished her Idaho career with per-game averages of 16.7 points, 7.6 rebounds, 2.1 assists and 1.03 blocks over 116 appearances.
"Ever since my freshman year, I had goals, but seeing myself meet those goals and seeing what I was able to do at the college level, it was a little surprising, for sure," Bea said. "Looking back on my career, it's something that I'm super grateful for, and it's been an awesome experience."
Bea was at her best last season. She averaged 22.8 points per game – sixth nationally and first in the Big Sky – and placed third in the conference with 8.4 rebounds per game. Bea shot a career-best 49.1% from the field on a career-high 503 field-goal attempts. She ranked in the top 15 nationally in five offensive categories.
Bea is the No. 6 active scorer and No. 10 rebounder in the NCAA. She was the second-most productive scorer of all players in the transfer portal, behind DePaul's Aneesah Morrow (25.7 ppg).
"Beyonce's ability to score is impressive," Ethridge said, quoted in a WSU release. "She can shoot the 3, has a tremendous high-post game, and can score and defend with her back to the basket.
"Her versatility, fundamentals and work ethic are outstanding. Beyonce is more than ready to help our team reach new heights. She will play the 'stretch four' position for our 23-24 squad and I am confident in her ability to impact winning."
Bea said she's a well-rounded player who will add versatility to WSU's frontcourt.
"At Idaho, I was able to play any position at any time," she said. "I'm someone who can play guard or forward, depending on the matchups. That's what I bring – someone who can step in and play around whoever is on the court, and fill whatever needs to be filled."
She's a strong rebounder who can defend multiple positions. Bea is efficient in the post while backing down defenders or driving to the basket. She has hit 73 of 260 career 3-point attempts .
Asked about individual goals next season, Bea said she wants to "improve my 3-point percentage and stretch out the defense a little more."
Bea will join her new teammates for offseason workouts in mid-June. She'll pair with senior center Bella Murekatete, an all-conference honorable mention , to form a solid WSU frontcourt. The Cougars also return one of the nation's elite players in senior guard Charlisse Leger-Walker, a three-time All-Pac-12 selection.
"(Leger-Walker) has always been a really talented player who is fun to watch, and I'm excited to play alongside her," Bea said. "It's been great getting to know them.
"Playing at Idaho for the last few years and being next door to them, I've kind of kept track of how they've done and I've gotten to play against them a couple of times."
Bea fared well this season when the Vandals faced Pac-12 competition. She scored 25 points in a loss to Utah, the eventual Pac-12 regular-season champion, and 19 points in a loss to California.
"It's similar to the high school-to-college (jump)," Bea said about the transition from the Big Sky to the Pac-12. "You have to adjust to another level of speed and how big and fast and strong everyone is. At this level, everyone on the court is a really solid player. You don't have players that you can maybe sag off of defensively. There's just a ton of great players in this conference."
The Cougars hope they have found the Pac-12's next star.
WSU set a program record with 23 wins last season and finished seventh in the conference before sweeping through the Pac-12 Tournament in Las Vegas. The fifth-seeded Cougars lost to No. 12 seed Florida Gulf Coast in the first round of the NCAA tourney in Villanova, Pennsylvania. WSU is looking to make another jump.
"(Winning the Pac-12) is definitely a goal we all have," Bea said. "Also, improving in the regular season and where we placed there. And in the NCAA Tournament, making it further than that first round and going for a deep tourney run will be one of our biggest goals, for sure."
---