College basketball 2023-24: Eastern Washington men lose MVP, return solid core for Big Sky title defense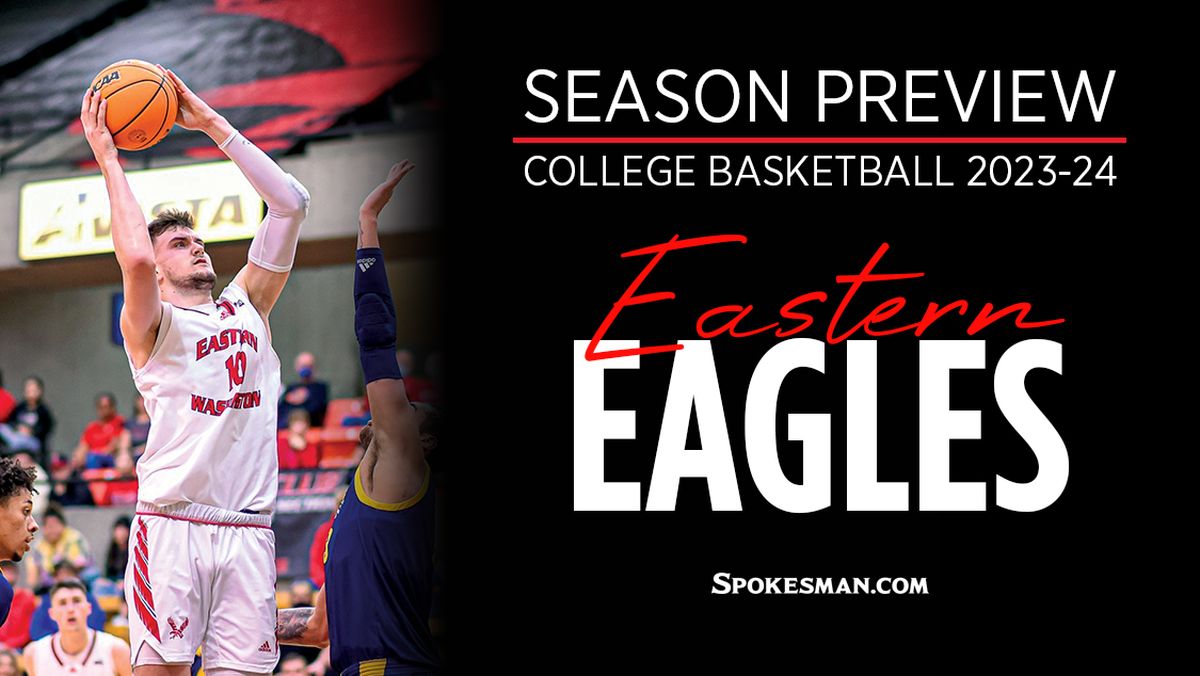 It is true that replacing its best two players from last season is not going to be easy for Eastern Washington's men's basketball team.
But as head coach David Riley pointed out, it's something the Eagles have made a habit of, considering five of the last seven Big Sky MVPs have come from Eastern Washington.
Whether they have a player of the caliber of Steele Venters or Angelo Allegri on this year's roster remains to be seen. But certainly the Eagles – picked by media and coaches to finish among the league's top three teams – believe in their potential to win the Big Sky regular season title for the second year in a row.
"We're not going to be as good of a shooting team this year," Riley said. "When you lose the two best shooters in the conference, it's going to take a drop. We're going to have to find strengths in other places, and I think this team is full of them. We just have to figure out what our identity is and play off of that."
At the core of their identity are six returners, including a quartet of juniors in Ethan Price – a preseason all-Big Sky pick – and Cedric Coward, Dane Erikstrup and Casey Jones. Price and Jones were regular starters on last year's team that finished 23-11 overall, including a victory in the NIT over Washington State.
Joining them are senior Ellis Magnuson, who has been with the Eagles since 2019, and redshirt freshman LeJuan Watts, a 6-foot-6 forward who is trying to push his way into the rotation.
"LeJuan can do a little bit of everything. He's come on really strong," Riley said. "He's played a lot of basketball. He played in every open gym possible in Spokane this summer. (With) his energy and versatility, he's making my job interesting with all the guys who can play in our front court."
He will be joined by a trio of transfers and a handful of true freshmen who are vying for playing time.
The Eagles jump-started their process this summer with a two-week trip to Europe during which they played a few exhibition games and saw the sights in England and Spain. Price said that helped players jell.
"I think that European tour was really important for us, to spend that time together," Price said.
Eastern Washington will spend plenty of its early season schedule together on the road. Similar to last year, the Eagles have stacked their nonconference schedule with matchups against Power 5 schools.
They open at Utah on Nov. 6, followed by games at Mississippi, Cincinnati and Stanford. After Thanksgiving they will play at Washington State, at USC and at Air Force. Later in December are trips to Cal Poly and Washington.
"I feel like if you don't get excited to play games like that, I don't know what games you can get excited for," Price said. "We know its not going to be a walk in the park, but that's what we want. We don't want to get to January and be 10-0 and have a really easy nonconference (schedule) and feel like we're on top of the world and then have what happened last year."
Price is referring to the Eagles' loss to Northern Arizona in the Big Sky Tournament quarterfinals that ended their hopes of playing in the NCAA Tournament.
"It was a tough way to go (out), but the lesson (is) you've got to go through a little heartbreak," Riley said. "There's an origin story to everything. If that's what it takes to give us a little edge going into the season, then so be it."
---