College basketball 2023-24: First-year coach Alex Pribble focuses his Idaho men's team on 'belief building'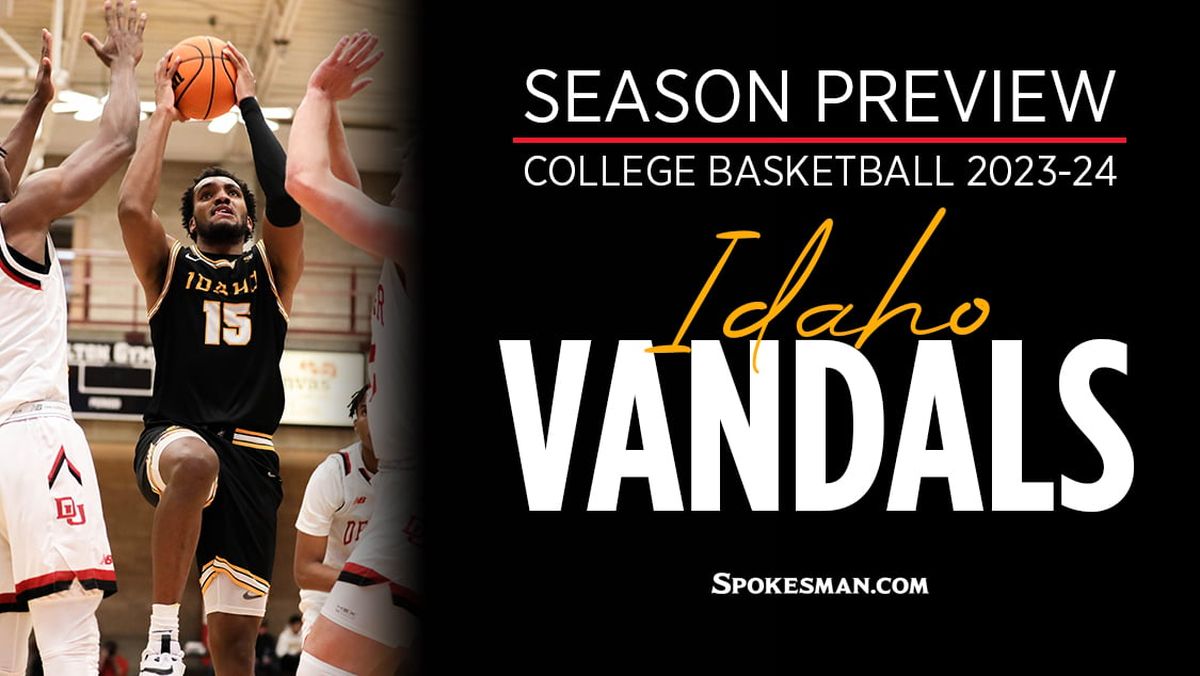 MOSCOW, Idaho – Led by first-year coach Alex Pribble, the Idaho men's basketball team has 12 new players on its roster.
The Vandals are starting fresh, and Pribble is seeking to create a renewed sense of enthusiasm for a program that hasn't had much to celebrate in recent history.
"The biggest hurdle is the perception of where Idaho has been the past few years," said Pribble, who inherits a team that went 10-22 last year and compiled a 33-116 record over the past five seasons. "Coaching basketball, I call it a belief-building business. We believe that we can do something special, and we'll have to prove that to people around us, prove that to the fans that we believe strongly in what we're capable of."
Pribble, the former associate head coach at Seattle U, was hired in March to replace Zac Claus, who was fired in February after four seasons. Pribble rebuilt Idaho's roster, signing several promising transfer players.
The Vandals wiped the slate clean, and perhaps that's a good thing. Pribble said his new team is motivated and eager to change perceptions and boost belief among the fan base.
"We know where we've been picked and we know where this program has been, so we have big goals," Pribble said. "We feel like we're building a strong foundation, a framework to be successful.
"We started somewhat fresh, but we have really good class balance, good positional balance, and we feel like that allows us to build for the future."
The Vandals were picked to finish last in the Big Sky Conference in both the coaches' and media preseason polls. Those predictions aren't surprising, considering Idaho's lack of success in recent years.
But there's some reason for Vandal fans to feel optimistic. It's a new-look team, so it's hard to guess about Idaho's potential. And Idaho's haul of newcomers includes some intriguing pieces.
Division II transfer guards D'Angelo Minnis (Western Washington) and Quinn Denker (Cal State-San Marcos) were both productive scorers and all-conference standouts at their previous stops.
"Those two are experienced and know how to win," Pribble said.
Transfer forwards Julius Mims (North Idaho College) and Kyson Rose (Walla Walla CC) are decorated juco players who were double-double machines last year.
"I'd expect them to be high-impact players right off the bat," Pribble added.
The two JC recruits will join Idaho's top returner to form a skilled frontcourt. Terren Frank is back after suffering a season-ending injury early in the 2022-23 campaign. The former Vanderbilt player put up solid numbers through six starts last year.
Pribble considers depth to be one of his team's strengths. He expects to rotate eight or nine players.
"A lot of players are going to contribute and a lot of players are going to get better throughout the year," he said.
The Vandals will have a longer, more athletic team than in years past, which should help with their defense – the main area of concern in recent seasons.
"The big change, in terms of where Idaho's been and needs to go, is going to happen on the defensive end," Pribble said. "We need to dig in defensively and show that we can get stops."
On offense, the Vandals will operate a "pace and space" system. They'll run the floor quickly and aggressively, and will have at least four 3-point threats on the court at all times.
"We have a lot of versatile, skilled players," Pribble said. "By having a bunch of skilled players, we'll create great spacing and we can get up and down, and play an entertaining style of basketball."
The Vandals will debut their remade team at 8 p.m. Nov. 6 in the Battle of the Palouse game at Washington State.
---