College basketball 2023-24: Kyle Smith, Washington State men attempt to mesh large group of newcomers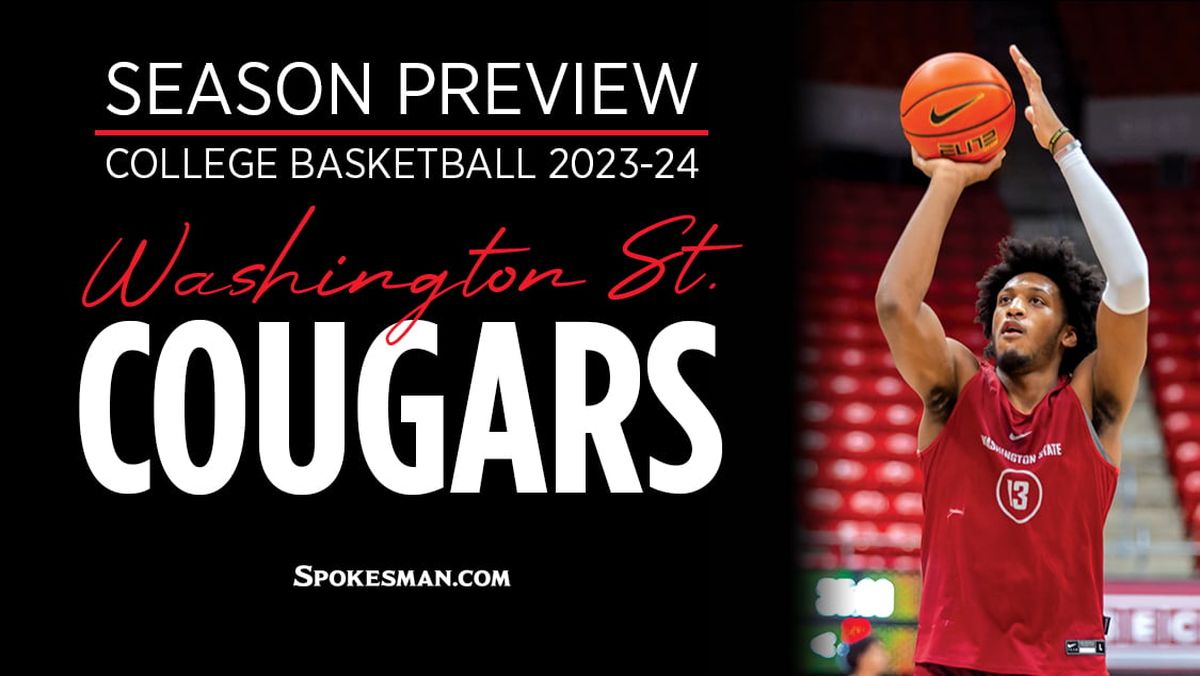 Look close enough and on Washington State's men's hoops team, there remain some similarities from a year ago. The Cougars return one starter, one key reserve. Their head coach is the same. They have a few of the same bench pieces.
"Everything else," WSU coach Kyle Smith said, "is new."
That's the challenge facing Smith and the Cougs this winter: How do they mesh a whopping nine newcomers with one returning starter? How do they get the most out of Andrej Jakimovski, their returning starter, and how much can he pull the new guys in the right direction?
The good news for Washington State is the club has some time to figure that out, which is what Smith has spent the last several weeks trying to do. The Cougs open the season Nov. 6 at home against Idaho, reinstating the Palouse rivalry after a one-year hiatus, before hosting six of their next seven games – including one against Eastern Washington, the team that ended their season in the NIT last year.
Before all that, though, Washington State has a lot to figure out. Who will the Cougs start? How many forwards will they play with? What will their guard rotation look like?
Here's one thing WSU might have nailed down: It'll play big. The Cougs will roll out posts like Oscar Cluff, a 6-foot-11 junior-college transfer. Isaac Jones, a 6-foot-9 transfer from Idaho. Even 6-foot-11 Rueben Chinyelo, a true freshman from Nigeria.
The compelling part is that the Cougs might play all three at once sometimes.
"They're guys that really can play inside-out," Smith said. "It's OK if opponents are watching us. There's no hiding it. They're big."
That's a stark contrast from Washington State teams of recent seasons, clubs that included guys like Mo Gueye, Dishon Jackson, DJ Rodman and Carlos Rosario, athletic bigs that stretched the floor and posed lob threats.
Instead, these Cougs have dialed it back to an earlier era of basketball, the one where posts turned their backs to the basket and went to work. If you're a fan of 90s basketball, this might be the Washington State team for you.
"We're gonna be a load to handle rebounding-wise," said Joseph Yesufu, a fifth-year senior who transferred from Kansas. "We're just gonna keep feeding the posts, because they're dominant, like they showed in practice. They show that every day. So that's gonna be huge for us."
"I think we're gonna be really aggressive on the glass," Jakimovski said. "Just put the ball inside."
Then there's the question of Washington State's guard rotation, which gets the challenge of sifting through several names: Yesufu, the 6-foot point guard who spent two years at Kansas; Jabe Mullins, a senior who started eight games for WSU last year; Isaiah Watts, a true freshman from Seattle; and finally Myles Rice, a redshirt freshman who spent last year recovering from Hodgkin's Lymphoma.
"Just want him to get minutes and get consistent, get comfortable," Smith said of Rice. "There's days where he is absolutely the best player on the floor, and there's other days where he looks like a guy who hasn't played for two years. He's had a really good week. Just staying present, stay in the moment, don't get too high or too low on himself."
If there's anything for certain about this WSU roster, it has to do with Jakimovski, a 6-foot-8 wing. He's back for his fourth season with the Cougs. He started all but two games last season. He missed the first 10 games of last season with an injury – talk about a theme of last season's Washington State team – but now he's back healthy.
He likes what he's done to his shot. When Smith considered who he would choose to take the last shot in a close game, he tapped Jakimovski. He shot 35% on triples last year, but he feels poised to raise that, like a guy who's ready to leverage his length with his jumper.
Maybe the more important task for Jakimovski, though, has less to do with basketball and more to do with his personality. He'll be the first to tell you he's a quieter guy, someone who feels more comfortable letting others do the leading.
Now he's that guy. The Cougs might go as far as he takes them.
"I think I do a good job just being the leader of the team," Jakimovski said. "Just trying to be vocal and trying to teach the new new guys our system, our offensive plays and everything."
---