College basketball 2023-24: Whitworth men lose three starters, but bring plenty of experience into season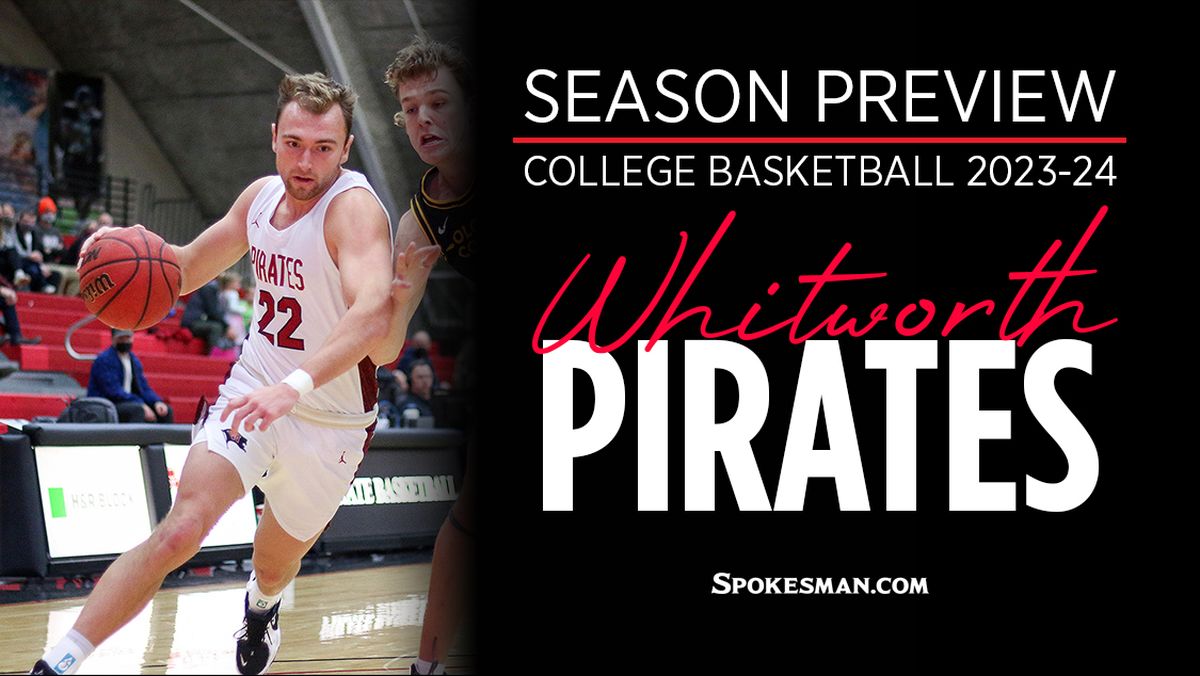 Change was expected this offseason for Whitworth as the Pirates lost three starters from their 2022-23 squad who accounted for 36 points a game.
But with the previous seniors out of the picture, it will be on the next batch of players to make a name for themselves and for the old to integrate with the new.
"I'm super excited about this team," Whitworth head coach Damion Jablonski said.
"Honestly, even though we lost some great seniors, the overall experience level of this team is probably up from last year. We had a big group of freshmen that are sophomores now, we added two transfers and got another player back who was out last year with injuries. I'm just excited about how connected and unselfish they play."
The unselfishness will be important for the Pirates, who are missing a primary scorer.
That doesn't mean they'll struggle to put points on the board.
"Our ability to shoot the basketball is a lot better than it was last year, and the unselfishness leads to some really great basketball," Jablonski said. "We'll obviously have to learn as we go along and play different teams, will have to get better defensively and find our way rebounding, but I think that this team is very committed and plays hard."
Two players who have expectations of providing consistent scoring are Jake Holtz and JoJo Anderson.
Holtz, a senior from Hawaii, was the sixth man for the Pirates a season ago and averaged over 12 points a game off the bench.
"He's a pretty potent scorer, so he's coming into his own a lot with just his own maturity and is poised to have a breakout year," Jablonski said.
Anderson will look to run the offense as the team's central point guard.
Having Anderson back in the fold allows the Pirates to operate with similar offensive sets. The balanced scoring attack will give Jablonski plenty of options.
"They have a great chemistry, so I think there might be more scoring by committee," Jablonski said. "But guys like Jacob and JoJo are more than capable of shouldering the load when necessary."
The rotations are still in flux as the team has played exhibition matchups, but the results have been solid.
Craig Mueller, a transfer from Blue Mountain Community College, is expected to find minutes.
The junior from Tekoa, Washington, is a big, strong-as-an-ox kid, according to Jablonski.
"He adds another dimension to our frontcourt," he said.
A player who has been a constant for five seasons for Jablonski and the Pirates is Jerry Twenge, a 2019 Mt. Spokane graduate.
"Just super reliable, he's a really great shooter and he has a lot of versatility," Jablonski said. "Sometimes he would play the four and sometimes he would be the point guard."
The schedule features a unique amount of home games, especially early on against title hopefuls.
"We have an unprecedented seven nonconference home games," Jablonski said. "We actually have nine home games, that includes our two conference early games, this calendar year."
It includes massive opportunities for big wins against Wisconsin-Oshkosh, which won the national title in 2019, and Elmhurst, which was the national runner-up in 2022.
This schedule is made by design as Jablonski hopes to attract more top-end talent and prepare his team for the rigors of the NWC.
"We'll probably need to prove ourselves to work ourselves back into like a top-25 spot," he said.
The conference will be wide open this season, more so than any other year Jablonski has seen.
"There are many teams that, on paper, would be the top half of the conference," he said.
---