Two for two: Whitworth teammates make albatross on same hole 30 minutes apart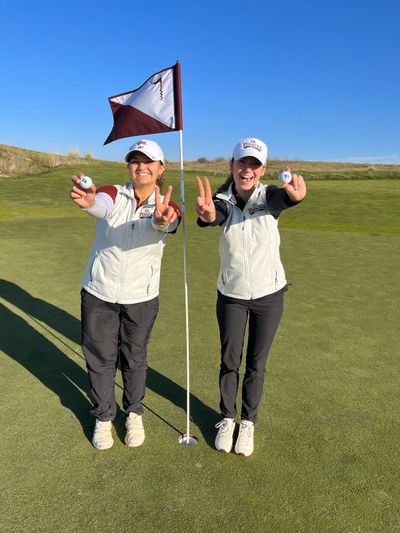 Whitworth golf teammates Brianna McNelly and Gabby Martinez didn't come up with aces recently at Wine Valley Golf Club in Walla Walla. They went one better.
Martinez was the first to make an albatross, jotting down a '2' on the par-5 seventh hole during the final round of the Confluence Classic on Oct. 23. McNelly, playing three groups behind, came along about 30 minutes later and pulled off the same feat on No. 7 to provide a memorable conclusion to the team's final fall tournament.
The odds are astronomical for one player to make an "albatross" – often listed at 6 million to 1 while hole-in-one odds are 12,500 to 1 – let alone for two teammates accomplishing it on the same hole on the same day in a tournament. According to Golfweek, two teammates on the Holy Cross men's team made albatrosses playing in the same group on the same hole during a qualifying round for a tournament last year.
"As I was walking back to turn in my scorecard, Brianna was finishing her last hole," said Martinez, a sophomore from Beaverton, Oregon. "I walked up and she was like, 'Hey, I heard you had a double eagle on No. 7,' and I said yes. She said, 'Guess what, I did, too! We're twins.'
"I was like, 'Oh my God, that's so crazy.' To myself, I was thinking, 'How is it possible we both got double eagles on the same hole?' "
Head coach David Fern was watching players on the back nine and monitoring live scoring on his phone when Martinez's '2' appeared on No. 7.
"I'm going, 'No way, that's incredible,' but I've seen scoring errors in the past so I was really hoping it was right," the sixth-year coach said.
Another 15 minutes went by and Fern overheard people talking about a double eagle, prompting him to scan scores on his phone.
"And it was Brianna making a double eagle," Fern said. "That's when I really went, 'Is this for real?' and I hopped in the cart to go find out."
Both players described their shots on the 490-yard par 5 as "pure" and following the line suggested by assistant coach Dave Hall. Their approach shots were from similar spots in the fairway, just 10 yards apart.
McNelly pounded her drive and had 202 yards to the pin. She launched a 5-wood and Hall, knowing it was a quality shot, took off running to get a better view of the green.
"He was saying, 'Oh, that's looking good, that's looking good,' " said McNelly, a senior from Olympia. "As I was walking up, I told him I'd never had an eagle and he said Gabby just had an albatross on this hole. I walked up and didn't see a ball on the green, so I sprinted toward the hole and it was in. It was really cool."
McNelly has watched numerous eagle putts lip out in her career, including one at a tournament at the Links in Post Falls in mid-October. After her albatross at Wine Valley, she called her dad, Steve, pro at Capitol City Golf Club in Olympia.
"He was watching my online scoring and after the par 5 there was a par 3, so my whole family thought it was a mistake and that I'd just birdied the par 3," McNelly said. "He's had a couple of hole-in-ones and more eagles than he can count. He thought it was pretty cool that his daughter did something he hasn't done yet."
Hall advised Martinez to aim her drive on No. 7 at a power line off in the distance and she executed the shot perfectly.
"I hit it super solid," Martinez said, "and I looked over to him and said, 'Right there?' And he was like, 'Yes.' "
That led to another conversation with Hall offering the proper line for Martinez's 4-iron from 192 yards. Martinez's shot cleared a bunker protecting the right side of the green and her ball traveled a unique path into the cup, similar to what McNelly's ball did a short time later.
"I guess my ball went to the other side of the green and rolled back down the slope," Martinez said. "Everybody was like, 'C'mon, c'mon' and wishing it to go into the hole. I was trying to run up to watch it."
She didn't see it go in but her parents, who made the trip from the Portland area, watched the ball disappear.
"It was really awesome and sweet of them to come," Martinez said. "They keep bringing it up in our conversations."
"Same team, same tournament, same hole, I don't even want to know the odds of that happening," McNelly said. "What's really cool is that we're on the same team."
---