100 years ago in Spokane: The 'father of city planning' predicted a metro population of 300,000 by 1930, and others hoped the Bureau of Reclamation would put its headquarters in the city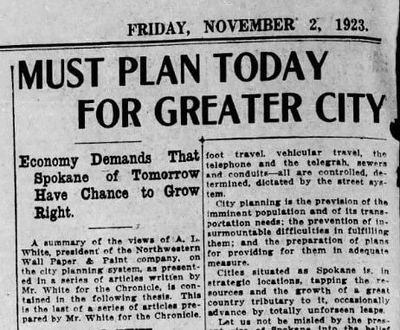 Aubrey Wright, dubbed "The Father of City Planning in Spokane," laid out his ideas for a Spokane metro area of 300,000 people by 1930.
"Let us not be misled by the present size of Spokane that its rate of growth will be retarded," wrote White, one of the architects of Spokane's park system. "Its growth during the decade of 1900 to 1910 was truly remarkable, but it will still be more rapid in the future. … What we have not done in the last five years we will do in the next five years to make Spokane physically fit and structurally ready to make Spokane ready for a population of 150,000, for a population that may be 300,000? Shall we leave to our children an obstructive or constructive base? … Is it not the time for Spokane to move to prevent costly errors?"
He overestimated the rapidity of that growth. The city has yet to reach 300,000 and Spokane County did not reach 300,000 until after 1970. Yet his point was that planning needed to be done before the rapid growth occurred.
White believed that "transportation is the essence of city planning."
"Rapid, frequent and cheap means of communication between home and workshop, one workshop and another, and workshop and home, are indispensable to community efficiency," he wrote. "The chief agency of transportation is the street system. Every other agency depends on it."
Also on this day
(From onthisday.com)
1889: North Dakota becomes 39th state and South Dakota becomes 40th state.
---