Former Mariners slugger Nelson Cruz announces retirement after 19 MLB seasons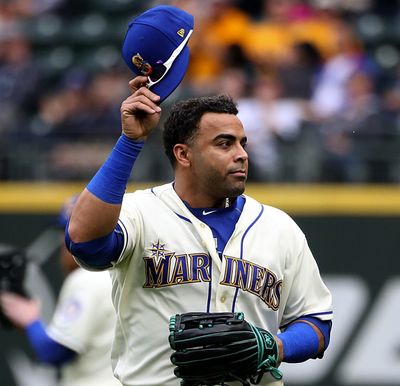 The Mariners knew they were getting a proven power hitter when they signed Nelson Cruz before the 2015 season. But in his four seasons with Seattle, he gave the organization and city so much more than just home runs.
Really any of the eight organizations that Cruz played for during his distinguished 19-year major-league career likely holds similar feelings about the veteran slugger.
On Thursday morning, while appearing on the podcast of former Mariners prospect and All-Star outfielder Adam Jones, Cruz announced that he is retiring from Major League Baseball.
Speaking about playing one last time in LIDOM — the winter professional baseball league in his native Dominican Republic — Cruz said he wanted to give his fans one last chance to see him play.
"So this is the last we're seeing of Nelson Cruz?" Jones asked.
Said Cruz: "I think so, yeah."
Over 19 seasons, Cruz played in 2,055 games, posting a .274/.343/.513 slash line with 372 doubles, 464 homers and 1,325 RBI. What makes the homer total more amazing is that Cruz hit 442 after age 28.
Cruz, 43, was the oldest active player in MLB this past season. He signed a one-year, $1 million contract with the Padres to serve as a part-time designated hitter.
But after years of defying age-related regression, Cruz began to show his age at the plate. He appeared in 49 games, posting a .245/.283/.399 slash line with five doubles, a triple, five homers, 23 RBI, six walks and 46 strikeouts in 152 plate appearances. He was released by San Diego on July 10. He wasn't picked up by another team.
On Dec. 4, 2014, the Mariners, led by then-general manager Jack Zduriencik, were desperate to add another proven hitter to help out Kyle Seager and Robinson Cano in the middle of the batting order. Seattle signed Cruz to a four-year, $58 million contract to be its designated hitter.
While other teams were only willing to offer the 33-year-old Cruz a three-year contract at a similar annual value, largely due to his age and performance-enhancing drug suspension in 2013 after admitting to being a part of the Biogenesis scandal, the Mariners were willing to give him the extra year to convince him to come to Seattle. The decision proved to be worth the investment and his signing went down as the best free-agent contract in team history.
In four seasons in Seattle, Cruz played in 606 games, posting a .284/.362/.546 slash line with 97 doubles, three triples, 163 homers and 414 RBI, making the All-Star team three times and earning two Silver Slugger awards.
A late bloomer who needed three years in the Dominican Summer League and was traded three times in the minor leagues, Cruz didn't make his MLB debut until age 25 (Sept. 17, 2005) with the Brewers. He was traded to the Rangers following the 2005 season. He struggled to produce and bounced back and forth between the Rangers and their Triple-A affiliate. He was designated for assignment before the 2008 season.
After clearing waivers and returning to the Triple-A affiliate in Oklahoma City, Cruz and the late Mike Coolbaugh, who was the hitting coach for OKC, along with Scott Servais, who was the Rangers director of player development, went to work revamping his swing and approach. The next season Cruz hit 33 homers for the Rangers.
---