Gonzaga punishes NAIA Lewis-Clark State in familiar fashion during 96-58 exhibition win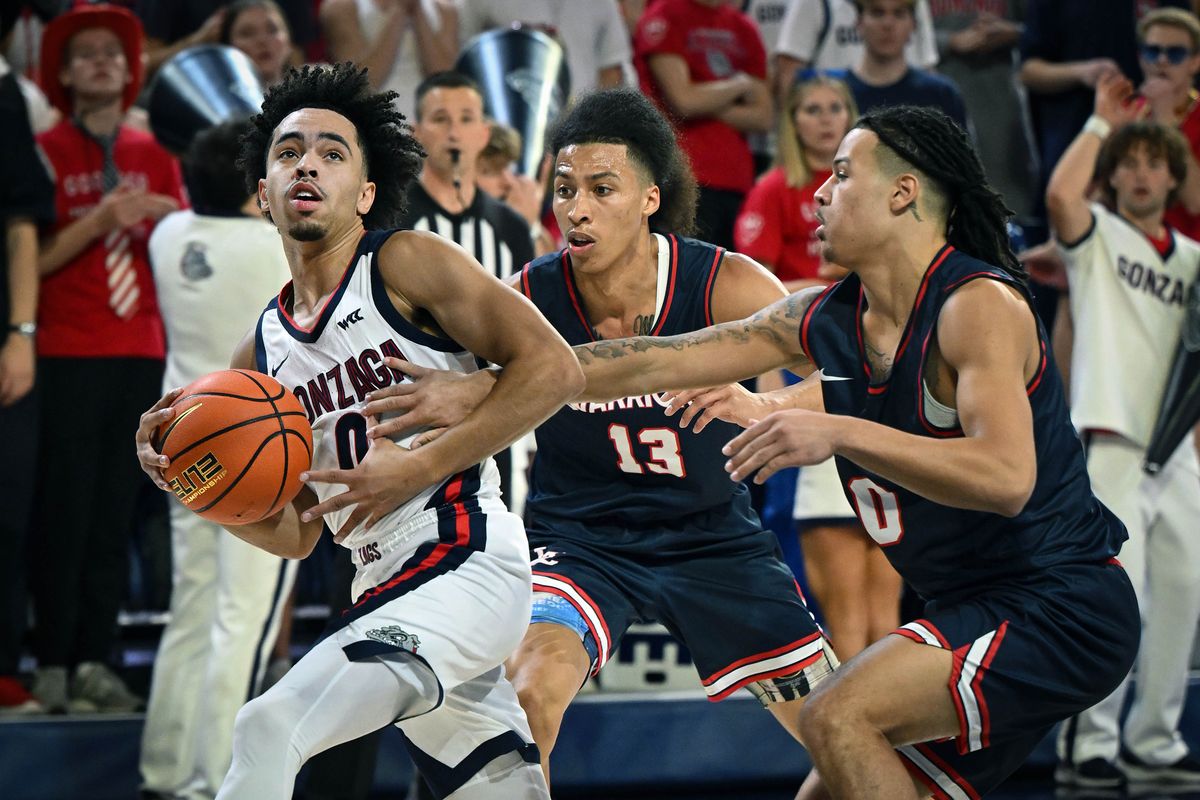 The last time Lewis-Clark State visited Gonzaga, the Warriors had their hands full with an accomplished big man who punished them in the low post, a point guard named Nembhard who picked apart their defense and a young forward wearing No. 34 who turned away a handful of their shots at the rim.
The Warriors are two years removed from that experience, but they encountered many of the same headaches at McCarthey Athletic Center during a 98-56 exhibition loss to 11th-ranked Gonzaga Friday evening.
Graham Ike, not Drew Timme, was the Gonzaga forward puzzling the Warriors with a wide array of interior moves, only stopping when he was finally pulled from the game in the second half after producing a game-high 24 points on 11-of-13 shooting from the field.
Ryan Nembhard, not his older brother Andrew, was the point guard facilitating for the Zags this time around against LCSC. The Creighton transfer dished out nine of his 10 assists in the first half and only turned the ball over once.
And Braden Huff did the "34" jersey a solid, giving the Zags a level of rim protection they haven't since Chet Holmgren wore the number two years ago. Along with his 21 points and nine rebounds, Huff swatted three shots in his 19 minutes on the floor. Holmgren's blocked shot count against LCSC in 2021 was also three.
"Ike, I knew when they signed him was a great pickup, watched him a lot at Wyoming," LCSC coach Austin Johnson said. "Nembhard is awesome. (No.) 34, is that Huff? Huff, you don't have to draw stuff for him, but he's a scorer. Him and Ike are both lefties, which is really unique."
The Bulldogs are operating with different personnel in 2023-23 but also operating in a way that may look familiar for those who watched Gonzaga in recent years.
For one, they should have a hefty advantage in the paint more nights than not. That's something Gonzaga's become accustomed to under Mark Few with the luxury of dominant low-post players like Domantas Sabonis, Brandon Clarke, Filip Petrusev and Timme. Early impressions signal the Bulldogs won't concede much ground in that category this season.
After stuffing a dunk on the first possession of the game, Ike, a former Mountain West Preseason Player of the Year, continued to attack the Warriors where they were most disadvantaged Friday night, hunting for layups, dunks and hook shots seemingly every time he caught the ball down low.
"That's why we brought him in, he can be a really, really efficient player down there," Gonzaga coach Mark Few said. "I think the big thing with him is he's just got to get his wind and obviously, we're going to count on him to play more minutes than he did tonight, but hopefully, we can keep kind of building that thing up and bringing it to 25, 28, 30 minutes.
"Yeah, he's great. He did a nice job defensively for the most part, too, and he's a really, really hard worker."
The Zags had a 64-18 advantage in paint points. Two years ago against the Warriors, GU had a similar 62-28 edge.
"I think the great thing about our bigs is we push each other in practice and we've got a great room of men," Huff said. "… I think the fact we're able to push each other so hard in practice and go against great competition there, it allows us to be effective in games."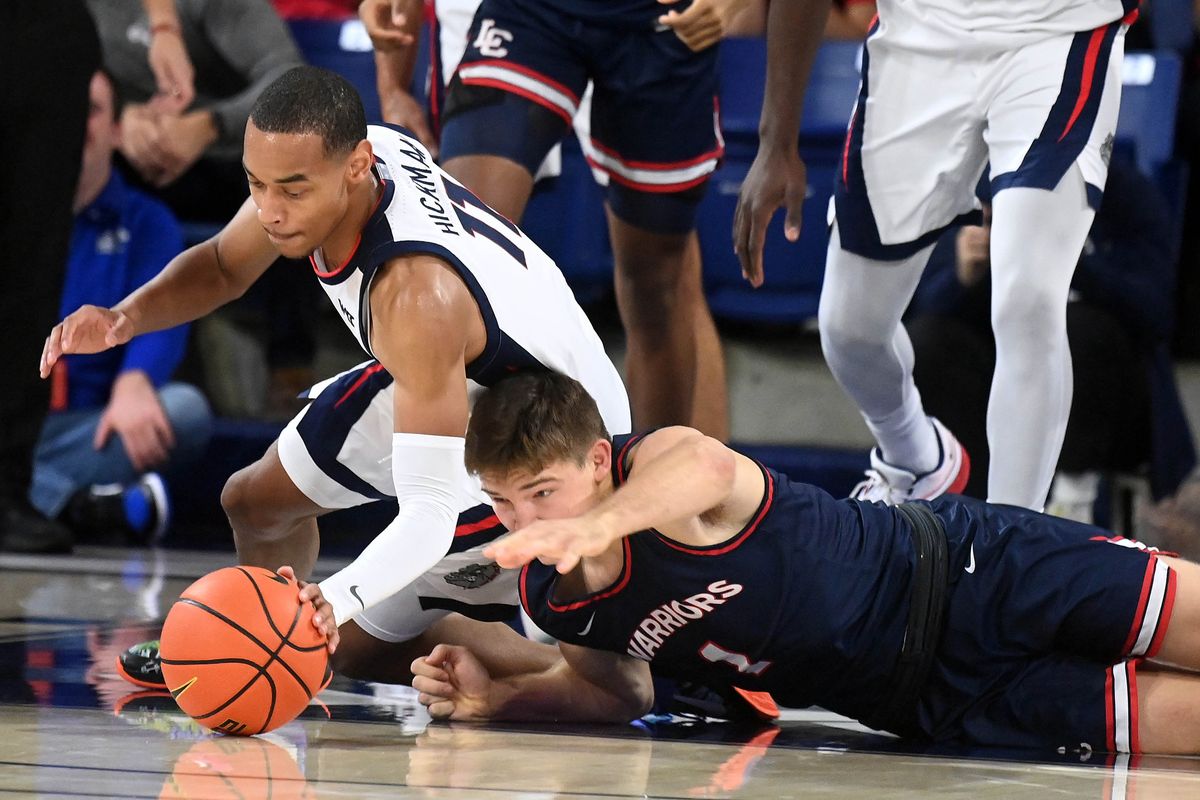 Elite play at the point guard spot can't hurt, either.
Nembhard was considered one of the top prospects available in the transfer portal when he made the decision to continue his career somewhere other than Creighton. Perhaps not surprisingly, Gonzaga's best minutes on Friday were also the ones the 6-foot junior was running the offense.
Nembhard was a game-high plus-29 in his 23 minutes, and he had seven rebounds and three steals to go with his 10 assists.
"He just makes the game so easy," Ike said. "We got here on our visit together and just seeing the kind of player and person he was, that was definitely someone I wanted to be around. He just makes the game so easy, not only for me but for the whole team."
There were other bright spots on the stat sheet from a game where Gonzaga led by as many as 40 points.
GU's Ben Gregg and Nolan Hickman finished in double figures, combining to score 21 points. Gregg, who scored 10 points, also had four rebounds, two steals and two blocked shots. Zags freshman Dusty Stromer played 21 minutes and had eight points, six rebounds, two blocks and one steal, outplaying senior Steele Venters, the Eastern Washington transfer . Venters finished 1 of 4 from the field, 0 of 2 from the 3-point line and scored two points in approximately 18 minutes.
The Zags struggled to make shots from the perimeter, going 5 of 21 on 3-pointers, but made up for it with 25 assists and a solid percentage at the free-throw line (15 of 18, 83.3%).
---