Things to watch: Idaho can't overlook Northern Colorado as it closes in on Big Sky title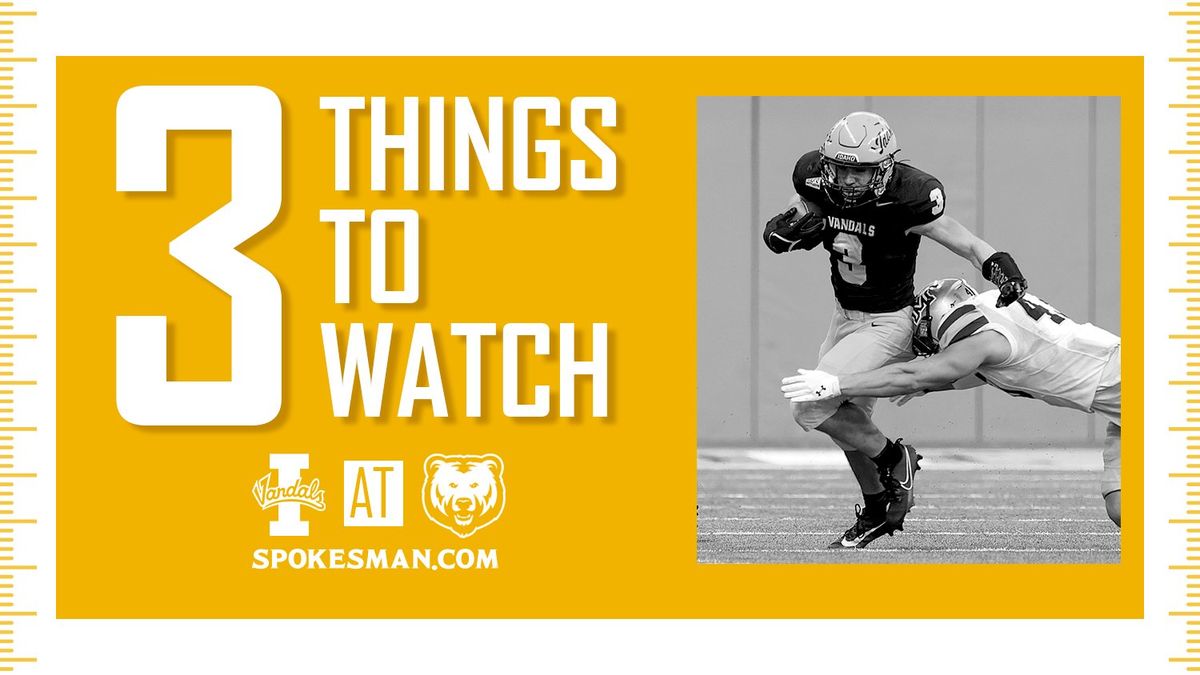 Heading into the final stretch of its season, Idaho's football team is eyeing a Big Sky Conference title.
All the Vandals need to do is win three games against lesser opponents. Up first, a favorable matchup on the road against the team with the worst record in the Big Sky.
No. 3 Idaho (6-2, 4-1 Big Sky) visits Northern Colorado (0-8, 0-5) for a noon kickoff Saturday in Greeley.
The Vandals are coming off one of their most significant home wins in program history – a 24-21 victory over then-No. 2 Montana State. The Bears lost at Montana 40-0 last weekend – Northern Colorado's fifth double-digit loss in its first season under coach Ed Lamb.
Plenty of advantages for visitorsAcross the board, Idaho should have the upper hand against the Bears.
The Vandals rank in the top 30 nationally in total offense, total defense, scoring offense, passing offense, passing defense and rushing offense.
The Bears rank in the bottom 30 nationally in every major stat column, except passing offense (78th nationally at 184.9 yards per game).
Considering the numbers, Idaho will be expected to dominate in every phase of the game. The Vandals' balanced offense should have a major advantage against Northern Colorado's defense, which ranks second to last in the nation in yards allowed (498.4 yards per game).
The Bears' defensive front has struggled to get a push in the passing game and has just 10 sacks this year. Idaho's offensive line is coming off a strong showing against Montana State's formidable front. The Vandals' ground game was hit-and-miss in recent weeks, but star tailback Anthony Woods should have a productive outing against the Bears, who have allowed 460 rushing yards over the past two games.
Idaho quarterback Gevani McCoy, one of the best passers in the FCS, should find plenty of holes in Northern Colorado's secondary, which sits 115th nationally in pass-defense efficiency rating.
The Vandals' defense held Montana State's potent offense – arguably the best offense in the FCS – to its second-worst game of the year. Northern Colorado has some talent at the skill positions, but turnovers have been an issue in the passing game and the Bears' rushing game has failed to produce more than 100 yards in five games – including an 18-yard effort last week against Montana. It'll be difficult for the Bears to find much success against an improving Vandals defense that ranks among the best in the FCS in passing coverage.
Bears not bad at homeNorthern Colorado nearly pulled off an upset in each of its past two games in Greeley – a 28-21 loss to then-No. 13 Weber State on Sept. 30 and a 21-13 defeat against No. 7 Sacramento State on Oct. 14.
The Bears outgained the Wildcats 385-380 and held a 14-point lead at one point, but turnovers doomed Northern Colorado in the late stages of that game. The Bears limited Sacramento State to 334 yards – the Hornets' second-lowest output of the season – but couldn't complete a fourth-quarter rally.
"I think they're a better team than their record would indicate," Idaho coach Jason Eck said. "They caught our attention when they were up 21-7 on Weber.
"They're a little bit of a different team when they're at home."
The Bears' passing defense had two of its best games of the year against Sacramento State and Weber State. Northern Colorado quarterback Jacob Sirmon tossed three costly interceptions against Weber State, but he showed flashes otherwise, throwing for a combined 544 yards in those two games.
The Vandals are on the road for the first time in almost a month. Idaho is coming off two home games against Big Sky title contenders – a 23-21 loss to Montana on Oct. 14 and a win over Montana State last weekend. The Vandals' main challenge this week is keeping the energy up on the road after two emotional home games.
"We played in front of two sellouts in a row, and it's not gonna be a sellout in Greeley," Eck said. "We gotta make sure we're not flat."
Young Vandals step upIdaho started four freshmen on defense and played five underclassmen on its offensive line last weekend during the team's most impressive victory of the year.
The Vandals' defense outplayed Montana State, holding the Bobcats without a first down until late in the second quarter. The Vandals' offensive line turned in a respectable effort against one of the top defensive fronts in the FCS.
The Vandals went with true freshmen Jaxton Eck and Xe'ree Alexander at the linebacker positions in place of regular starters Dylan Layne and Mathias Bertram. True freshman Dallas Afalava got his first start at defensive tackle, and logged a critical sack late in the game. Redshirt freshman cornerback Ormanie Arnold had his best game of the year, breaking up two deep passes and allowing just one reception all game.
Idaho's offensive line came into the season lacking experience. The group took a hit last month when starting center Elijah Sanchez – perhaps the top player on the O-line – suffered a season-ending injury. True freshman Layton Vining earned his first-career start at center last week and showed promise while going up against an all-conference-caliber nose tackle.
"The O-line did a solid job, admirable," Eck said. "The biggest thing that I was happy with was Layton.
"It was good to see the O-line rally (coming off a rough game against Montana in which it allowed six sacks). … I see this same group of guys eventually being the best O-line in this conference. We're just not there yet."
It'll be interesting to see whether Idaho sticks with the same youth-laden lineup this weekend.
---