Ridgeline powers past Seattle Prep in 'Round of 32,' qualifies for state bracket in program's third year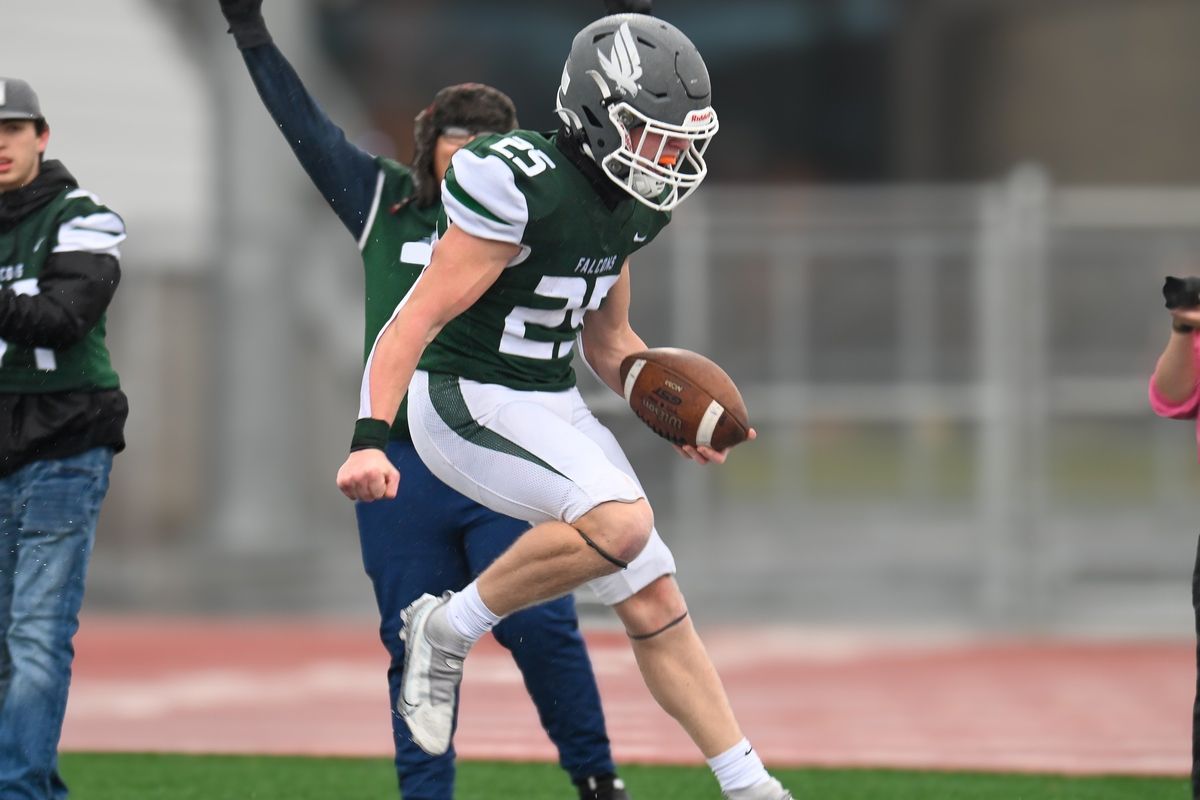 The Ridgeline Falcons, who won four games in their first two seasons combined, knew how to throw a welcoming party in their first postseason appearance.
The Falcons' defense forced seven turnovers – six interceptions– en route to a 38-14 home victory over the Seattle Prep Panthers on Saturday.
Ridgeline (8-2), in the program's third season, shut out Seattle Prep (4-5) in a rainy second half to advance to State 3A play for the first time.
"This feels amazing," Ridgeline head coach Dave Myers said. "This is something that our kids have worked for for the last three years. So for us to have this opportunity, to be in the playoffs, host a game in front of our community, take home the win and continue playing football for another week – it's everything we hoped for from this season."
Ridgeline will learn its next opponent when the WIAA bracket is announced Sunday.
The Falcons' Camden Haddad carried nine times for 31 yards with two touchdowns. Kole LeGrant added 14 carries for 113 yards and a touchdown. The running back duo helped jump-start the Falcons' offense when needed most.
"Camden and Kole have done an amazing job, even though they haven't always been the focal point, but when called upon, we know they can do the job and take advantage of what the defense is giving them," Myers said. "They extend runs, break tackles. They're hard to bring down. They're powerful, and a lot of that has to do with our strength and conditioning program."
It didn't start well as the first two Ridgeline drives resulted in turnovers.
Seattle Prep scored early in the second quarter on a 74-yard touchdown strike from Beau Oaksmith to Win Chandler.
Ridgeline responded on its next offensive series with an 80-yard drive, ending in Haddad's rushing touchdown following an encroachment penalty on a fourth-and-1 play from the 6.
After a 6-yard touchdown pass from Oaksmith to Henri Downer, Ridgeline tied the game up on the next possession with Haddad's second touchdown of the afternoon, an 8-yard run.
The final 3 minutes of the first half resulted in three consecutive interceptions – two thrown by Oaksmith.
Ridgeline capitalized on Oaksmith's second pick as LeGrant cashed in on a 6-yard run to give the Falcons a 21-14 halftime edge.
Junior Brayden Allen – the Greater Spokane League's record-holder for regular-season single-game, season and career receptions – had more than 100 yards receiving in the first half.
With the wind and rain gusts increasing early in the second half, Ridgeline's Brodey Shimp intercepted Oaksmith's shovel-pass attempt – Shimp's second pick of the game – and returned it 6 yards for a TD to give the Falcons their first two-score lead.
The Panthers' offense quickly went stale, turning the ball over on each possession in the second half.
"We have a great defensive staff and great athletes. They were in the right place and made plays," Myers said of the defensive performance. "They've been playing this game against older kids for the last three years. Today, we saw that varsity experience coming through, and this is just a culmination of all that work."
Landon Garner found Allen for a 19-yard touchdown midway through the fourth quarter, putting Ridgeline up 35-14. Ryan Koppenhaver nailed a 19-yard field goal in the game's final minutes for the final score.
Allen finished with 127 receiving yards with a touchdown, and two second-half interceptions.
"It's just so fun to play with my guys on defense," Allen said about the Falcons' seven forced turnovers. "We're all hyped up whenever someone makes a play. It gives you the kind of energy, like, 'If I'm not getting the ball, oh well, at least someone else is.' "
Ridgeline has won its past five games by an average margin of 42 points.
"It's really validating for them," Myers said of the three-year journey. "They should be real proud of themselves and real excited.
"I think a lot of our kids were optimistic coming into this year. We had a tough slate to start the season, and we got through that pretty well. We knew we were in a good position to make the playoffs after that. They were already bought in, but that next level of belief was solidified in the past four weeks before this game. They saw what they can do, and we tell them over and over, 'You guys are capable of doing this.' "
"It's definitely got to be higher than normal," Allen said about the team's confidence level. "But we still have to think, 'There's a really good team that we're going to play,' so we've just got to stay humble and be able to do what we do."
---