Nurse manager at Holy Family credits perspective as Army combat veteran in Iraq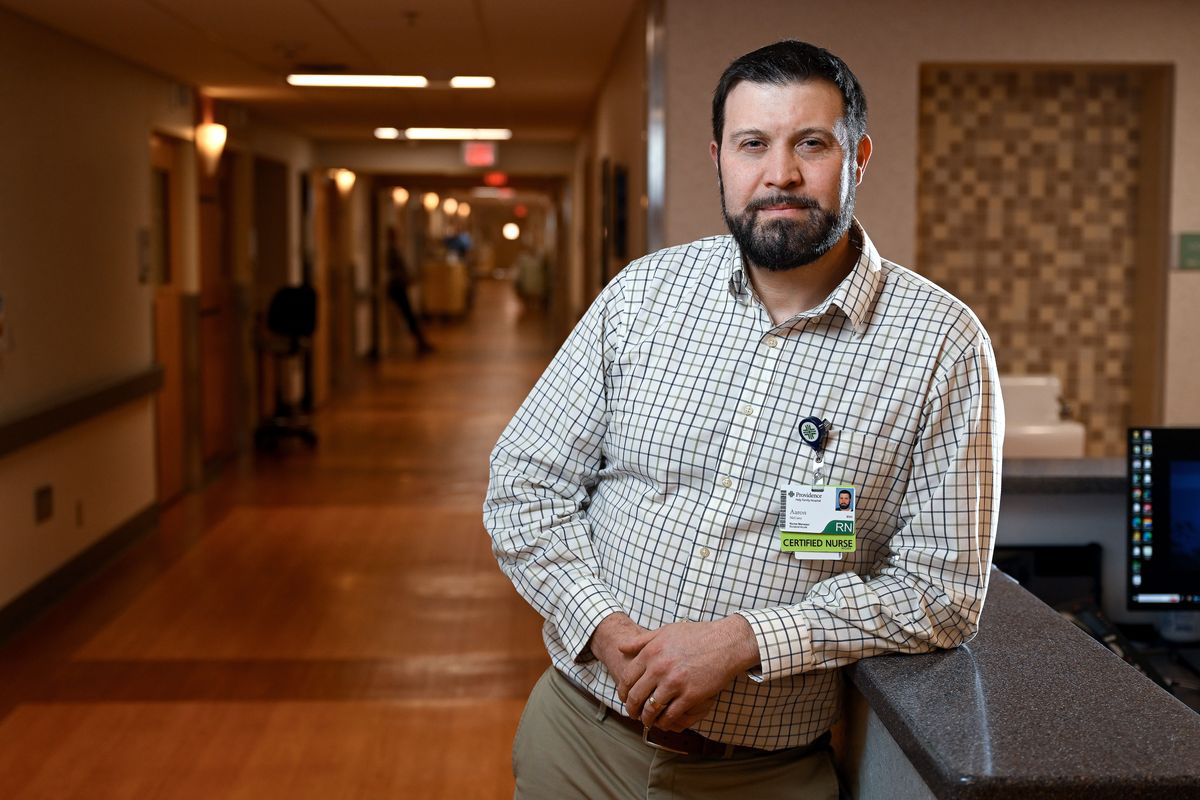 After growing up in north Spokane, Aaron McCarty figured he'd do a short military stint to help pay for college.
Today, he's the nurse manager of the surgical-orthopedic unit at Providence Holy Family Hospital, where he was born.
He didn't envision that career at his 1995 Rogers High School graduation. McCarty also didn't expect he'd spend a decade in the U.S. Army, including his last year in Iraq.
While his military role wasn't medical, he credits it as helping him now in his work. For one, he led in logistical roles during intense times. He also brings humor – often – to lighten moments and build relationships.
"It probably gives me a little bit of a different perspective in chaotic situations," said McCarty, 47. "Interesting, chaotic situations come to the hospital all the time. I don't know if there is anything directly that led me from there into this. I can tell you, this might have seemed a little more uncomfortable not having that background and knowing, OK, we're going to figure this out."
In the Army from 1995-2005, he had pivots amid extension orders and conflicts heating up in Afghanistan and Iraq.
A sergeant, he spent most of 2004 in Operation Iraqi Freedom II with the 1st Cavalry Division's 2nd Battalion, 7th Cavalry. His unit was attached to the "Bowie Brigade," Arkansas National Guard 39th Infantry, just as insurgents were intensifying battles for control.
"We were considered a mechanized task force, so we had a company of tanks assigned to us," said McCarty, who was awarded the Bronze Star Medal for his Iraqi service. Along with noting his leadership, the award names meritorious service during combat operations, contributing to the insurgents' defeat and protecting comrades.
"I was there the year after that initial invasion where we took over Iraq, right as everything started heating back up and the insurgency really took off. Literally on our drive into the country, we thought we were going to be there just to help get the country established and secure some things. And on our drive in, we found out we were going back to a full-spectrum combat situation.
"It wasn't how we expected the year to go."
Handling a variety of roles in Iraq, he laughs in explaining them. His official job there was nuclear biological chemical specialist, "which is not very descriptive of what I did day to day." He was his unit's source on protective equipment such as gas masks, and on decontamination.
He first held a logistical role supporting unit headquarters to get set up. Then briefly, he was put in charge of a small protection detail with a couple of trucks with guns.
"We would go out and provide some security for people who had a need to go out and meet with an important member of the community outside the base," he said. "I did that for a couple of months until some things shifted in the chain of command."
That's when he got assigned to work in battalion headquarters for most of the year.
"We would be on the radio with all the patrols that were outside of the base and coordinating with them. If they came under fire, I would be calling for a helicopter to evacuate casualties or calling in for other kinds of support to help them out. We kept track of where everything was and provided direction and communication between groups that were out there."
He and unit members went into a couple of battles that year, as well, he said, including in the city of Najaf.
"That city got overtaken and had to be retaken, then also we were in Fallujah; that one is a little more famous."
Fallujah came under insurgents' control, and U.S. Marines were directed to retake the city. "We got attached to help them with that, so we assisted the Marines with retaking Fallujah, and we actually went in two days ahead of the Marines to soften it up," he said.
Leaving the Army in 2005, he returned to Spokane to be near family and begin school. Spokane Community College helped him brush up on math and English classes.
He'd taken a military combat lifesaver course, learning to start an IV and do other medical aid in the field. Becoming a nurse made sense. He transferred to Eastern Washington University, then moved to Washington State University's nursing college and graduated in December 2010.
But that's when there was an economic downturn and widespread hiring freezes. He applied in veteran health services and state jobs, for military service preference, but he said hiring managers weren't receptive.
"I ended up getting an interview here at Holy Family," he said.
A hiring manager told him her husband had just retired from the Air Force, and that veterans were welcomed.
"I didn't really think at the time that this was the hospital I was born in, but it brought that circle right back around."
He's worked in the same unit since, now 12 years.
"I found a good place. Every day isn't perfect, but we work through stuff. I feel like I'm able to help people, solve problems, contribute and have opportunities to grow."
The unit has 55 beds.
"But it's almost impossible to put that many patients up there, because appropriate roommates are important."
With that humor, he shared photos of recent practical jokes. He found a large "for lease" sign in the basement and attached it with temporary hooks over the door for one of the hospital directors, in a spot that isn't public.
"We dressed a large zucchini up as a baby and hid it on the labor and delivery unit," he said. "We got the baby blankets from the linen room downstairs and swaddled it, and then a nurse keeps googly eyes in her locker for such occasions.
"My unit was high on the lists of suspects, so when they discovered it, they had a discussion about who it might have been. Me and my unit were in the top three."
He'll confess, if anyone asks.
"It makes for a better work day when you have a few things to laugh about. Otherwise, sometimes it's serious and frustrating work."
McCarty said people in his Iraqi unit went on to have multiple deployments. It was tough on families, he said, and members in his division had a high divorce rate after they returned from Iraq.
He was in the military when he met his wife, Michelle, and they had a long-distance relationship. After he returned to Spokane, she moved here, and they got married. They have a daughter, 11, and son, 8.
McCarty also helped Holy Family gain the honor of a Magnet nursing designation in 2022. He said hospital nurses already were using many of the best practices and then refined a few more.
With Spokane's large military retiree population, veterans are admitted regularly at the hospital. He visits when he can, including one Army veteran with dementia.
"People would try to engage him in reminiscing," he said. "They said, 'You should talk to our manager; he can tell you about the time he was in the Army.' We could have some conversations, and hopefully that was helpful to him.
"On Veterans Day, usually we'll do something for veterans we know are working here, even if it's just a quick mention in newsletters or huddles just to say, 'Thank you.' "
He has been a nurse manager for more than two years. Most years were spent caring for patients.
"Nursing is very much about people in general," McCarty said. "Now, I'm not so much involved in direct patient care, but I'm involved in caring for the people who care for the patients.
"I make hiring decisions, try to make sure the unit has appropriate staffing to take care of patients, work on, sometimes, questions about what's the best clinical practice or if there are any kind of safety concerns … making sure our nursing practice is as good as it can be."
---