For a ski season without injury, start training early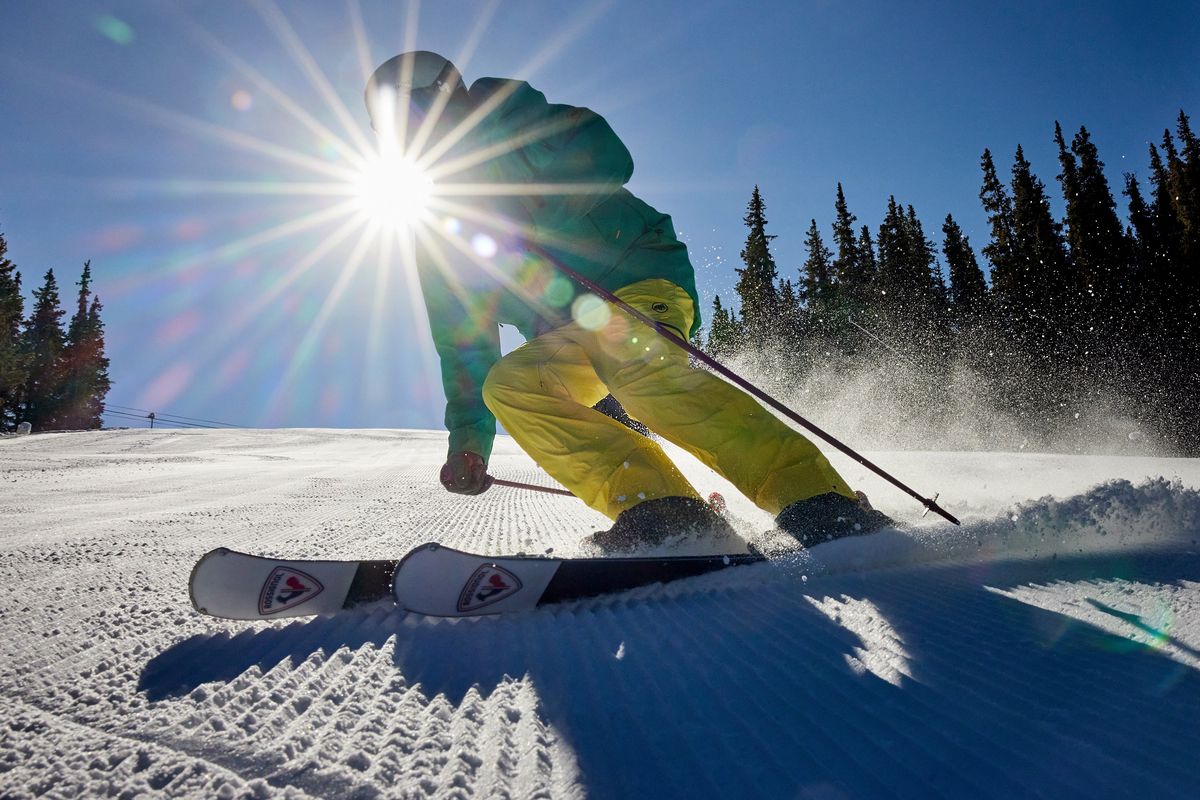 If this season is anything like the last, more than 11 million people will flood into United States ski resorts – and about 66,000 of them will go to the hospital with an injury.
Skiing injuries have plummeted in the last half-century, thanks to advances in equipment, increased helmet use and better slope maintenance. In the 1960s, nearly 1 in 100 people skiing a full day was injured. Today, for skiers as well as snowboarders, that number is down to about 1 in 1,000, according to ski patrol data.
Still, there's no way to guarantee you won't get hurt on the slopes. The same things that make snow sports thrilling – carving down a steep run, plowing through powder or catching air – also make them risky. Add to that the sudden shifts in weather, unexpected ice patches and out-of-control skiers.
Experts say you can hedge against these dangers with things like flexibility and balance training. But for the best odds of staying safe, you need to build strength – especially in the legs, hips and core – before the season, said Bob Poehling, director of high performance for U.S. Ski & Snowboard.
"Strength is the biggest preventive measure against injury," he said. "It's pretty astonishingly above everything else."
What injuries are most common?
Today's stiff ski boots and quick-release bindings have led to a dramatic drop in tibia and ankle fractures compared with the leather boots of the past. But this technology has made skiing harder on the knees. Knee injuries, such as a torn anterior cruciate ligament or medial collateral ligament, account for about a third of total skiing injuries, according to a 2019 review.
Injuries to the shoulder, wrist and lower leg are also common – broken tibias and ankles do still occur – as are tears of the thumb ligament, known as "skier's thumb," said Dr. Jim Lubowitz, an orthopedic sports medicine specialist who serves on the medical staff of the U.S. Ski and Snowboard Team.
Snowboarders are more likely to see broken or sprained wrists, dislocated shoulders and collarbone fractures, often from falling on an outstretched hand, according to the review.
"When snow is soft or deep, there are going to be more twisting injuries" such as ACL tears, Lubowitz said. "When the snow is hard, you see more fractures."
'Be smart when you take risks'
"Skiing is unique in that you have a massive lever on the end of your foot, and it just creates a huge amount of torque around the knee, Poehling said. Once you get into a compromised position, like sitting too far back and catching an edge of your ski in the snow, it's difficult to correct.
The goal, Poehling said, is to stay out of compromised positions.
Lubowitz said he's seen many ACL injuries occur in people who were falling slowly and attempted to fight it.
"They try to stand back up while still moving, the ski shoots out from under them, and it takes their knee ligament with it."
If you fall, he said, let yourself come to a complete stop.
In addition, for skiing and snowboarding, beware of late-day fatigue, said Michael Koehle, director of sport and exercise medicine at the University of British Columbia. Formerly, he was a ski patroller at the Whistler Blackcomb resort and was surprised by how many injuries occurred at low speeds, on easy runs, at the end of the day when people are physically and mentally tired.
"You wouldn't see as much bad stuff on crazy runs because people there are really focused," he said.
Save the gnarliest double black diamond for when you have the most energy and focus, whether that's in the morning or after lunch when you've had a break, Poehling said. "Be smart when you take risks."
Be smart about your gear
Make sure your bindings are properly tuned so they release during a fall, said Rick Shandler, director of the National Ski Patrol Safety program and a ski patroller himself. People often tend to overestimate their abilities at the ski shop, he said. Don't.
"You want to make sure they're adjusted to reality, not your aspirations," he said.
Helmets are also critical, he added, and "could be the difference between a serious brain injury or a minor brain injury." Snowboarders should wear wrist guards and kneepads, as well.
Lubowitz believes that some of the body armor worn by professional skiers will become as ubiquitous as helmets someday. Before he hits the slopes, he zips on what's called a downhill jacket, which has protective shells over the spine, chest, shoulders and elbows, and also wears padded shorts and kneepads.
Strengthen muscles most at risk
Skiing requires a tremendous amount of leg strength, said Matt Jordan, an exercise scientist at the University of Calgary, whose research focuses on ACL injuries. The hamstrings, he said, may be the most important muscles for stabilizing your knee joint, and people with weak hamstrings and strong quadriceps are especially prone to ACL injury.
A little strength training can improve your odds considerably. The benefits go well beyond skiing, improving balance and risk of age-related injuries, Poehling said.
Ideally, you should start training at least four to six weeks before your first run, and aim to do the routine three days a week, he said.
"You need some time to actually adapt to the exercise and create strength. I don't care how strong you can be for one turn – I care about 60 turns."
If you're a casual downhiller looking to do groomed green and blue runs with your kids, Poehling said a 20-minute beginner workout may be fine.
But if you're looking to push yourself, he recommended a more advanced 30-minute option. If this feels too intimidating, start with one set of each exercise and then build up.
Beginner workout
Start with a few warm-up exercises. Do each one in order and then repeat once more.
Single-leg glute bridge – 10 reps on each side
Inch worm – 5 reps
Leg out T-spine rotation – Six reps on each side
Tall plank hip extension – 10 reps on each side
Next, repeat these four exercises three or four times, depending on your fitness level, taking a 15-second break between each exercise and 30 seconds between each set.
Reverse lunge into single-leg jump – Six reps on each side
Reverse fly bridging – 10 reps
Single-leg Romanian deadlift – Eight reps on each side (with or without a weight)
Body saw – Eight reps (you can use paper plates or a towel under your feet)
Advanced workout
Complete the beginner workout, plus two to four sets of these exercises, again with a 30-second break between each set.
Squat to lateral lunge – Six reps on each side
Copenhagen – hold for 15 seconds
Single-leg sit down (two-leg stand) – 10 reps on each side
Hamstring walkout – Eight reps
---