On board with the trends at Graze Craze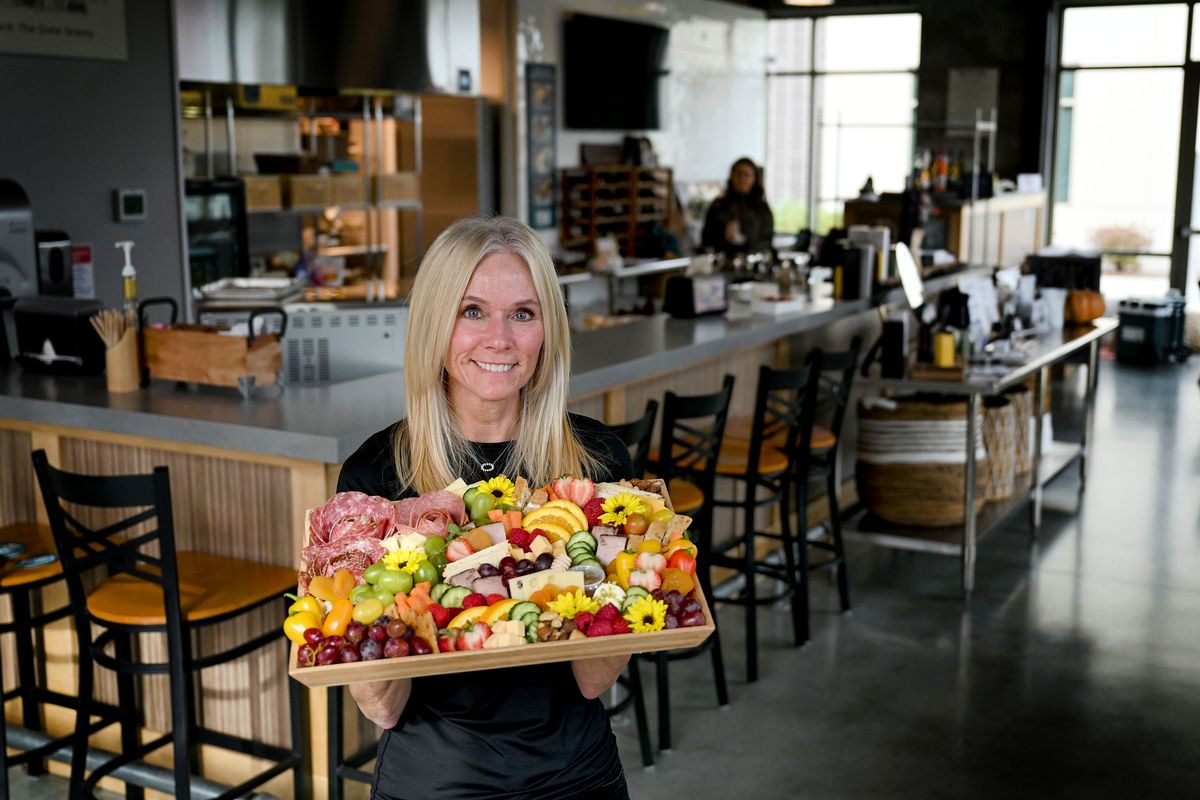 Charcuterie boards have been around for centuries, but they're certainly having a moment.
Supermarket chain Kroger, in its annual food trends report, announced that 2023 was a big year for the cheese, meat, veggie and snack spreads and dips plates. And there's no sign of slowing down for these sharable treats.
Graze Craze is leaning into this age-old food trend. The Spokane Valley restaurant specializes in charcuterie boards and boxes, filled to the brim with cured meats, cheeses, fruits, vegetables, housemade hummus dips, crackers, chocolates, nuts and more, freshly made for pickup or delivery.
Cindy Rice, along with husband, Alan, own the nearly year-old location, at 12709 E. Mirabeau Parkway, as part of a U.S. franchise. The next closest Graze Craze is in Zillah, Washington, but Rice hinted at expanding locally. The couple previously owned a Great Harvest Bread in southeastern Idaho.
"Baking is my true love, but I love being creative and working with food," Rice said.
And creative she is. A recent Halloween board featured candy eyes stuffed in olives, plastic spiders, a hummus-stuffed skull, jam-filled witches brew pots, spooky chocolate candies and more.
"If someone wants a special board, we say yes, we can make it," Rice said.
Graze Craze offers individual boards (the Lone Grazer serves one for $32, while the Picnic Box serves two to four for $90) and large grazing tables (small, medium and large boards serve four to 10 grazers, ranging in price from $120 to $185), but Rice said she has prepped special-order platters for dozens of guests.
Graze Craze employees, of which there are five, can make a large board in under an hour. If grazers are planning a larger event, Rice suggests giving the store more notice.
"For holidays, we recommend people order a little ahead, because we'll be a little busy and we want to make sure we can accommodate everything," she said.
As an idea for size, Rice says a large board feeds eight to 10 people as a meal, or 16 to 20 people as an appetizer.
"We do weddings. We do celebrations of life," Rice said. "… We also do events in our store – baby showers, bridal showers, retirement parties."
Assistant manager Victoria Ellis, also the 21-year-old daughter of Rice, said one of her favorite creative moments was designing platters for a family at Gozzer Ranch this summer. The fruit, cheese and crudite boards "turned out super pretty," she said.
Ellis noted that the hummus, dips and jams are all made in-house.
"Sometimes our special breads, they're homemade," she added. "We make our desserts here, like our cookies and pumpkin rolls. Homemade pickles, even."
Offerings change seasonally, and one innovative twist available now is the Brunch Board. It is packed with breakfast meats, fruit, eggs and pastries. Another is the Game Day Board, which the franchise suggests for watch parties, draft snacks or tailgating events.
Fennel-spiced ham – a whole, half or quarter glazed with brown sugar – can be pre-ordered for the holidays.
"We want to accommodate any size of family," Rice said.
Housemade hummus flavors include classic, beet and roasted red pepper, but Ellis has a different favorite dip.
"I really like the Everything Bagel Cream Cheese Dip that we make. It is so good. People don't know how good it is, but more for me," she said with a laugh.
Grazers with food sensitivities or dietary preferences can order the Grazey for Keto or the Vegegrazian (vegetarian style) boards. Gluten-free crackers are available upon request. The Sweet & Grazey is jammed full of fresh fruits and desserts. All boards are customizable.
"We're a catering company," Rice said, but, "we're really trying to grow the foot traffic within our store. We love having families in our store."
The store offers dine-in options, including beer and wine, a happy hour and (weather-permitting) patio seating. Indoor seating includes tables, chairs, couch sectionals and a long bar.
Graze Craze has been host to book clubs, and it offers a kids corner, "So moms can come and have charcuteries and their kids can play."
Reservations have already begun for holiday parties at the store, with a capacity of 57 guests.
"It's just a classy little place that's low-key," Rice added.
To order a board, visit www.grazecraze.com/spokane-valley-wa, click Menu, choose your preferred board and click Order Pickup & Delivery. Orders can also be placed by phone at (509) 290-6368 or in-person.
"We just love to have people in our door," Rice said.
---