Mostly Bs: Reporter Bob Condotta grades the Seahawks' first half of the 2023 season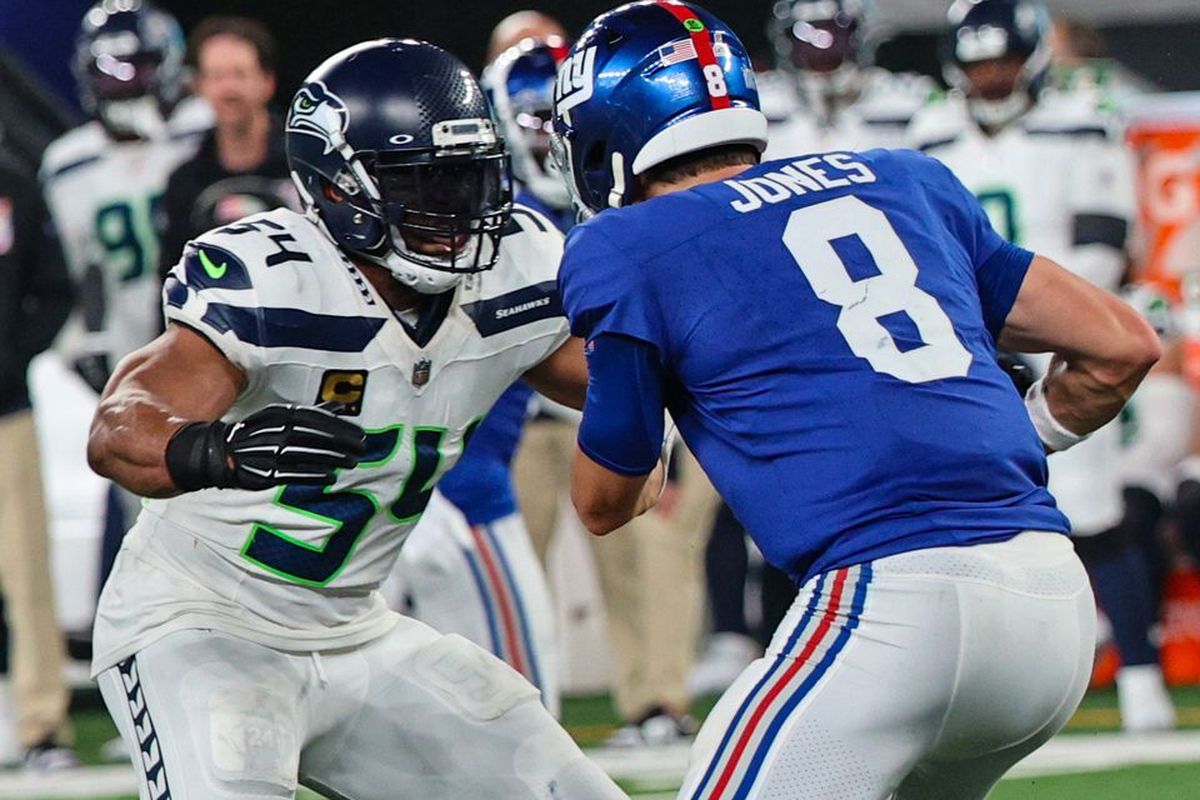 RENTON, Wash. – So when is the true midway point of the NFL season now that teams play a 17-game schedule, anyway? Is it after Week 8? Week 9?
Even Seattle Seahawks coach Pete Carroll was a bit stumped.
"Somewhere in the middle of the week here is really the halfway point," Carroll said Wednesday.
That's good enough for us to hand out some Seahawks midyear grades. Seattle sits at 5-3 and is tied for first in the NFC West heading into the "second half" of the season with a game against the Washington Commanders on Sunday.
Quarterback: Geno Smith's play is understandably the topic of much discussion after the debacle in Baltimore on Sunday. But Pro Football Focus rates Smith as 14th among all NFL QBs for the season, with analytic numbers all similar to last year – if just below – in most cases. That makes sense considering he is playing behind a banged-up offensive line, and his top three receivers have battled injuries throughout the season. Analytics suggest Smith hasn't had as many open receivers to throw to this year compared to 2022.
In other words, Smith may be what he is at this point. He has proved good enough to lead Seattle to the playoffs. Is he capable of more? We don't know yet. But there's nothing to suggest that, for 2023, Smith isn't still Seattle's best option at QB. As for the future, that's a question the team may have to deal with after the season. But that isn't really a question for now.
Grade: B-minus
Running back: Seattle obviously needs to improve its running game if it wants to move past the 49ers and win the NFC West. The Seahawks are averaging 4.1 yards per carry compared to 4.8 last season. But again, the analytics don't suggest anything wrong with Kenneth Walker III, whose broken-tackle numbers, to name one metric, remain on par with last season. He's on pace for 1,130 yards this season after rushing for 1,050 last year. Zach Charbonnet has also shown promise, averaging 5.3 per carry. Seattle just needs to get them the ball with a little more room to work. DeeJay Dallas remains reliable in his various roles.
Grade: B-plus
Receiver: As noted, all three of the top WRs – DK Metcalf, Tyler Lockett and Jaxon Smith-Njigba – have dealt with injuries of varying degrees. And Seattle's yards per attempt of 6.2 is basically on par with last year's 6.4. Metcalf needs to cut down the unnecessary penalties, and the passing game needs to be better on third down and in the red zone. But maybe better health – all three seem fine now – will help.
Grade: B-minus
Tight end: Yep, targets to the tight end are down a little bit this year – 5.25 per game compared to 8 last season. One reason is the increased use of a third receiver. Smith-Njigba's 43 targets are more than any other receiver aside from Metcalf and Lockett got last season.
Will Dissly has seen the biggest drop, with six receptions on seven targets this year compared to 34 on 38 last season, but he has battled some injuries and missed one game with a shoulder issue. Dissly, though, has the team's best run blocking grade from PFF, and Colby Parkinson is fourth.
Grade: B-minus
Offensive line: To be fair to this group, injuries have taken a toll. Seattle has started seven line combos in eight games and had its preferred starting OL on the field for just the first half of the first game. But the results lately are what they are. Only one of Seattle's offensive linemen ranks in the top half of PFF's ratings at his position – rookie Anthony Bradford, 32nd of 80 guards. Given all the injuries, it probably could have been a lot worse. But Seattle could have all of its starters back by next week, and the overall play will need to be better against the schedule that awaits.
Grade: C-minus
Defensive line: In general, this group has played pretty well. Jarran Reed and Mario Edwards Jr. have outperformed expectations from when they signed. It should only get better now that Leonard Williams, acquired from the Giants last week, is getting fully integrated.
Seattle may be hoping for a few more high-impact plays from Dre'Mont Jones, who signed a three-year deal this offseason that can be worth just over $51 million. Jones' stats are all on pace to be down from last season in Denver (two sacks so far compared to 6.5 in 13 games last season, to name one).
Grade: B
Linebackers: Seattle couldn't have hoped for anything more out of Bobby Wagner. At age 33 and on a salary paying him less than a third of what he made before he left, his 85 tackles are fifth in the NFL. The same can be said for Jordyn Brooks and his return from an ACL injury (13th with 77). Boye Mafe has maybe been the biggest revelation on the team with six sacks – and in a team-record-tying six straight games – at outside linebacker. But the loss of Uchenna Nwosu is a big hit for the OLB group, and the Seahawks desperately need a second-half surge from Darrell Taylor and for Frank Clark to quickly return to form.
Grade: B-plus
Secondary: This group has been a little erratic. Devon Witherspoon basically won the Giants game by himself with his breakout performance and has lived up to expectations, and the three-safety set of Quandre Diggs, Jamal Adams and Julian Love seemed to be rounding into good form for much of October.
But then came the Baltimore game and what felt like some pretty shaky play in the back end. Riq Woolen has yet to fully hit the same stride as his rookie season; his offseason knee injury has undoubtedly been a factor.
Seattle will need steady play out of this group to reach the playoffs.
While judging a position on salary may not be totally fair, the reality is the Seahawks are spending more on their safeties ($28.2 million) than any other team.
Grade: B-minus
Special teams: Michael Dickson remains one of the best punters in the NFL, and Jason Myers has made 12 of his past 13 field goals and all of his PATs this season. The Seahawks have plus-numbers in kickoff and punt returns.
Grade: B
Coaching
The Baltimore game showed that this team has some clear talent issues in some areas compared to the NFL's elite. But consider that Seattle could easily be atop the NFC West and holding the No. 2 seed in the conference after Sunday's games. While there are aspects of this team's play that have been frustrating, it's hard to argue much with the big picture of where this team is still positioned.
Grade: B-plus
---