Seahawks have 'more chances' to turn things around on third down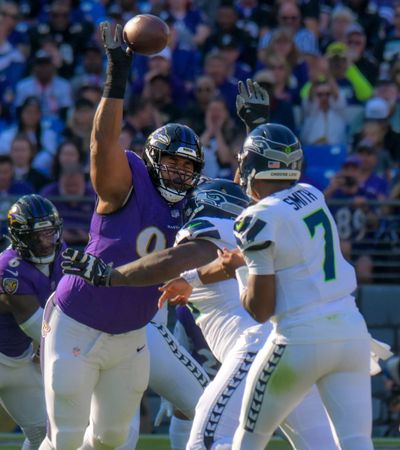 RENTON, Wash. – Throughout his 1½-year tenure as the Seattle Seahawks' starting quarterback, Geno Smith has earned a reputation – as well as the respect and admiration of teammates and coaches – for publicly accepting as much blame for any of the team's offensive issues as anyone wants to give him.
But after Sunday's 37-3 loss at Baltimore, coach Pete Carroll made clear that the team's failings ran far deeper than just Smith.
"I don't think this is about Geno at all," Carroll said moments after the game. "I think this is about our football team not answering the bell here. We couldn't get it done. We came in here to slug it out, and they did a better job than we did with all of this. When they're rushing the passer, that's not Geno. This is not on one guy."
Thursday, when Smith held his regular weekly news conference, Smith also said that while he knows he needs to play better, it'll take a team effort to also get the offense back to where the Seahawks want it to be.
Smith specifically cited Seattle converting just 1 of 12 third downs – the lone conversion coming on the Seahawks' third attempt of the game in the first quarter.
The third-down failings began on the third play of the game when rookie receiver Jaxon Smith-Njigba bobbled a Smith pass that would have been the necessary yardage as he was heading out of bounds.
"It obviously wasn't a good game by any stretch of the imagination," Smith said. "But you've got to look at each play individually and then go from there. One of the key things that we always talk about is third downs. If you look at all 12 of the third downs, you look at the first one. Great play call, they went cover zero, got the ball out, Jaxon just bobbles it. That's a human error, things like that happen. Ball gets tipped on the second one (by Jadeveon Clowney).
"… Like I say all the time: If we execute better, just the small things, then we're talking about conversions and not failed attempts. Looking at each one of those plays individually, I just feel like we all had a part in it and we all could've done a lot better. Overall, we're working to fix those things; that's the issue that's been hurting us all year, but we've got a lot more games to play."
Smith's two turnovers in the game also appeared to be team-wide issues.
Smith threw an interception in the second quarter on a pass intended for Tyler Lockett in which Smith threw the ball deeper than the route Lockett ran. Lockett later cited miscommunication. On Monday, Carroll indicated one issue involved Lockett getting the proper signal relayed to him by others.
Lockett was split wide left with Jake Bobo in the slot, and Smith apparently changed the route he wanted Lockett to run when he saw the Ravens lining up as if to blitz. But Lockett appeared not to get the signal, which is typically relayed down the line from one receiver to the next.
"We need the continuity, because it's very intricate work," Carroll said earlier this week. "We need to make sure we help our young guys help us communicate, too. We're asking a lot of them, to play as much as they are."
Smith's other turnover came when his arm was hit as he tried to pass when the Ravens collapsed the left side of the pocket pretty easily.
Smith had three passes batted down at the line in the game, as well.
But despite the blowout loss and now eight turnovers in four games, Smith said there is no loss of faith in what he or the offense can do.
"It was just one of those games," he said. "… They made the plays that they needed to. It was tough. In that moment, it was tough. But the good thing is that we had to move on, and we had a 'Tell the Truth Monday' where we talked about all of those things, and now we're into a new week. We're just focusing on the (Washington) Commanders this week."
---