Analysis: It was just one women's basketball game, but Washington State's thrilling win over Gonzaga revealed plenty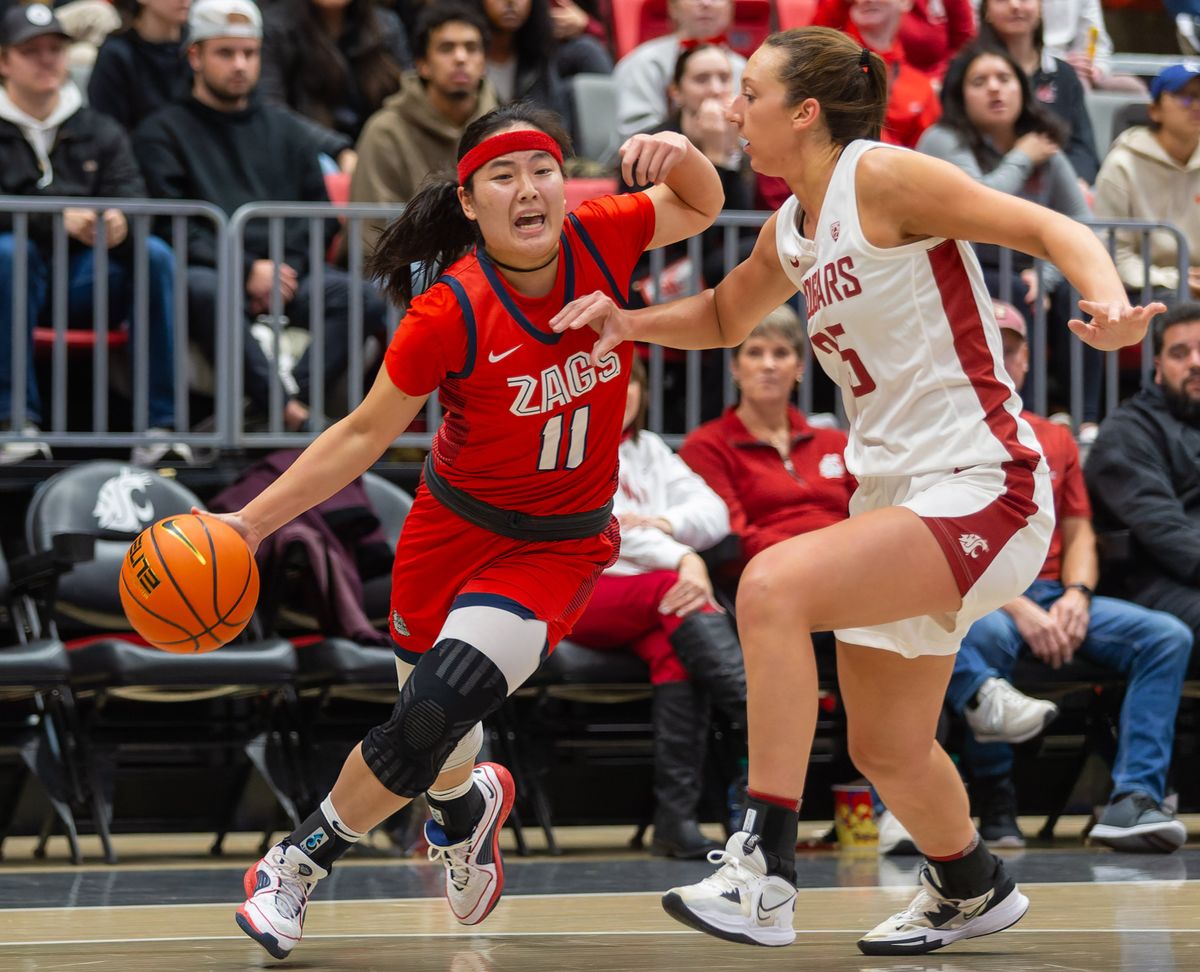 With 31 games on each schedule, two games, let alone one against each other, is not a large enough sample size to draw serious conclusions about the Gonzaga and Washington State women's basketball teams.
Still, a few things come to mind for both teams as they continue to navigate the rest of their nonconference schedules and aim to be ready for conference play by year's end.
Many lessons
It's true teams can learn more from a loss than a win. But even if Gonzaga had pulled out the win in overtime or in regulation, a couple of deficiencies Thursday would have still been obvious.
And Washington State coach Kamie Ethridge was thankful her team found a way to win despite committing 24 turnovers.
Reigning West Coast Conference Player of the Year Kaylynne Truong shocked the Friel Court crowd when she made an uncontested 27-footer at the buzzer to send the game to overtime.
"They (her players) had to encourage me more than me encouraging them," Ethridge said about the game going to overtime. "It was a lot of mistakes by us and great plays by them. Obviously, they made great shots, but we made enough mistakes when we had the lead. It's a great learning experience for us. If we had lost the game it would have been tragic to have lost it."
Ethridge said standout guard Charlisse Leger-Walker pumped up the team before the overtime session began.
"She's in the huddle going, 'We've got this.' Everybody was in foul trouble, they didn't have a lot of players on their team and we're scrambling and we're not solid completely in how we're playing and how to guard them and what to run," Ethridge said. "So it was just put the ball in our best guards' hands and let them go make plays."
And they did, especially Leger-Walker.
Leger-Walker hurt Gonzaga multiple times on dribble-drive penetration. She finished with a game-high 26 points, many coming off challenging shots in the key.
"That was just really fun," Leger-Walker told the Lewiston Tribune. "That's why you play basketball, for games like that."
Two other Cougars scored in double figures and three others combined for 18. The bench contributed 18.
There will be times that Leger-Walker must will WSU to wins, but she will have help.
Zags, Cougars could be best
It wouldn't surprise many if Gonzaga and Washington State ended up having the best seasons in school history.
The game was scheduled for an obvious reason. It presented competition akin to an NCAA Tournament matchup.
The Cougars and Zags have two common opponents – Montana and South Dakota State. In a sense, it's too bad Thursday's showdown wasn't played after those two games and sometime in early December. The quality of such a matchup most certainly would have been better.
But Thursday, in the bigger picture, will serve a bigger purpose. Both teams should find out when they get into their conference schedules.
Perhaps they'll look back on Thursday and be thankful for the early season test.
Zags struggle on the boards
Washington State outrebounded Gonzaga 45-32.
That was no small feat, and it certainly didn't go unnoticed by Gonzaga.
"We got our butts kicked a little on the glass," Gonzaga coach Lisa Fortier said. "It's hard to win games on the road when you get outrebounded by that many."
That wasn't the Zags' lone problem. They had several breakdowns on defense, too.
"There are times when we guarded well and certain players who guarded well and others struggled and missed assignments," Fortier said. "You can't do that against the good teams. It works against the teams you're more athletic than or deeper than, but that wasn't the case (against WSU). They're good."
Need more from bench
One of Gonzaga's stated strengths going into the season was its bench.
The Zags got minutes from five players off the bench against WSU. But five players combined for four points.
In the season opener at Montana, GU got 11 points from the bench, eight coming from one player.
One player who was expected to contribute, redshirt sophomore Bree Salenbien, has been dealing with what was termed a minor injury suffered in preseason practice. She redshirted last year with an injury.
Just when the four-star recruit from Michigan will return is up in the air. Even though the five starters are capable of scoring in double figures, the Zags need some offense from the bench.
Slow start
Sharp-shooting graduate Brynna Maxwell, who led the nation most of the season last year in 3-point shooting, is off to a slow start.
Maxwell is 5 of 17 (29.4%) from the field and 2 of 9 (22.2%) from 3-point range.
There's no doubt that Montana and WSU tightly guarded Maxwell, but she's also come up short on set plays.
Postseason flavor
Play was many times physical, having a mid-March feel to it.
"This is typical how it's played in the NCAA Tournament," Ethridge said. "It's just physical, it's hard to run things."
That may explain the poor shooting at times and why play lacked fluidity.
What, no TV?
Believe it or not, the game wasn't televised.
So what wasn't entertaining about the Pac-12 Tournament champ playing host to the West Coast Conference regular-season champ? Especially a game between teams located 76 miles apart?
---