Eastern Washington suffers lopsided defeat at Montana State 57-14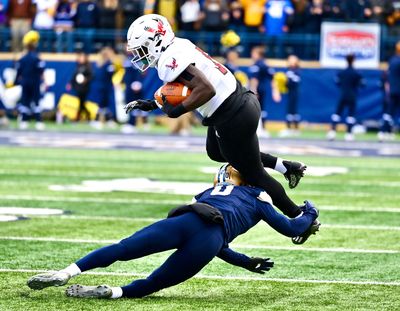 From staff reports
BOZEMAN – Eastern Washington suffered its worst loss to Montana State on Saturday, 57-14 on the road.
Montana State scored the game's first 41 points, and the Bobcats' 43-point margin of victory was the largest in the 45-game series between the programs. Their 57 points were the most they had scored against the Eagles.
"That's a great team. Great atmosphere," EWU head coach Aaron Best said in a postgame radio interview.
"They played like the top-five team that they are."
Eastern dropped to 4-6 overall and 3-4 in the Big Sky with one game to play, next week in Cheney against Northern Arizona.
The Eagles' two scoring drives came back to back before and after halftime. Senior tight end Blake Gobel had the first – a one-handed 8-yard touchdown catch. Junior receiver Nolan Ulm had the other score on a 27-yard reception near the sideline. Redshirt sophomore Kekoa Visperas threw both of them and finished 27 of 36 for 329 yards.
But Visperas also matched a season high with two interceptions and Gobel fumbled. Montana State – which did not turn the ball over – converted those three turnovers into 20 points.
Montana State threw for 276 yards and ran for 275 while gaining an average of 9.5 yards per play.
Senior quarterback Sean Chambers completed 4 of 4 passes for 119 yards and three touchdowns, and he ran five times for 75 yards and two more scores.
Junior quarterback Tommy Mellot was also 4 for 4 throwing the ball, for 98 yards and a touchdown. Mellot ran three times for 43 yards.
Four of Montana State's touchdowns were on plays of at least 43 yards.
"Too many explosive plays at the end of the day," Best said.
The fifth-ranked Bobcats (8-2, 6-1) won for the 26th straight time at Bobcat Stadium, the 10th-longest home winning streak in FCS history. Next week they face Montana in Missoula, where the Bobcats can clinch an outright Big Sky championship with a victory, thanks to Idaho's 31-29 loss at Weber State on Saturday.
EWU senior Jakobie Keeney-James set season highs with four receptions for 91 yards, and EWU junior Efton Chism III had nine catches for 94 yards. Chism is fifth on the program's all-time receptions list with 218, and he ranks 14th at Eastern in receiving yards with 2,438.
Redshirt sophomore Tuna Altahir led the Eagles with 11 carries for 51 yards. Junior Justice Jackson ran four times for 11 yards.
For the third game in a row, junior defensive tackle Matt Brown led the Eagles in tackles with seven. He also added his third sack of the season.
---