Here's the need the Mariners have identified coming out of GM meetings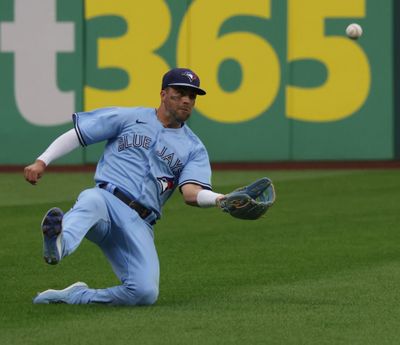 SCOTTSDALE, Ariz. — The courtyard area of the Omni resort was largely empty with a few reporters still on site Thursday morning, hoping to perhaps see one of the few non-sick Major League Baseball executives still on the premises for one last conversation and maybe a hint of a hot-stove rumor.
The official meetings, required for various executives by MLB, were officially canceled late Wednesday night after a stomach virus continued to spread. Sports Illustrated reported that more than 300 people had come down with the virus. Sources indicated that a couple of members of the Seattle Mariners' baseball operations staff were hit by the bug.
So what's next for the Mariners as they exit Arizona and have roughly a month before the annual MLB winter meetings in Nashville, Tenn.?
In years past, Jerry Dipoto, the Mariners' team president of baseball operations, has been active during this four-week stretch following the GM meetings. Last year on Nov. 16, he acquired outfielder Teoscar Hernandez from the Blue Jays.
With Hernandez a free agent, the Mariners will be looking for a hitter to fill his spot in the lineup and perhaps another hitter to supplement an offense that was reliant on Julio Rodriguez and home runs and had the second-most strikeouts in the MLB.
"Really, we have a pretty good idea of what our needs are," Dipoto said at the meetings. "This is that time where you connect with all the teams around the leagues. This year, we feel like our needs are fewer than in years past."
Those needs?
"We want to add some contact to our lineup," Dipoto said. "We want to be a little bit better about putting the ball in play."
Dipoto said the preference would be right-handed hitters that could either play outfield or a corner-infield position, while also being used as a designated hitter.
"We feel really good about our young left-handed bats, and we feel really good about our players up the middle [Rodriguez, Cal Raleigh and J.P. Crawford] and our overall power productivity. Now it's just a matter of trying to fill in the gaps where we might be a little bit more flawed. We have a pretty good offensive team that sometimes struggles with contact, and we're going to have to try to solve that."
Other than Rodriguez, the Mariners outfielders on the 40-man roster — Jarred Kelenic, Dominic Canzone, Cade Marlowe and Taylor Trammell — are all left-handed hitters. A right-handed hitting outfielder would allow them to not expose Canzone to tough left-handed starting pitchers.
That doesn't mean that Dipoto will be out looking for slapping singles hitters who rarely strike out. He's looking for a proven hitter that has quality at-bats and doesn't succumb to strikeouts so often with runners in scoring position. As a team, the Mariners had 1,689 plate appearances with runners in scoring position, which was the second most in the MLB behind the Dodgers (1,750).
In all those times at the plate with a chance to drive in a run, Mariners hitters struck out 25.5%. Only the Oakland A's struck out at a higher rate. Conversely, the Astros struck out 18.4% of the time with runners in scoring position, while the Diamondbacks and Orioles were second lowest at 18.7%.
"It's always important," Dipoto said. "You're willing to trade off on some hitters. You're willing to trade off some contact for some power, and you're willing to trade off some contact for some on-base ability and you're willing to trade off some strikeouts for some walks.
"But you know, you can't make that trade-off at every spot. And [we] do have some guys that have the strikeout as part of their game. We value them very highly. So in some in some way, we're going to try to solve that this offseason, or at least make inroads toward solving that."
Rodriguez (24.5%), Kelenic (31.7%), Raleigh (27.8%) and Eugenio Suarez (30.8%) have high strikeout rates for everyday players. Given their power approaches, the strikeouts rates will never be minimal for them.
The Mariners will look at the free agent and trade market to find those hitters with higher contact rates.
A glance at the right-handed-hitting free agents that can play a corner outfield or a corner infield position doesn't offer a ton of inspiring or big-name options.
Lourdes Gurriel Jr., who signed a one-year contract with Diamondbacks last offseason, is a logical fit. He posted a .261/.309/.463 slash line with 35 doubles, two triples, 24 homers and 82 RBI in 145 games for Arizona. Gurriel drew 33 walks and struck out 103 times in 551 plate appearances. His 17.4% strikeout rate is among the lowest of free-agent outfielders.
Justin Turner (17.6%) and Whit Merrifield (17.1%) are also the list of free agent hitters that don't strike out often. The Mariners were interested in acquiring Merrifield from the Royals during the 2021 season, but the asking price was too high. Turner, who will be age 39 in the 2024 season, posted a .276/.345/.455 slash line with 23 homers and 96 RBI for the Red Sox.
Dipoto said he isn't opposed to adding a hitter that is more of a full-time designated hitter if it's the right fit. Would that mean they look at Jorge Soler or J.D. Martinez, who are primary DHs and do strike out at higher rates, but also offer power production?
"We'd love to have a full-time DH who just goes out and bangs baseballs," Dipoto said. "But at the same time, we're open to the notion of rolling guys around. It's whatever the market will allow. You can't force things."
For fans looking to parse Dipoto's comments and try to determine their thinking, the mention of a preference for right-handed hitters doesn't mean they aren't interested in Shohei Ohtani, who hits left-handed. He's in his own category of free agents. He's the impossible dream. But all indications are that they will at least try to make the impossible dream come true.
Cody Bellinger, the next most coveted hitters, also a lefty hitter, is probably a far-off hope. The Mariners are unlikely to get into a bidding war with the Yankees, Giants or Cubs for his services.
Much to the frustration of some fans, hitters like Gurriel are their reality.
And it's uncertain whether the reputation of T-Mobile Park being unkind to hitters in general might be a turnoff to those hitters.
---