Art collection a result of 50 years of education, collection, celebration of Spokane's Carolyn and Les Stephens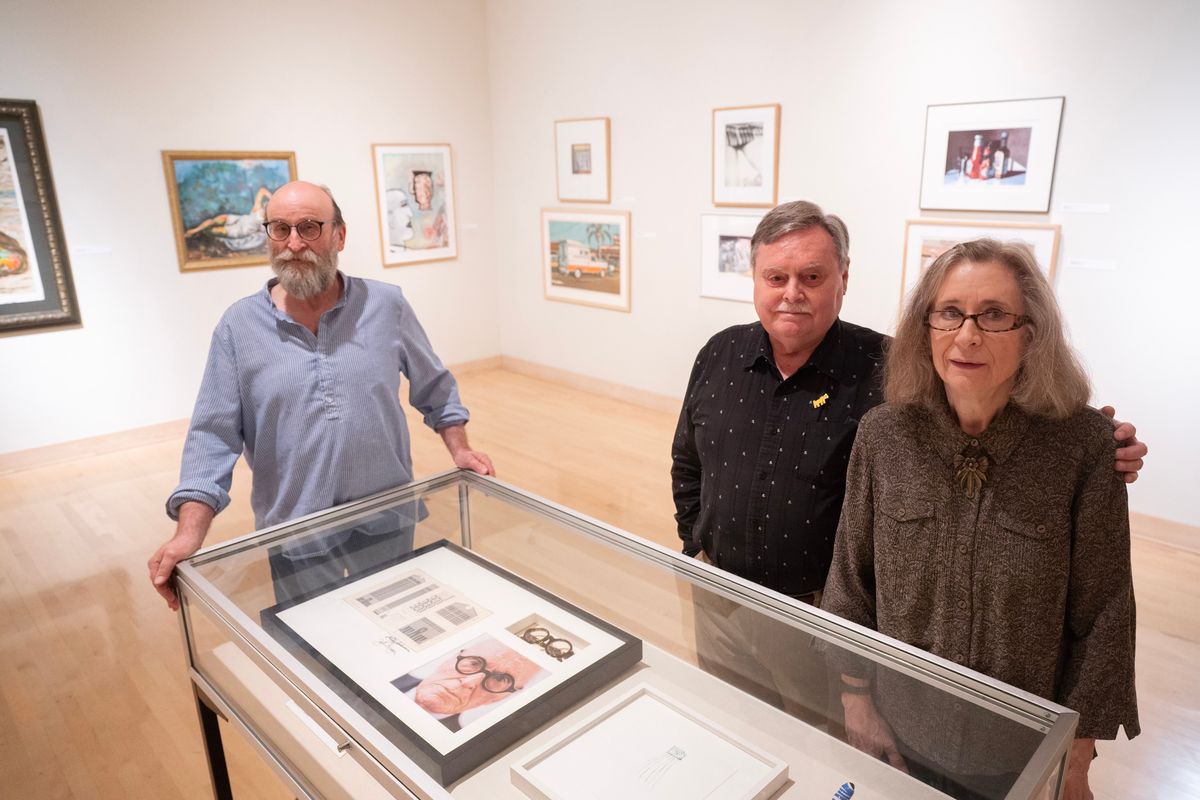 In September, the Jundt Art Museum at Gonzaga University unveiled a new exhibition on display through Jan. 6.
"Five Critical Decades of Art: The Stephens Collection," is the result of 50 years of education, collection and celebration of art by Spokane residents Carolyn and Les Stephens.
The show highlights art movements such as '60s pop art, environmental art, video art, photorealism and more through a multitude of mediums. Sculpture and folk art mingle with photography and paintings in this eclectic show.
"It's the bulk of our collection," Les said. "And it will stay here (at the Jundt) as a gift."
The Stephens met in 1971 at Whitman College and came to Spokane to pursue graduate degrees at Eastern Washington University.
They acquired their first piece, a Thomas Morgan untitled figure drawing, when it was shown at EWU in a National Drawing Invitational. Likewise, they discovered their second purchase, a Robert Cumming photograph of the Stellar Seals diorama from the LA Natural History Museum, at Eastern when Cumming was a visiting artist. Both works are included in the exhibit.
However, their collection truly sparked when Carolyn accepted a position to teach art history at Spokane Falls Community College. For 25 years, she took her students on spring trips to New York and Les joined them.
"We looked at art and listened to music in the heart of New York City," he recalled.
For example, a shower curtain by famed subway artist Keith Haring hangs from a shower rod at the exhibit.
"We saw him working on chalk art in a subway in New York City," Carolyn said.
That annual immersion into the larger art community, including trips abroad, honed their tastes and enabled them to build their collection.
"It was a slow accumulation," Les said. "We filled our home with mostly regional artists."
The couple arrived in Spokane at a time when the regional academic fine arts community was fully engaged with gallery directors, artists and patrons. That collaborative environment led to visits from many significant artists.
"We all supported each other," Carolyn recalled. "We wrote lots of National Endowment for the Arts grants resulting in free lectures, exhibitions and presentations."
Meeting so many artists who worked in various mediums broadened their perspective and their collection.
"The draw is the artist," Les said. "When you see an entire show by an artist you get a feeling for what they're about."
When it came time to select the 100-plus pieces for the show, the Stephens knew Robin Dare was uniquely qualified.
Dare, the preparer and art handler at the Jundt, has known the couple for decades. He's worked as a fine artist, carpenter, teacher, gallery curator and framer.
"This is a personal passion because I helped advise the purchase of many of these works," Dare said, as he walked through the exhibit. "The work in this collection represents a rich history of 50 years of regional artists as well as work by really big names in the art world."
Featured artists include Robert Mapplethorp, Ed Keinholz, Ruben Trejo. Richard Linder, Patrick Siler, Ai Weiwei and many more.
Some of the pieces evoke smiles, like Trejo's depiction of J. Edgar Hoover complete with a Pinocchio nose or David Gilhooly's "Chocolate Mousse." Others invite deeper contemplation, like the pile of 2,700 hand-painted porcelain sunflower seeds from Ai Weiwei's 2010 art installation featuring millions of the seeds.
From "Sauces" by photorealist painter Ralph Goings, to James T. Rexrode's acrylic on panel "Hog Butchering," the Stephens Collection offers a cross-section of contemporary art. The couple expressed delight that the majority of their collection has found a home at the Jundt.
"We want the work to be used for traveling shows and to be seen and viewed," Les said. "We wanted to share it with the community."
Contact Cindy Hval at dchval@juno.com.
---