Locally: Gonzaga women's soccer coach Chris Watkins named WCC Coach of the Year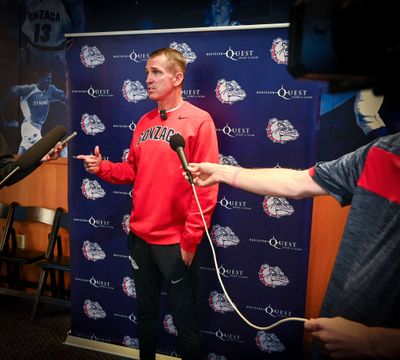 Gonzaga women's soccer coach Chris Watkins was named the 2023 West Coast Conference coach of the year.
Kelsey Oyler and Giana Riley were both named First Team All-WCC, while Maddie Kemp, Chelsea Le and Lauren Towne were second team. Grace Courter and Marissa Garcia were tabbed honorable mention. Shelby Runje and Emelia Warta were named to the league's All-Freshman Team.
Watkins and his staff led GU to the West Coast Conference title for the first time in program history and the program's second appearance in the NCAA Tournament. The Bulldogs defeated Idaho 1-0 in their first-round match and advance to face UC Irvine on Friday.
Oyler set new season and career assist records this season. Her 12 assists rank sixth in the NCAA, while her 21 career assists easily set a new program mark.
Riley recorded a historic hat trick in the 3-1 WCC title clinching with at Pepperdine. The trio of goals propelled her to the top of the league in goals (12) and points (30).
Kemp picked up her first All-Conference honor after leading the WCC in shots 65, which is fourth in program history. She was also fifth in goals (9) and seventh in assists (5).
Le, a Spokane native, scored the game-winning goal over then-ranked No. 15 Santa Clara. She has started in all 18 matches and scored two goals with an assist.
Towne and the GU defense had seven shutouts. She is third in the WCC with an 81.4 save percentage and goals against average of .790.
Courter was a key piece to the Zag defense that recorded those seven shutouts. She started all 18 games this season and played a team-high 1,524 minutes in the field.
Garcia is sixth in the league with eight goals and eighth in program history with 17 career goals. She also started all 18 games.
Runje had five starts in her freshman season, appearing in 18 games. She scored five goals on 22 shots.
Warta has started 13 of the 18 games and played 1,268 minutes. She has a goal and two assists.
• Washington State women's soccer senior Margie Detrizio, freshman Reagan Kotschau and freshman Megan Santa Cruz each earned All-Pac-12 Conference recognition.
Detrizio was named to the All-Pac-12 third team, while Kotschau and Santa Cruz were tabbed to the Pac-12 All-Freshman Team.
Detrizio headlined the Cougars attack with a team-leading eight goals and five assists.
Kotschau started every match as a true freshman. She scored the winning goals against Eastern Washington and Texas A&M.
Santa Cruz made her career debut in the season-opener and played in every match this year, recently surpassing 1,000 minutes on the pitch.
• United Soccer League, the professional soccer league of the men's Spokane Velocity FC, announced a landmark multiyear rights agreement for CBS Sports to air 100 USL matches annually through the 2027 USL Championship and USL League One seasons. CBS Sports' extensive multiplatform USL match coverage will air across the CBS Television Network and Paramount+, CBS Sports Network and CBS Sports Golazo Network.
Basketball
Lewis-Clark State College's Sitara Byrd was named Cascade Collegiate Conference Women's Basketball player of the week, for the period ending Nov. 5.
Byrd, a sophomore guard/forward from Gonzaga Prep, had a standout night in the first game of the season to help NAIA No. 11 Lewis-Clark State defeat defending Division III NWC champion Whitman College. She notched the second double-double of her career with 11 rebounds and a career-high 18 points.
Letters of intent
Several area colleges announced their National Letter of Intent signees in various sports last week. The signees include two-time state champion Logan Hofstee, of East Valley, with Gonzaga women's cross country and track and field, and West Valley golfer Spencer Cerenzia with the Eastern Washington women's team.
• Eastern Washington men's basketball: Jordy Mckenzie, a 6-foot-4 guard out of Archbishop Riordan High School in San Francisco, has signed with the Eagles.
Mckenzie, from Hercules, California, averaged 17 points, four rebounds and four assists for Pinole Valley High last season before transferring to Archbishop Riordan. He also competed with northern California AAU program Team Arsenal.
• Eastern Washington women's basketball: The Eagles signed Jaecy Eggers and Kourtney Grossman. Eggers is a 6-foot-2 forward from Woodinville, Washington. She led Woodinville to the 2022 WIAA 4A championship and was named MVP of the championship game and first-team all-tournament.
Grossman is a 6-foot forward from Billings West in Billings, Montana. She earned first team All-State honors in 2023 and led Billings West to the Montana AA State Championship.
• Eastern Washington women's golf: Spencer Cerenzia, Natalie Kent, Berkley Ledesma and Esha Reddy signed with the Eagles.
Cerezia joins the Eagles from West Valley High School. She helped West Valley place second at the WIAA 2A State championship, finishing seventh on the individual leaderboard after shooting 82 and 76.
King comes to Cheney from Newport Beach, California. On the national level, she was a USGA Girls first alternate in 2023. At the FCG International, she placed in the top 25 percent of participants with a 227 total score.
Ledesma, from Curtis High in University Place, Washington, is a two-time RMJGT winner and was named player of the year for RMJGT in 2022.
Reddy is a three-time All-State honoree from Marist High in Eugene, Oregon. She placed fourth in back-to-back 4A State Tournaments.
• Gonzaga men's cross country: Caden Swanson, one of the top high school runners in Oregon, is set to join the Zags next fall as the GU men look to defend their first West Coast Conference title. Swanson joins Gonzaga after a fourth-place finish at the OSAA 6A High School Cross Country State Championships in his final prep XC race, leading Jesuit to a second-place team finish.
• Gonzaga men's golf: Charlie Olson, of Newport Beach, California, has signed to compete for the Zags. Olson was the Toyota Tour Cup Champion, has three AJGA Top 15 finishes and qualified for the U.S. Junior Amateur.
• Gonzaga volleyball: The Bulldogs signed four incoming freshmen. Californians Taylor Walsh (Newport Beach) and Hayley Ogden (San Diego), along with Maddie Cugino of Galena, Ohio, and Shelly Dykstra of Phoenix, will join the Zags for the 2024 season.
Prep Volleyball ranks Cugino as the No. 93 recruit in the nation and the 13th-ranked libero in the class of 2024.
Dykstra was named 5A Desert West Region player of the year to go along with her second straight All-Region First-Team selection after her senior season.
Ogden was named MVP of the Grossmont Valley.
Walsh is a four-time first-team All-North Hills League/Crestview Conference selection.
• Gonzaga women's basketball: Chistabel Osarobo from Tudela, Spain, Allie Turner from St. Louis, Missouri, and Lauren Whittaker from New Zealand signed with the Bulldogs.
Osarobo has led her team to two U18 Final Four appearances, two National Cup finals, two WEABL Final Fours, the U18 Playoff and Cup Championship Double and has become a key starter for the Ipswich Senior Women in WNMBL Division One.
Turner averaged 16.2 points a game while grabbing 4.2 rebounds and dishing out 4.5 assists per game last season.
Whittaker was recently selected as the sole New Zealand representative for the National Basketball Association Basketball Without Borders Global Camp in Las Vegas. The camp featured 38 of the top female school-age prospects from 24 countries as it was led by the NBA, WNBA and FIBA.
• Gonzaga women's cross country/track and field: Spokane native Logan Hofstee, of East Valley High School, Portland native Keira Saavedra and Australia native Molly Sewell will join the Zags for the 2024-25 season.
Hofstee is fresh off her second consecutive 2A State Individual Title at the WIAA State Cross Country Championships. Her historic season has included a personal-best 17:03.5 at the 6th Annual Battle for the 509.
Saavedra joins Gonzaga after earning her third straight Top-20 finish at the OSAA 6A State Cross Country Championships for Lincoln High School. Her personal best 5K came in the 2022 6A-1 PIL District Championships, winning the race with a time of 17:47.4.
A Gold Coast native from Queensland, Sewell has earned notable personal best times in the 1,500m (4:29.97) and 3,000m (9:45.26), notching both of those times with second place finishes at the Australian U17 Championships in Sydney in April of 2021.
• Gonzaga women's golf: Hawaii native Jasmine Wong has signed to join the Bulldogs in 2024. She was the 2023 HSJGA Kauai junior champion and Maui junior champion. She was also the HSJGA State Junior Open champion and qualified for the 2024 USGA Women's Four-ball and Notah Begay III National Championship.
---