'Remember the light these four brought to the world': University of Idaho killing victims are remembered one year later A unifying message prevailed at a Monday night vigil to mark one year after four University of Idaho students were killed in an off-campus home.
The names of Madison Mogen, Kaylee Goncalves, Xana Kernodle and Ethan Chapin, who were stabbed to death just off King Road in Moscow on Nov. 13, 2022, seem to be known to the entire nation. Colleges across Idaho grieved with the university, those in other states sent their condolences. The community reeled at the thought of who could have committed such a crime. Parents took their children home from school. Idaho Gov. Brad Little began working to help fund the large-scale investigation. And suddenly in December, Bryan Kohberger, a then-Washington State University graduate student, was charged with the killings. He is currently awaiting trial.
The students at the University of Idaho will never be able to forget that Sunday. Their lives were upended that day, as Mogen's friend Heather Blaschka put it during the vigil : Students "had no idea how drastically different the next hours, days and weeks" of their lives were going to be.
Kernodle's sorority sister, Zanna Miller, said she remembered coming downstairs that morning and seeing upperclassmen on the floor crying. Her phone was riddled with texts and calls. And while she could recall when the dean of students showed up to tell Pi Beta Phi the news, it was more of a blur than anything.
"How does someone process something like that? How do you know what to do or how to feel? The aftermath of Thanksgiving break, when we all came back to campus, was a roller coaster of emotions," Miller said. "The house became very quiet. Suddenly the halls and bathrooms were not buzzing with music and makeup anymore. Campus and Greek row became somewhat of a ghost town."
In the year that followed, Miller said, friends were able to look at photos of the four and recall fond memories instead of crying. Slowly, the makeup in the bathrooms and the music in the hallways started to blare again. Slowly, Greek row was less quiet.
"The streets got busier, the classes got fuller and the smiles came back," Miller said.
The Vandal family was healing.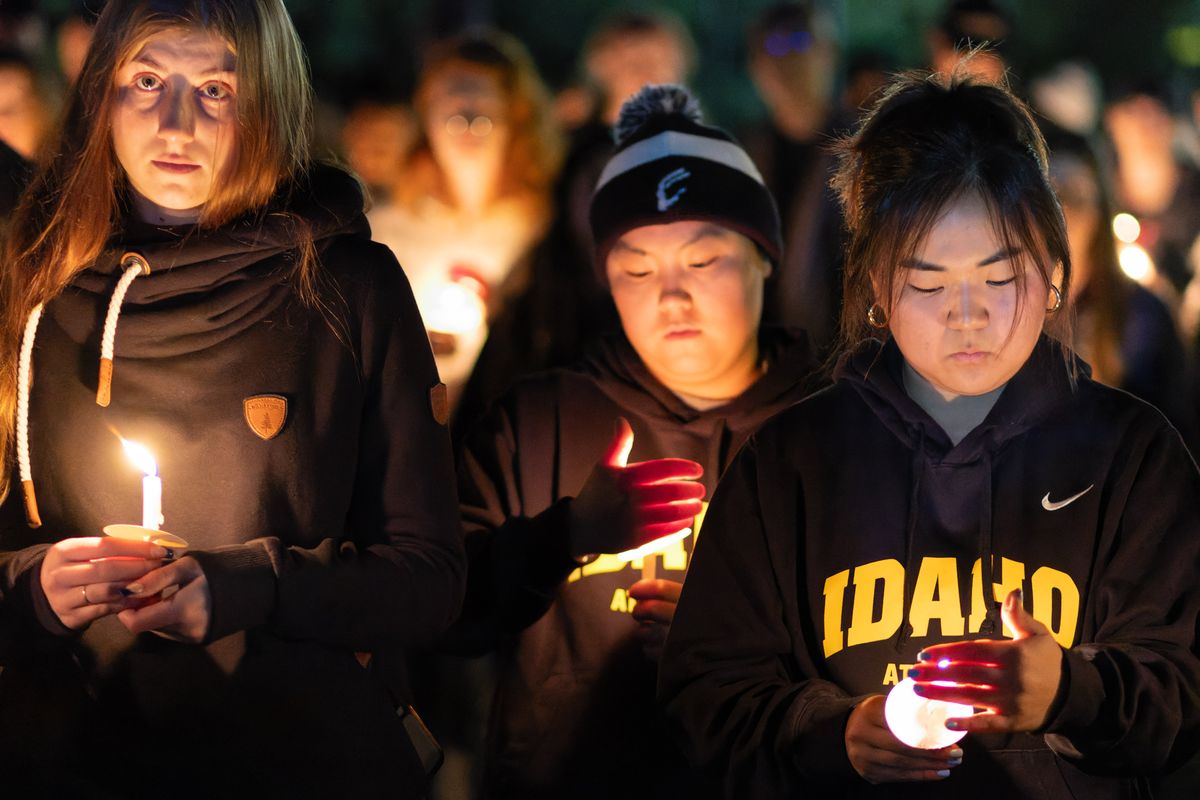 Remembering Maddie, Kaylee, Xana and Ethan
Four students got atop a stage in front of the university's administration building, lights shining in their faces, their breath making clouds in the cold, to speak about the friends they had lost , the friends they will never forget.
The word that Blaschka used most to describe Mogen was "bright."
"Kind, loving, genuine, driven, stunning, outgoing. This list can go on forever," Blaschka said. "She had a bright smile. She had a bright future. … Maddie was the kind of person that made sure everyone felt welcomed and loved and cared for. It was nearly impossible to not be smiling when you're around her. She made every person that she interacted with feel loved."
Blaschka said the morning she received the news the four had died, she was getting coffee, laughing and enjoying the time with her friends.
"Given the chance, Maddie would have been doing the same exact thing. That experience is such a small moment that many of us share but often do not think about. But that morning, I learned how important the small and seemingly insignificant moments can be," she said.
And since then, she has seen her friends , who have carried "that much grief," grow, be resilient and evolve.
Miller, who spoke about Kernodle, said she made her friends feel "unapologetic for being themselves." To know Kernodle was to love her, she said.
"She was entirely herself all the time. … Her beautiful aura followed her everywhere she went. There was always a smile on her face. She was a very contagious person. Xana was one of those people that you could not possibly be sad around," Miller said. "Nothing could possibly measure how valuable she was."
Through all the sadness, she said, a seed was planted in their sorority that day. It sprouted into a different type of sisterhood.
"Experiencing this as a freshman with my member class was a very difficult first year of college. … During the hard times and cherishing the good, we built a very strong bond. The amount of support and tenderness our chapter received in and outside of our community was one of the most incredible things to be a part of," Miller said.
Madison Whitney, who spoke for Goncalves, said she was "one of a kind."
Whitney read aloud a letter from Goncalves' sorority sister Jaden Anderson, who said she misses Goncalves' laugh nearly every day. It was so unique, she could always hear it from the other room.
"She was giggly, beautiful, kind and funny. So naturally herself. I love being in her presence. And it is one that I will miss for the rest of my life," Anderson wrote. She said Goncalves gave her a book freshman year about grief – and in a way, it felt like she was trying to tell Anderson something, whether it was fate or not.
"In the book lies a page that states despite knowing they won't be here for long, they still choose to live their brightest lives," Anderson wrote. "It just makes me think that I know she's watching out for me even if she's not here."
Darius Myers, who was Chapin's fraternity brother, said Chapin could always make him laugh – he was sweet, outgoing and "the type of person to pick you up when you're down."
"I remember him coming up and introducing himself to me right away. It only took about 30 seconds before (he) had me laughing hysterically," Myers said.
"That's just who he was. The life of the party, always optimistic. Always looking for excitement," Myers said. "There's not many people I've met in my life that I can wholeheartedly say exemplify the true meaning of what it means to be happy, to love life and those around you."
Myers said he read once that when you lose someone, you gain an angel – and they have four angels watching over them every day.
'Community is healing'
Danielle Slakoff, an assistant professor of criminal justice at Sacramento State University, studies the effect of true crime and the media's portrayal of crime.
When the news of the killings first broke, rumors and speculation went rampant. The Moscow Police Department had to put a statement on its website dispelling the rumors because there were so many theories about what had happened. Slakoff said she was "blown away." Armchair detectives and YouTubers crowded the Moscow streets trying to get a picture, video or film a livestream.
Going forward, it's important to note that consumption of true crime is "an interesting story," she said. "But for the families, it's real life."
Things have quieted down since, Slakoff said, but the trial itself will cause a new wave of media attention that affects the students and community.
" And that's where it gets troublesome for the victims' families. A year, they've lived this every day. Other people are only jumping into the story once in a while," she said. "I think the entire community is probably reeling, even though it has been a year. … I think community events can be helpful to acknowledge the pain they are in."
The main focus as time passes, Slakoff said, should be the victims and their friends and family.
"People like to feel like they know the victims. The reality is the families are the ones that are grieving to that extent," she said.
University of Idaho's student body President Tanner McClain ended the vigil by thanking the community, the university and the students. Tonight, he said, is a testament to the Vandal family.
"Community is healing," McClain said. "Xana, Ethan, Kaylee and Maddie were all Vandals through and through.
"Stay strong, be with those you love, and remember the light these four individuals brought to the world."
---