60 mph gusts, flood threat continues in Florida as hurricane center tracks 2 systems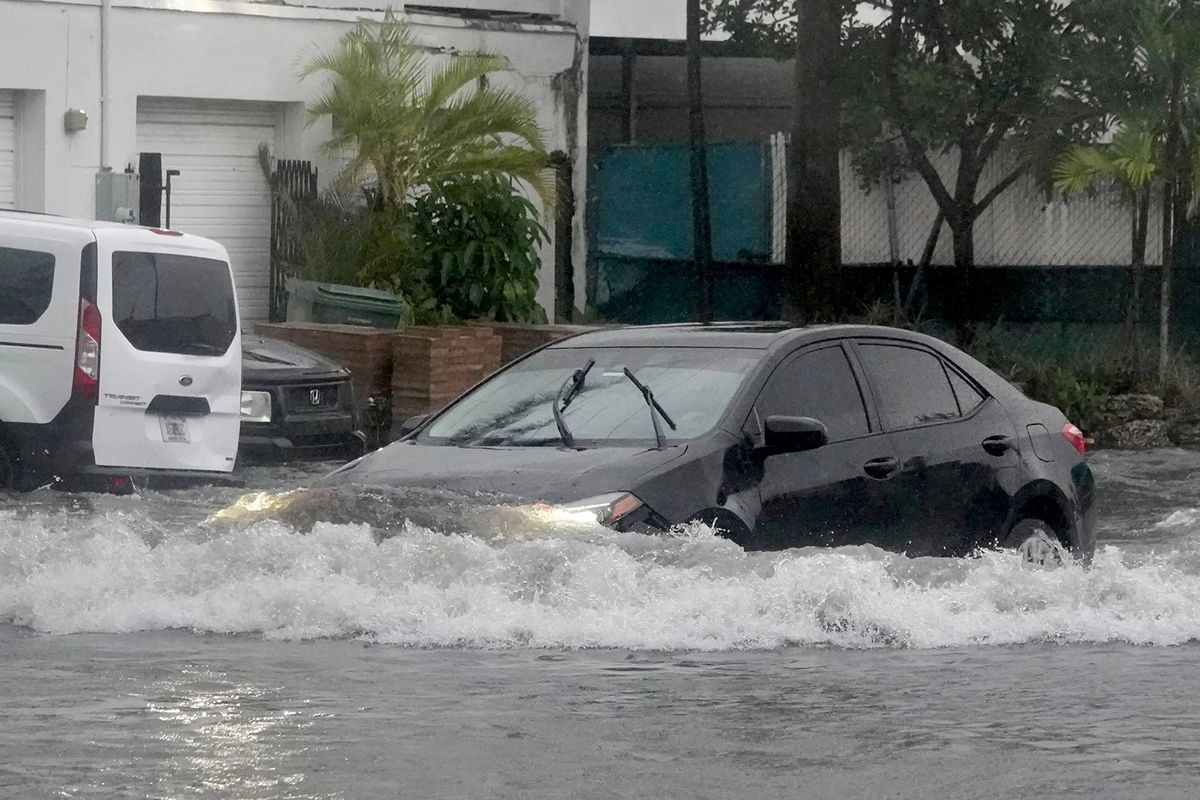 The National Hurricane Center was tracking two systems with a chance to develop into the season's next tropical depression or storm including one off the coast of Florida and one in the Caribbean.
The system centered just offshore from South Florida is an area of low pressure that already has brought a flooding threat to the state with a flood watch up the coast from Miami to Volusia County as well as inland portions of Brevard and Volusia counties.
The heavy rains that have dropped as much as 10 inches through Wednesday in some places could combine with king tides along the state's southeast coast to further the flood threat. The National Weather Service in Miami said some areas of South Florida are still seeing areas of standing water on Thursday morning.
Flooded streets in downtown Miami plagued drivers out in the storm overnight and there was some wind damage in parts of Miami-Dade County with social media posts showing branches down on cars.
Miami Beach officials reported more than foot of standing water.
Flooded streets were seen up into Broward County as well, which closed schools on Thursday because of the weather.
Power outages topped 110,000, mostly in Miami-Dade, Broward and Palm Beach counties as of 8:30 a.m., according to poweroutage.us.
Meanwhile, a high wind advisory warning gusts of up to 60 mph is in place from Miami up to the Brevard-Indian River County line until 1 p.m.
For Central Florida, the NWS in Melbourne said the region could see 20-25 mph winds with gusts up to 40 mph along the coast and inland to about Interstate 95 and 15-20 mph winds with 30 mph gusts across the rest of east Central Florida. A wind advisory is in place through 7 p.m. Thursday. The flood watch in Central Florida is also in place until 7 p.m. Thursday with 2-4 inches of rain forecast, and up to 6 inches in some places near the coast.
"It remains a low-confidence forecast surrounding low development off of the southeast Florida coast and movement of this feature northward, parallel to the coast, over the next 24 hours," the NWS stated. "Overall strength, placement and movement will all play a role with weather parameters including wind, precipitation, surf, and marine. A closer track to the coast would lead to stronger impacts."
Coastal erosion is expected to continue as well with 6- to 9-foot large breaking waves, rough surf and wave run-up to the dune line at high tide. Coastal Volusia is still recovering from severe erosion from hurricanes Ian and Nicole in 2022.
"During (Tuesday) morning's high tide, many beaches were completely covered by surf to the seawall and dunes, and waves were running up into access roads and walkways," NWS forecasters said.
It's forecast to move to the northeast near the Bahamas and offshore of the U.S. East Coast into the weekend.
"Development of this system into a tropical cyclone appears unlikely," NHC forecasters said.
"However, gusty winds and heavy rains are still possible across portions of the east coast of Florida and the Bahamas during the next day or so while the low moves quickly northeastward over the southwestern Atlantic."
The NHC gives it a 10% chance to develop in the next two to seven days.
In the west-central Caribbean, the NHC increased its prediction Thursday of development of what is now a large area of more organized showers and thunderstorms from a broad area of low pressure.
"Environmental conditions appear conducive for some additional development, and a tropical depression could form over the next day or two while the low movesnortheastward toward Jamaica, Haiti, and eastern Cuba," forecasters said.
An Air Force Reserve reconnaissance aircraft is set to investigate the system on Thursday afternoon.
"Regardless of development, this system is expected to produce heavy rains that could result in flash flooding and mudslides over portions of the Greater Antilles through this weekend," forecasters said. "Interests in Jamaica, Cuba, Haiti, the Dominican Republic, the southeastern Bahamas, and the Turks and Caicos Islands should continue to monitor the progress of this system."
The NHC gives it a 60% chance to develop in the next two to seven days.
The 2023 Atlantic hurricane season, which runs through Nov. 30, has already produced 21 official systems and 19 named storms. The final available names from the year's initial 21-name list are Vince and Whitney.
---