Honoring veterans: Volunteer group brings military ceremony to funeral services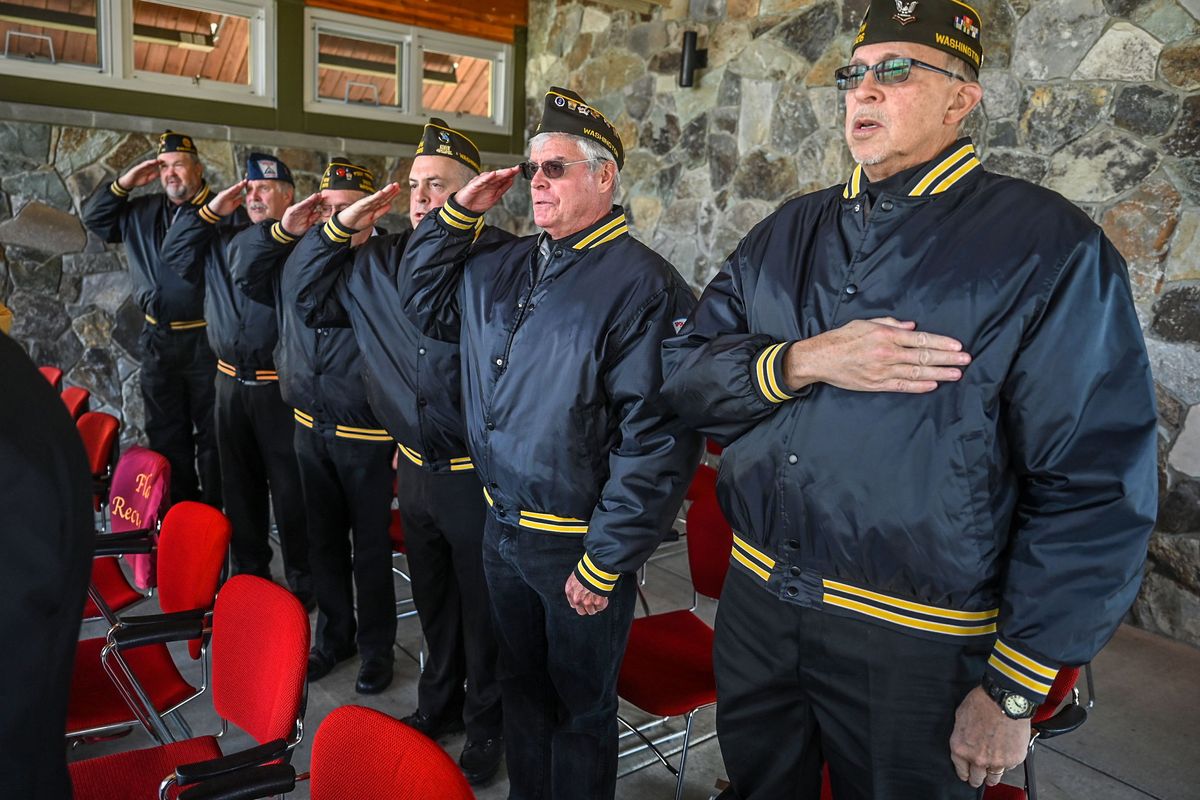 The unclaimed remains of 16 veterans were laid to rest with full military honors at the Washington State Veterans Cemetery last week.
They may have been unclaimed, but they were given a funeral worthy of the service they offered their country.
A flag ceremony, a 21-gun salute, and the playing of taps were provided by the Spokane Area Veterans Honor Guard – a team of volunteers who've undertaken 240 such missions so far this year.
"It's a league of extraordinary gentlemen dedicated to making sure veterans are given the honors they are due," said mission coordinator Rick Mattausch. "We have 25 members, and we're looking for more."
That's because the group averages six to seven services each week, and Mattausch estimates the average age of the members is 70.
"We get calls from area funeral homes, individuals, as well as the Washington State Veterans Cemetery," he said.
The only requirement to join the team is to have been honorably discharged from the military.
"We're made up of members from all different branches," said Navy retiree Harold Young. "Most of us belong to a VSO (veteran service organization)."
The group meets the second Monday of each month at VFW Post 51 on Mission Ave.
Air Force veteran Rick Boyd joined after he saw a newspaper advertisement.
"It said there weren't enough people to fill all the missions," he recalled. "I joined when I retired from my day job."
When Tom G. Christie was in the Air Force, he was asked to go on an Honor Guard mission. If at all possible, members from the same military branch as the deceased perform the flag ceremony. The experience left a lasting impression and led to him joining the Spokane Area Veterans Honor Guard.
"I felt I should continue to honor those who served," he said.
Ten years ago, he was part of a three-man team that provided honors at a small cemetery on the South Hill.
"The family just expected the flag fold," Christie recalled. "But we did the rifle salute, played taps, put our rifles down and did the flag. The three of us gave full honors."
His son, Tom D. Christie , an Army vet, helped fill in when there weren't enough members to serve at a funeral.
"When I retired, I joined full-time," he said. "At the time I joined, the military only provided the flag fold, but for me, taps and the rifle salute are important. Every vet should have full honors."
Navy veteran Joe Wallace said the reason he joined the Spokane Area Veterans Honor Guard is simple.
"It makes you feel good to honor those who've served," he said.
The service for the 16 veterans was part of the Washington State Veteran Cemetery's Forgotten Heroes program and is one they've provided hundreds of times since launching the initiative.
"We do this for the unclaimed remains of veterans, their spouses, or their children," cemetery director Rudy Lopez explained. "Sometimes they have no family, sometimes there's no way to locate family, and sometimes they're abandoned."
The Spokane Area Veterans Honor Guard performs the military honors, and the cemetery provides a final resting place.
"It's our privilege to honor them and give them a marker with their name," Lopez said. "The individuals are recorded in a federal database."
This means that if someone is searching for a family member they've lost touch with, they can find their grave, visit or even have their loved one interred elsewhere.
At last week's service, each individual's name was read, followed by their rank, branch of service, wartime service and awards, and dates of birth and death.
After each name, a member of the Honor Guard rang a bell in solemn remembrance.
The deceased veterans had served in World War II, Korea, Vietnam and the Persian Gulf. They were honored with a rifle salute. Seven members of the Honor Guard marched outdoors in formation and fired three rifle volleys. Usually, the rifle team consists of three to five members who fire three volleys.
A bugler played taps, and its haunting strains echoed across the cemetery as the Christie father/son duo conducted the flag-folding ceremony. Since no family members were present, they presented the folded flag to a member of the public. Three spent shell casings signifying duty, honor and sacrifice were also presented.
The solemn ceremony offered a final chapter filled with dignity for each of the 16 unclaimed veterans, and that wouldn't have been possible without the volunteers from the Spokane Area Veterans Honor Guard.
"I'm hard-pressed to find an organization more committed to what they do," Lopez said. "Even if it's raining or snowing or 100 degrees, they will be here to honor their brothers."
---