Eastern Washington unable to upset Stanford after quick start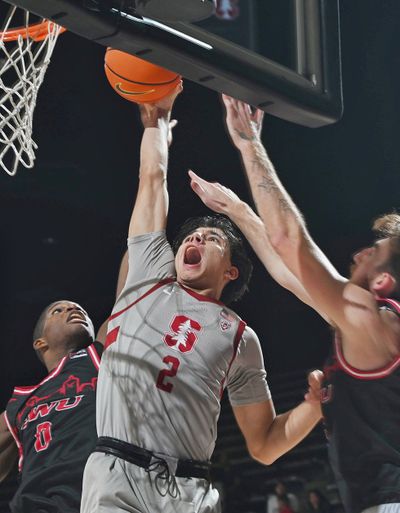 From staff reports
For the third time through four games this season, Eastern Washington's men's basketball team went on a run and had a first-half lead over a Power Five conference opponent.
Unfortunately for the Eagles, Friday night was the third time they couldn't capitalize on that momentum, and EWU lost to Stanford 95-70 and fell to 0-4 on the season.
"You can't fix it all at once," EWU head coach David Riley said after the game. "At the end of the day, we gave up 95 points, and we've got to figure that out. We can't be giving up these big numbers. … We haven't figured it all out basketball-wise, but we've got to learn these lessons against good teams like Stanford."
In the opening minutes, it seemed like the Eagles had their chance to get over the hump. Cedric Coward started the game on fire from behind the arc, going 3 for 3 in the first 4 minutes. Coward's quick start resulted in a 13-4 early lead. EWU forced a turnover on the following Cardinals possession and got a 12-point lead – its largest of the game – after Andre Mulibea hit a pull-up 3-pointer.
Stanford (3-1) began to find its stride after the Eagles held a 10-point lead 5 minutes into the game and went to their bench. Andrej Stojakovic helped jump-start a 17-0 run midway through the first half to put Stanford up by five.
The Eagles' offense was stalled by its inability to score in the paint and nine early turnovers.
EWU's Lejuan Watts scored 10 points off the bench. Despite sinking eight 3-pointers on 57% shooting, the Eagles' offense went stagnant for the remainder of the half and EWU trailed 47-35 at halftime.
"I think when you look at our team, we've had stretches where we've done everything that we need to win a championship, but we just haven't put it all together at the same time," Riley said.
Coward scored all 14 of his points in the first half.
The Eagles' Ethan Price hit a jumper in the paint with 16:34 left to cut Stanford's lead to 51-42. Price led the Eagles with 19 points.
Stojakovic's game-high 19 points led Stanford.
EWU hosts Walla Walla on Wednesday in its home opener.
---