Grizzly bear photographed in Montana's Missouri River Breaks; farthest east a bear has been seen in 100 years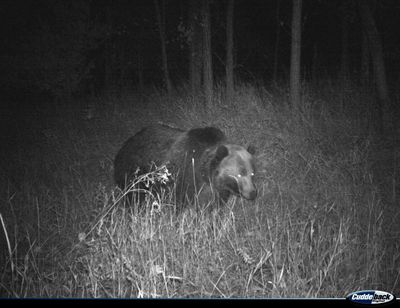 BILLINGS – An adult grizzly bear was photographed in mid-October by a game camera placed on a historic ranch along the Missouri and Judith rivers, the farthest east a bear has been seen in Montana in more than 100 years.
American Prairie, which purchased the PN Ranch northeast of Winifred in 2016, announced the sighting in a recent email.
"I've been dreaming about this moment since the day I started at American Prairie almost six years ago. Some of us for much longer," wrote Daniel Kinka, senior wildlife restoration manager for the nonprofit group. "Other than bison roaming, I don't think there is any better symbol of prairie wildness than a grizzly bear."
The PN Ranch is more than 100 miles east of the Northern Continental Divide Ecosystem where grizzlies roam mountain wilderness areas. With that habitat nearing grizzly bear capacity, more and more of the large bruins are looking elsewhere to live. Grizzlies have been trapped, seen and killed as far east as the Marias River near Fort Benton, Stanford in central Montana and at the base of the Big Snowy Mountains.
The farthest east a grizzly track has been recorded was last year near Winifred, according to Wesley Sarmento, a Montana Fish, Wildlife & Parks grizzly bear specialist based in Conrad.
"But this is the first good photo to come out of that area," he said. "It looks like an adult male."
Big country
The recent bear sighting is the first in an area containing thousands of acres of public land, including large blocks of Bureau of Land Management acreage such as the 375,000-acre Upper Missouri River Breaks National Monument and the U.S. Fish and Wildlife Service's 1.1 million-acre Charles M. Russell National Wildlife Refuge.
Sarmento said with such a large area, there should be no competition from other grizzlies and an abundance of natural foods so that the bear or bears could stay out of trouble.
That's certainly American Prairie's hope, which in addition to buying the PN Ranch has purchased more than 462,000 acres in the region. The group's goal is to restore the shortgrass prairie ecosystem. As part of that, American Prairie has reintroduced bison to some of its lands.
The big animal's presence – along with American Prairie's land purchases – has drawn sharp criticism from agricultural groups and some landowners. Some county, state and federal politicians have been critical of the group as well, working legislatively to stymie its progress.
Rewilding
On its website, American Prairie noted: "Today wolves and grizzly bears are often associated with mountain habitats, but scientific evidence and firsthand accounts indicate that they adapted specifically for life in the open grasslands … Initial evidence of grizzly bears has been found on American Prairie property, and it is expected that both species – grizzlies and wolves – will eventually recolonize the Missouri River Breaks area through natural immigration. Mountain lions have already done so and are now found in low populations in both the Little Rocky Mountains and the Missouri River Breaks. Black bears also have recolonized the Bears Paw Mountains and Little Rocky Mountains."
Beth Saboe, senior public relations manager for the group, said, "We are very excited to see the return of this grizzly bear to its native habitat. In recent years, grizzlies have been expanding onto the prairies, and just like we've seen along the Rocky Mountain Front, it is possible to co-exist with them. We are also committed to public safety and our priority is to keep people and property safe in order to minimize conflict."
American Prairie's website noted it will provide sanctuary for carnivores on its property and is working with surrounding landowners through its Wild Sky program to pay landowners for tolerating wildlife.
Montana Fish, Wildlife & Parks has also recently stepped up its educational efforts in areas not considered grizzly country in more than a generation. Such bear-aware informational sessions have been conducted around Eastern Montana to prepare residents for the grizzly bear's reappearance.
"We've done them all over," Sarmento said, including in Lewistown, Loma, Big Sandy and Havre. "Most folks understand the bears are expanding out."
Explorers
Young bears cast off by their mothers typically wander into new territory, Sarmento said. Often, they return to their homeland after the exploration since they know the terrain and food sources.
Longtime Montana grizzly bear advocate Doug Peacock praised the Missouri Breaks grizzly's ability to make it to the rugged region. He has most recently been working to create safe passage for grizzlies from the Greater Yellowstone Ecosystem to move across highways in southwestern Montana so they can reoccupy areas like the Crazy, Big Belt and Little Belt mountain ranges.
"This bear family (picture) is our best example of a grizzly explorer," he wrote in an email.
Other incidents of bear exploration have not ended well for the animals.
In 2009, a yearling male was captured near Loma, where the Marias and Teton rivers meet, after killing sheep. Its travels were estimated at about 175 miles. In 2013, a 4-year-old male grizzly was captured near the lower Marias River after killing livestock and relocated.
In 2017, two subadult males were euthanized by FWP after killing livestock west of Stanford. The same year, two others were seen near Big Sandy, southwest of Havre. In 2021 a 5-year-old male grizzly was killed by FWP after eating livestock at the base of the Big Snowy Mountains. DNA from that grizzly indicated it had grown up around Red Lodge, roughly 150 miles south.
"If the USDA DOW hadn't illegally killed that 5-year-old male in the Big Snowys, we would have a complete family unit in the same eastern area," Peacock said. "This and other explorer bears wouldn't survive delisting."
Last year, a bear was documented in the North Moccasin Mountains north of Lewistown. Sarmento said it's possible the recently photographed Breaks grizzly could be the same animal.
Kinka, of American Prairie, said grizzly bears "have come to symbolize the places we are not – what's just past the frontier. That strikes me as a cruel mischaracterization of prairie bruins since humans persecuted and banished them to the most inhospitable corners of the map while simultaneously venerating them as symbols of that same 'wilderness.'
"This is not the "horribilis" of wilderness frontier fantasy," he added, referring to the bear's scientific name, Ursus arctos horribilis, "but an indicator of a wilder, better prairie."Info
---