Lakeside survives rematch with Freeman, advances to State 1A semifinals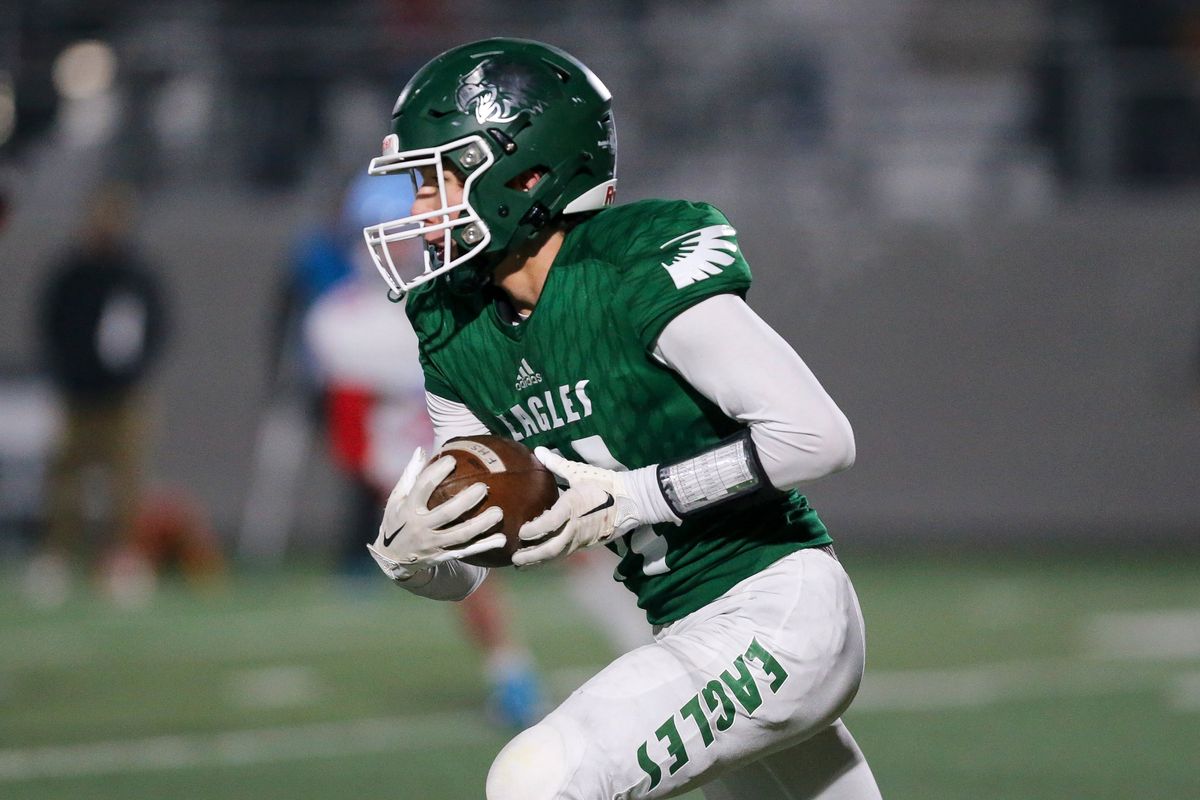 The Lakeside Eagles survived a grinder of a game to stay unbeaten and advance to a stage of the postseason that no football team in school history has reached before.
For the first time, Lakeside of Nine Mile Falls is headed to the semifinal round of the State 1A playoffs.
"It's something special that all of us will remember forever," Lakeside quarterback Calvin Mikkelsen said.
The Eagles scored the final 10 points of the game and held on for a 24-20 win over Northeast League rival Freeman on a cold Friday evening at Union Stadium.
"It's a huge milestone," Mikkelsen added.
Mikkelsen led the way with a hard-running effort, totaling 117 yards and two touchdowns on 16 carries.
The senior scored on an impressive, 12-yard carry late in the third quarter to put the Eagles up 21-20 – Mikkelsen appeared to be stacked up at the 5-yard line, but kept his legs churning and got a push from his offensive line.
"Our offensive line keeps getting better and Calvin is Calvin – he's a beast," Lakeside coach Devin Bauer said.
After forcing a quick punt on Freeman's ensuing possession, Lakeside (11-0) used a methodical drive to extend its lead. The Eagles drained about 6 minutes off the clock during the series, which ended with Noah Hamilton's 35-yard field goal.
"We just wanted to keep our guys on the field, milk the clock and pound it on them," Mikkelsen said. "The run game was working, so that's what we wanted to do."
The Scotties (8-4) got the ball back with about 5 minutes remaining. They picked up a couple of first downs, but didn't have enough left in the tank to complete a potential winning drive.
A fumbled snap on a third-and-long backed Freeman up to fourth-and-23 with 45 seconds left, and Lakeside's defense was there to make a stop after a short reception.
Mikkelsen took a knee, and the Eagles rushed the field to celebrate a first-time accomplishment for the program.
"What a quarterfinal game," Bauer said. "Couldn't have asked for anything better. Just a lot of emotions.
"I'm excited for our school and community. It's just an awesome spot to be in."
Lakeside, the No. 2 seed in the playoffs, advances to face sixth-seeded Nooksack Valley next weekend. Additional game details will be revealed in the coming days.
The Eagles and Scotties traded momentum throughout the first three quarters. Lakeside opened with a ground-and-pound TD drive, which Mikkelsen capped with a 10-yard score on a fourth-down quarterback sneak.
Freeman answered with a pass-heavy scoring possession. Quarterback Luke Whitaker fired an 8-yard TD pass to Sage Gilbert.
The Scotties took the lead midway through the third quarter on Whitaker's 7-yard touchdown pass to Nash McLean, who made a diving catch for a score on third down.
Mikkelsen and star skill player Hiro Patterson answered quickly with the most memorable play of the day. Mikkelsen found Patterson all alone over the middle on a third-and-long, and Patterson did the rest, eluding several defenders for a 70-yard TD to make the score 14-all going into the half.
"He just makes people miss," Mikkelsen said of Patterson. "All I gotta do is put the ball in his hands and let him do his thing."
Freeman opened the second half with a long scoring drive.
Receiver Vance Coyner gave the Scotties a spark with a 30-yard catch on a pinpoint pass from Whitaker, who finished the series with a 17-yard TD pass to Colton Wells.
Lakeside defensive lineman Oz Melzer, who also recorded two sacks, blocked the extra-point attempt to keep his team in the lead.
The Eagles outgained the Scotties 326-297 in a well-matched game that featured plenty of clutch moments on both sides of the ball .
"We've had all types of games this year," said Bauer, whose team averages just under 40 points per game. "Our seniors and captains were able to grind and stay in it, even when things weren't going exactly how they usually go.
"There's just no quit in them. When the battle gets tougher, they always seem to rise to the occasion."
Mikkelsen completed 4 of 14 passes for 121 yards, finishing his day with 238 yards of offense and three TDs.
Patterson, another senior, had 121 yards from scrimmage.
Whitaker had a bright performance in his final prep game, completing 18 of 25 passes for 178 yards and three TD passes, and rushed for 48 yards to pace the Scotties.
Tailback Kanoa Rogan ran for 71 yards. Gilbert, Coyner and McLean combined for 147 receiving yards.
"We played till the end and no one gave up on each other," Freeman coach Ben Cochran said.
---