Multi-faith leaders gather in Seattle to call for cease-fire in Gaza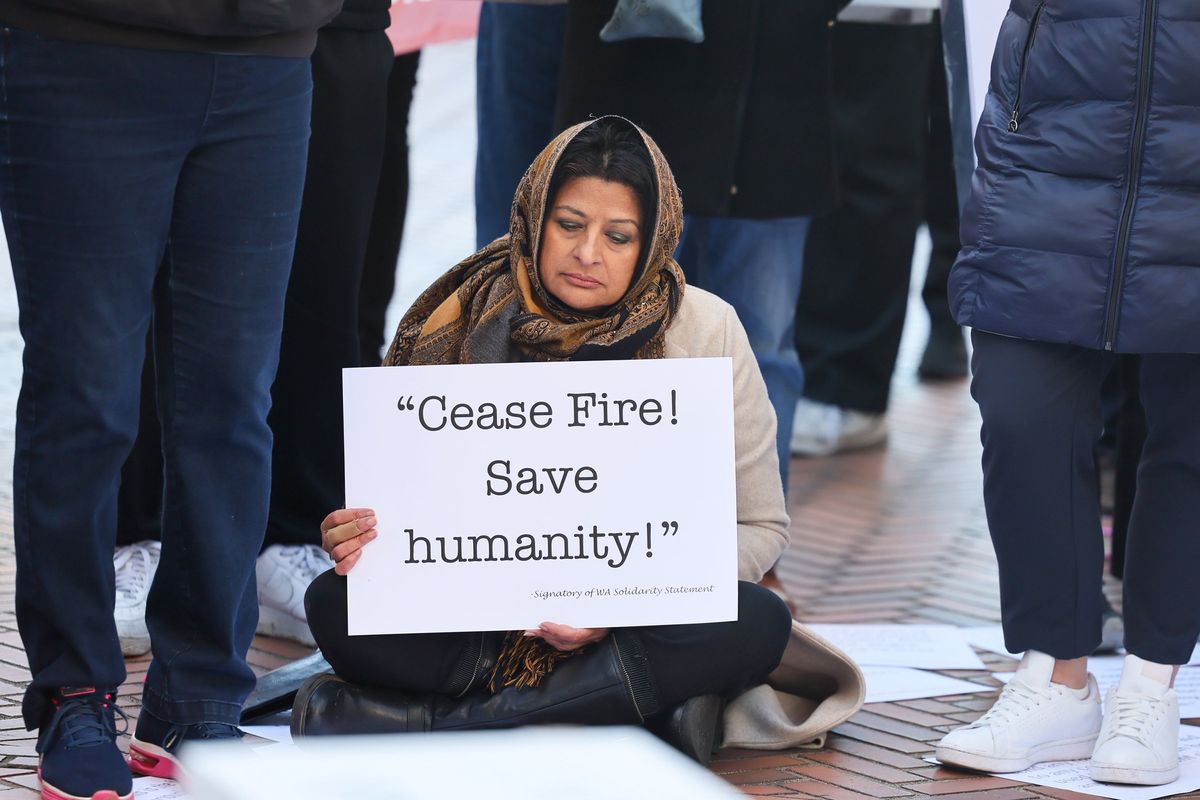 Rabbis, imams, reverends and other faith leaders from across the state gathered Thursday at Seattle's Henry M. Jackson Federal Building to demand a cease-fire in Gaza and the release of hostages kidnapped by Hamas.
Flanked by elected officials and community advocates, the multifaith leaders read line-by-line a solidarity statement condemning the deadly Oct. 7 attack on civilians in southern Israel and the killing of civilians in Gaza in the weeks since Israel began its bombardment and siege of the densely populated strip.
In front of the rally sat a line of cardboard boxes filled with the signatures of those who signed the statement that will be delivered to state representatives. As of Wednesday night, roughly 1,900 individuals and more than 130 organizations in Washington had signed on.
"I want people to see, 'Oh, hey, I don't have to pick a side here. The side I can pick is humanity, the side I can pick is life'," said Rabbi David Basior of the Kadima Reconstructionist Community, who helped draft the statement.
"Anything that gets in the way of life, such as bombings, such as holding hostages, such as massacres, such as … depriving humanitarian aid from people who need it, such as leaving or letting slide antisemitism and Islamophobia and anti-Arab racism, all these things take away from life."
Hamas, which controls the Gaza Strip, killed about 1,200 people and kidnapped more than 240 hostages in its early-October attack on Israeli military bases and border cities. Since then, intense waves of Israeli airstrikes have killed more than 11,000 people, according to the Gaza Health Ministry, and severe shortages in food, water, medical supplies and fuel have created a dire humanitarian crisis in the besieged Palestinian territory.
Seattle-area residents with family in Israel and Gaza have been watching the death and destruction with horror and grief. Hundreds have attended protests, some urging the release of hostages and supporting Israel's military efforts and others demanding a cease-fire and calling for the end of Israel's occupation of and control over Palestinian territories.
Many fear the Israel-Hamas war will lead to a dramatic rise in antisemitism, Islamophobia, xenophobia, and anti-Arab bigotry and violence, which the solidarity statement condemns. Those concerns have proved justified, as Jewish, Muslim and Arab community groups note an increase in bias incidents and harassment since Oct. 7.
"The impact of this catastrophe isn't just in a faraway land," Bothell Deputy Mayor Rami Al-Kabra, the only Palestinian elected official in Washington, told the crowd Thursday. "It impacts us right here within our community, right in our backyard."
In addition to a cease-fire and the release of hostages, the solidarity statement calls for the opening of humanitarian aid corridors and "an end to the decadeslong military occupation" of Palestinian territory, arguing that safety, security and freedom for all people in the region will not exist until then.
Among the signatories are Seattle City Councilmembers Lisa Herbold, Tammy Morales, Teresa Mosqueda and Dan Strauss, and state Sens. Noel Frame, Bob Hasegawa, Liz Lovelett, T'wina Nobles, Rebecca Saldaña, Derek Stanford and Yasmin Trudeau.
Longtime community organizations such as Asian Counseling and Referral Service and El Centro de la Raza also signed on, as did dozens of religious institutions based in the Seattle area.
Organizers said the breadth of signatories from different racial and religious backgrounds reflects the broad coalition of residents demanding an end to the recent violence in Gaza.
"I am a child of a liberation movement that would not be free without the solidarity of folks who saw the harm that was happening in terms of anti-Blackness in this country," said the Rev. Kelle Brown, senior pastor of Plymouth Church United Church of Christ. "I cannot live and breathe in freedom without seeking the freedom of all people."
Many of those involved in crafting the statement have yearslong relationships, showing up for each other in past times of trauma and grief, such as the 2018 mass shooting at Pittsburgh's Tree of Life Synagogue and the deadly Christchurch, New Zealand, mosque shootings in 2019.
Building on that foundation of trust and empathy allowed organizers to work through fraught questions of what peace and justice among Israelis and Palestinians can look like.
Still, many prominent Jewish community organizations and leaders in Washington, such as the Jewish Federation of Greater Seattle, the Anti-Defamation League Pacific Northwest and the American Jewish Committee Seattle, were not involved with the solidarity statement and did not sign it, reflecting how local Jews' views about the polarizing conflict vary widely. Many support Israel's ongoing military operations as a means of destroying Hamas and preventing another massacre.
"We had multiple different perspectives we were considering in this process," said Aneelah Afzali, executive director of the Muslim Association of Puget Sound's American Muslim Empowerment Network program, who helped write and organize the statement. "We may not necessarily agree with all those perspectives, but we wrote this in a way to have as broad appeal and reach as possible, even to people with differing views."
Another organizer, University of Washington professor Dan Berger, the son of an Israeli mother and grandchild of Holocaust survivors, said Jews have "an obligation and a tradition to speak for peace and against war." He noted that the harms of war are countless and intergenerational, embodied for him in the aunts, uncles and cousins he never got to meet.
"I can no more imagine having a large family than I can countenance the erasure of whole families now happening in Gaza," Berger told the crowd Thursday.
Toward the end of Thursday's event, several organizers carried boxes of the signatures into the federal building to deliver to the offices of U.S. Sens. Patty Murray and Maria Cantwell.
Then, the crowd sang a version of "This Little Light of Mine," the gospel song that served as a kind of anthem for the Civil Rights Movement. In the second verse, the crowd changed the lyrics – "Shine my light in Palestine, I'm gonna let it shine."
---