100 years ago in Spokane: A New York writer liked the city's downtown, but offered a 'gentle rebuke' on residents' fashion sense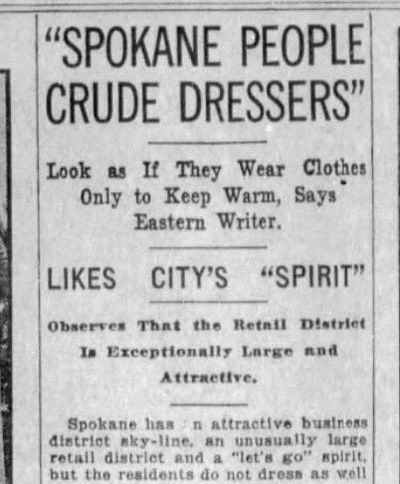 Harry L. Drummond, visiting writer for "Editor and Publisher" magazine in New York, was impressed with Spokane's downtown – but not with its fashion sense.
"Spokane is a big city compared to cities of the same size in the East," he said in a "gentle rebuke" at a downtown luncheon. "Your retail district covers 50 blocks, an exceptionally large area. You get behind things for the good of the city and you are boosters, but you don't look as good as you are. Other towns are better dressed. Your people seem to buy clothes to keep them warm and cover them, and for nothing else."
From the scandal beat: The national scandal continued to grow involving ex-Veterans Bureau director Charles R. Forbes, formerly of Spokane.
Elias Mortimer testified in a Senate hearing that Forbes accepted bribes for veteran's hospital contracts.
Mortimer also claimed that Forbes had a lot of booze on one of his official trips to the West, which included a controversial and possibly risqué stop at Hayden Lake. Mortimer produced a telegram that informed Forbes that "(We) will have all of the Scotch generals when you arrive here, with General Haig in command."
"Scotch generals" were presumed to mean cases of Scotch whisky. Mortimer confirmed that the Scotch generals were indeed present when the party arrived in Seattle.
Forbes angrily denied all charges of impropriety.
From the music beat: Classical music fans in Spokane had plenty to look forward to. Famed Russian violinist Efrem Zimbalist was arriving for a concert later in the week. He was known at the time as one of the greatest violinists in the world, and known later as the father of actor Efrem Zimbalist Jr. ("77 Sunset Strip").
Also, the San Carlos Grand Opera Company was scheduled to arrive in December to present "Aida," "Madame Butterfly," "Faust" and "Trovatore."
---