A Grip on Sports: Cougars' blowout win over Colorado on Friday night caps a perfect season against the state A GRIP ON SPORTS • We have to admit we begin this day pretty tuckered out. We feel as bad as Deion Sanders looked last night. Pregame, not post. No one could look that poorly. Well, except, maybe, his football team.
•••••••
• We know Washington State doesn't have a great football team this season. Nothing like, say, its 2018 juggernaut. But when the Cougars are good, they are very good.
And they have been very good against teams from the state of Colorado. Three-and-perfect against schools in the state. At least 50 points scored in each. Colorado State. Northern Colorado. And Friday night, Sanders' Buffaloes. Talk about head-butting teams into submission. Bearing down. Stampeding over them.
Which begs a question. Is Colorado School of Mines or Adams State or Colorado Mesa available to join the Cougars' soon-to-be-put-together new-look Pac-12?
Maybe one of them would give a better account of themselves than the Buffs did last night.
At one point FS1 analyst Spencer Tillman called the Colorado offensive line "porous." Yes, he's prone to understatement. He's also really good. Honest. Straightforward – for the most part.
He and Tim Brando kept harping on how hard the Colorado players were competing and, for many, that was true. But two things were also true. When the Cougars' best defenders were on the field, the Buffs were impotent. And the group tasked with protecting Sanders' son, quarterback Shedeur, didn't have a chance. Whether that was due to poor coaching, paucity of effort or just plain lack of ability, we can't be sure. All we saw was five guys being worked.
It was the most dominant performance from the Wazzu defensive line since, well, they ran all over Northern Colorado. Correlation? All we can say is, if Air Force is part of the scheduling alliance WSU and Oregon State are putting together with the Mountain West for 2024, then the Falcons better shore up their pass pro.
• By the way, what did you think of the all-caps, block WAZZU on the Senior Night helmets? Love it or not, hard to argue with the results. Is it possible to sport the look again next Saturday. In Seattle. In the final Pac-12 Apple Cup ever?
•••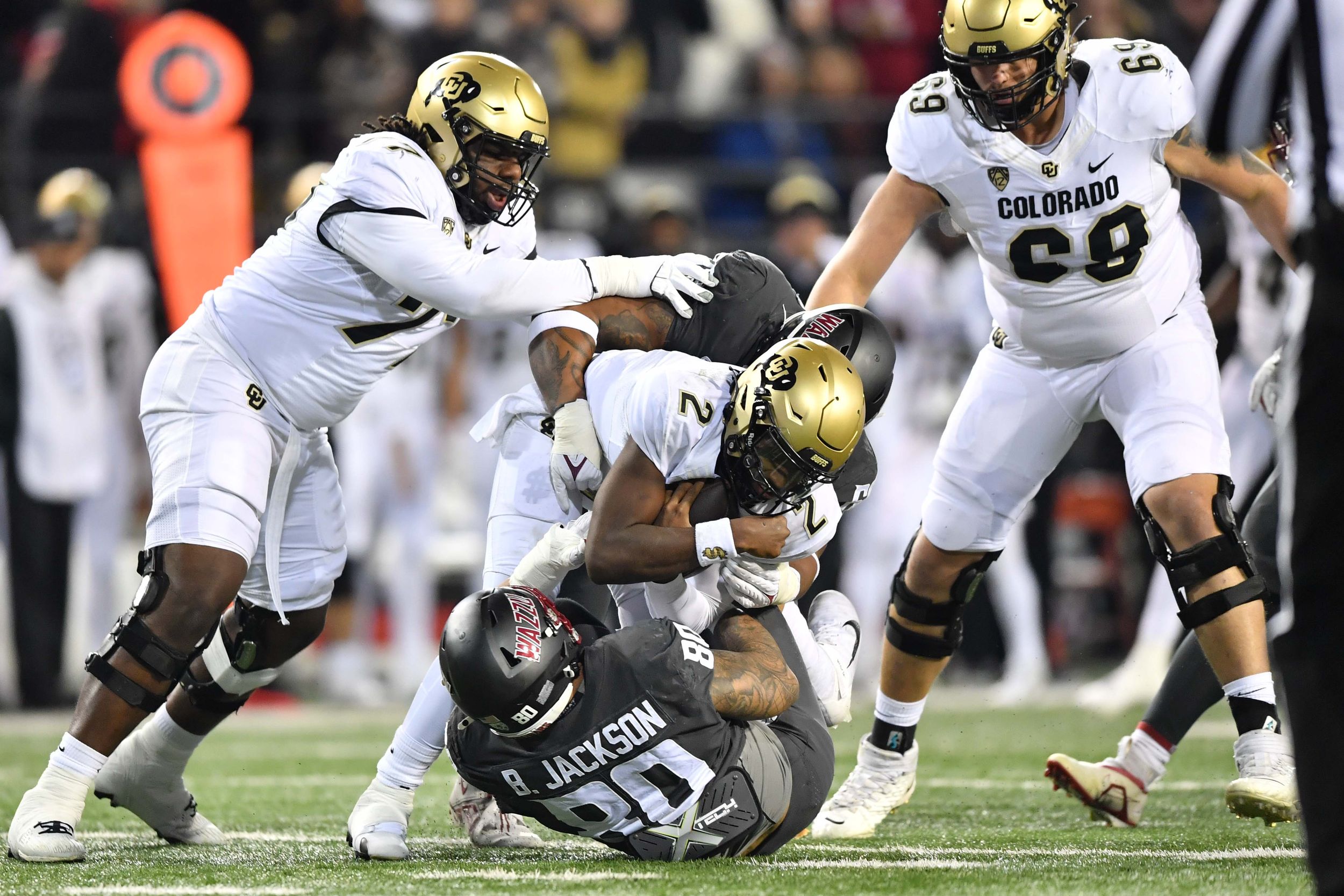 WSU: There is no Spokesman-Review printed on Saturdays. It's an online-only version, put together for e-Edition customers. Which means there really isn't a deadline, except for the one in our heart for the poor folks waiting in the office for the game to end. You know, so they can call it a night. We had sympathy. After about midway through the second quarter, we felt the same way. The result was the TV Take wasn't as timely as one might have hoped. Someone admonish the writer, will ya? Oh, wait. That's us. … Greg Woods put together a nuts-and-bolts story for right after the game, while Theo Lawson waited until he got to talk with Sanders before putting together this sidebar. Let's hope he wore an N-95 mask. Don't want to get sick before heading to Hawaii. … Jacob Thorpe also has a column from last night's contest. … Before the game, NCAA President Charlie Baker met with WSU reps and then the media. Greg has a story on what he said. Our assessment? Not much of substance. … Tyler Tjomsland was on the field in the cold weather and has a photo gallery with lots of sack action. … To be sure, there are stories from the Colorado area (and elsewhere), including a plea to shut down Shedeur for the season. … Elsewhere in the Pac-12 and the nation, the Washington Supreme Court, addressing a plea from WSU and OSU, expedited the appeals process concerning Pac-12 governance. Jon Wilner summarizes that and the week's court action. … He also has a mailbag, which addresses the future as well. … John Canzano focuses on the future, as he shares news Oregon and OSU are plotting to continue their rivalry series next year. … There are some interesting games on TV today and, if you are a Cougar fan, your day is free. … In basketball news, Wilner has his conference power rankings in the Mercury News. We take exception to his assessment of USC's defeat at home to UC Irvine as a "bad loss." The Eaters are legit. … Washington needed at least one win Las Vegas. They got it last night, defeating Xavier in the first round of the Continental Tire Main Event at T-Mobile Arena. Now the Huskies can go after the championship against San Diego State. … Oregon's men rolled at home, improving to 3-0. … The Oregon State women did as well. … The Utah men couldn't rally all the way back. … The Ute women are headed for a homecoming for their star player. … UCLA's women weathered Princeton's upset bid. … There is one more player available for Arizona's women. … The Wildcat men routed Belmont 100-68 as two players scored 20 points.
Let's move on to the Pac-12 football games on today's schedule …
• No. 16 Utah at No. 19 Arizona (11:30 a.m., Pac-12 Networks): The College Football Playoffs committee values Utah less than the A.P. poll voters do. It values Arizona more. As do bettors. So, who is correct? We will find out quickly today. If you wander over to the Pac-12 Networks. A Senior Day game between two ranked teams in late November not being picked up by the big boys? Well, we never …
• UCLA at USC (12:30 p.m., ABC): Two unranked teams playing on ABC in the middle of the day? Well, it is the battle for Los Angeles. And it's millions of eyeballs. Problem is, the land of the perpetual traffic jam is really only interested in winners. And this year neither Lincoln Riley nor Chip Kelly have won enough. One, however, will get the victory today. And a cool looking bell.
• No. 6 Oregon at Arizona State (1 p.m., Fox): Swinging gate? Five tight ends? Heck, punts on third down and long passes on fourth? You never know what Kenny Dillingham might dial up for his underdog Sun Devils today against his former team. The Ducks should have too much for ASU but the desert has been unkind to them before.
• California at Stanford (3:30 p.m., Pac-12 Networks): The Big Game is big in one way today. Next season it will be an ACC conference battle. This is the last one held under the Pac-12 moniker for two schools who are as intertwined with the conference as anyone. Will the Bears prevail? Can the Cardinal pull an upset? Is there such a thing here?
• No. 5 Washington at No. 10 Oregon State (4:30 p.m., ABC): The final game in a series that began before cars were a thing. No, not electric cars. Cars. Dec. 4, 1897. In Corvallis. The Beavers may have been favored then, as they are today. Will the result be the same? Oh, you don't know. OSU 16, UW 0. If that happens today, goodbye Husky playoff hopes.
Gonzaga: The Bulldogs' short-lived NCAA soccer playoff run is over, done in by UC Irvine 2-1 in a match held in Lincoln, Neb. The Anteaters, who upset top-seed UCLA in the first round, scored two early goals and weathered GU's comeback attempt. … In basketball news, Saint Mary's lost again. Actually, the Gaels were blown out in the second half of a loss to San Diego State.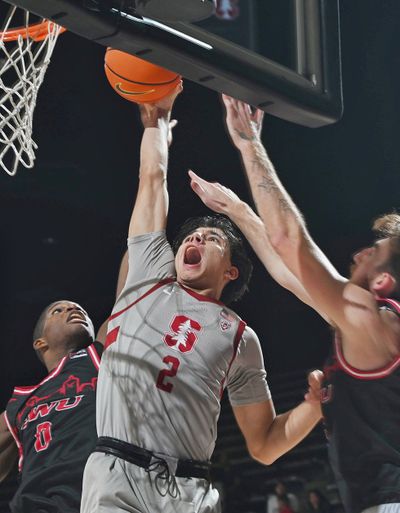 EWU: Once again there will be no postseason for the once perennial playoff school. The Eagles will finish its 2023 football season today at Roos Field hosting Northern Arizona. Dan Thompson has the three things to watch. By the way, the game will be broadcast on SWX, starting at 1 p.m. … Eastern's defense was not good enough last at Stanford, as David Riley's basketball team fell 95-70 at Stanford. The Eagles are 0-4. … Elsewhere in the Big Sky, the winner in Missoula today wins the regular season title. Montana or Montana State. Who you got? … The other rivalry game is in Northern California today. Sacramento State at UC Davis. We guess loser is out of the playoffs, winner is in. … Northern Colorado has yet to win this season. And now the Bears' game against Portland State won't be on the radio in Greeley. … Cal Poly finishes its season hosting Weber State. … In basketball, Idaho State ran Northwest University out of Reed Gym on Thursday. On the same night, Montana State picked up its first Power Six win in five years. … Weber State squandered an early lead, losing to Gardner-Webb 62-61. The Wildcat women lost as well. … The Northern Arizona women have been helped by a couple transfers.
Idaho: The Vandals vaunted pass defense will be tested by Idaho State in the Kibbie Dome's regular season finale. Barring an upset, UI will be part of the FCS playoffs and may still earn a bye. The game will also be televised by SWX, starting at 4 p.m. Colton Clark has the three things to watch. … The basketball team won again, defeating Division III Pacific Lutheran 96-52 in Moscow.
Whitworth: Though we don't have a story to pass along, we wanted to make sure you know there is a local game to watch today. The 9-0 Pirates will host Chapman in the NCAA Division III playoffs. The game, in the Pine Bowl, is scheduled to kick at noon.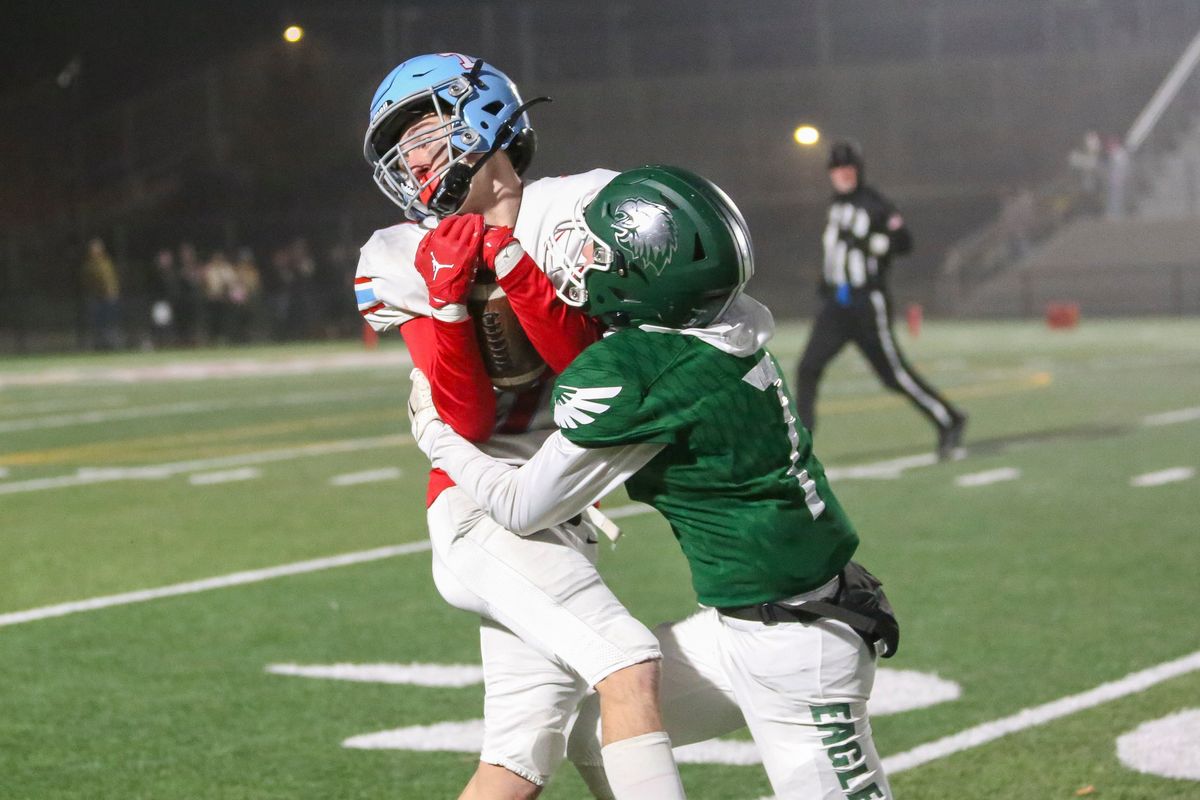 Preps: Though there was plenty of State action yesterday, we can only pass along a story on Lakeside's 24-20 quarterfinal 1A football victory over rival Freeman. Colton Clark was there and has this coverage. … West Valley's undefeated and top-seeded soccer team will play in the 2A State title match today at 3 p.m. after getting past East Valley (Yakima) 2-1 in Friday's semifinals.
Velocity: Justin returns with this story on the USL's team announcing its first home game. It's scheduled for March 16 against Richmond.
Seahawks: Man, there are a lot of key players questionable to play Sunday. All of them should but you never know. … Riq Woolen is having a better season than many might be giving him credit for. … The Rams will have their quarterback back and a motivated Cooper Kupp. Not good.
Kraken: Seattle is playing in the Winter Classic. Were their sweaters for the event accidentally leaked online?
Mariners: The M's traded a young relief arm to the Red Sox yesterday for another second baseman, one they are hoping will bounce back to pre-2023 form. … If Seattle was ever going to delve deeply into the free agent market, this would be the offseason to do it. A bunch of teams aren't sure of next year's revenue stream and there may be many discounts available. Of course, the pool is shallow.
Sounders: Jordan Morris is playing a different spot. One he's played in the past. And the change has unlocked his scoring potential.
Reign: What's next for Seattle? And for Megan Rapinoe?
•••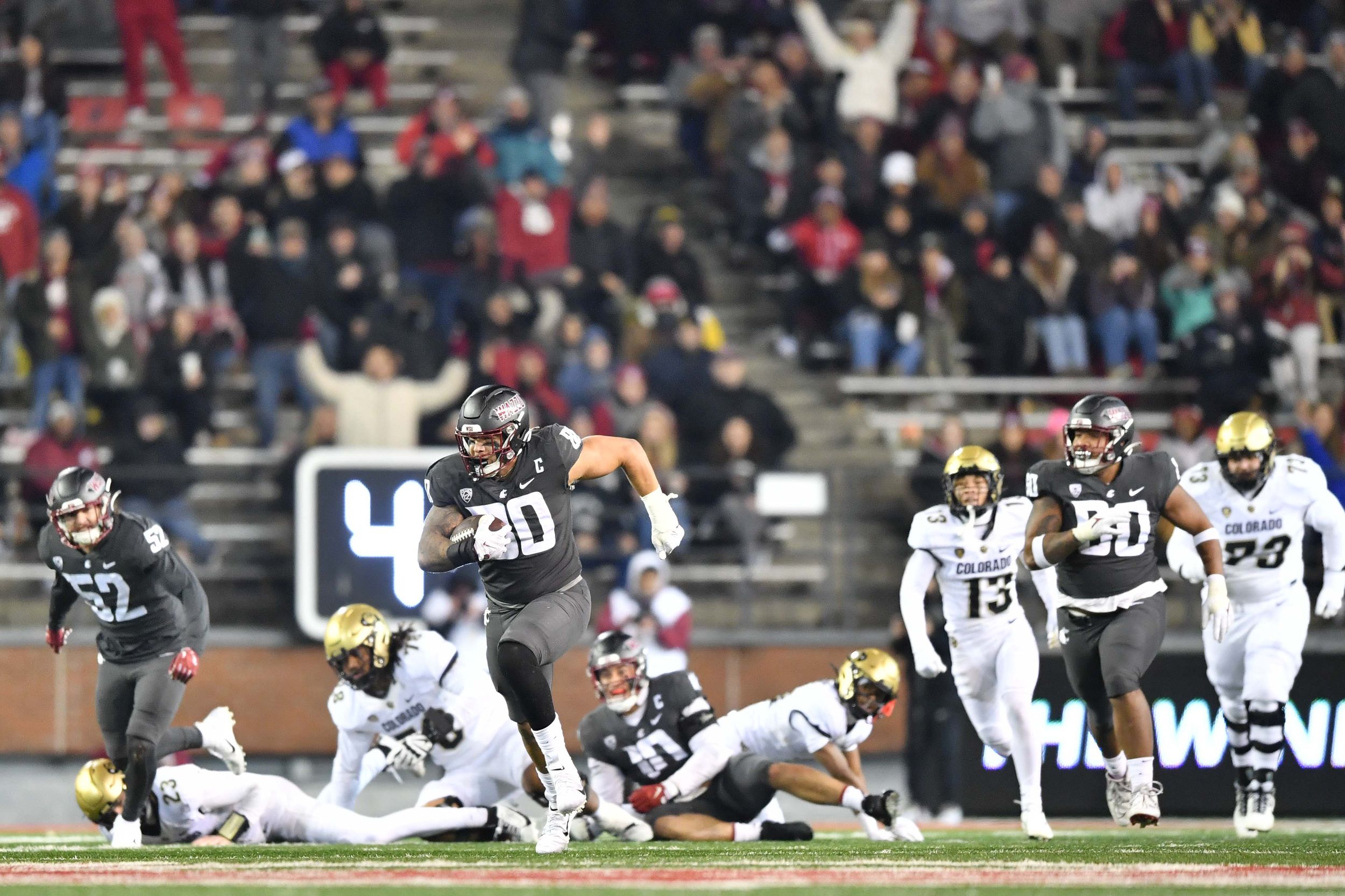 • Why are we tired? A long game that started, as we predicted, late. Plus, there was the most egregious missed replay review of the season late, one that made us rewind over and over to try to figure out how the replay official overruled a call on the field. Couldn't. And we agree with Tillman, who almost did a spit take when the overrule was announced. He pointed out how the WSU player's knee hit the ground with possession of the ball and bounced back up. And yet, an overturn of the down-by-contact ruling. OK, it was a long game and it was late. Hope something just as bad doesn't happen in Corvallis tonight. That would open a can of worms no one in the Pac-12 office wants to deal with. Wait, is there anyone in the offices anymore? Until later …
---