He thought his Chuck Close painting was worth $10 million. Not quite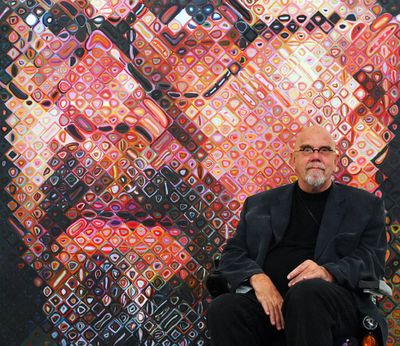 NEW YORK – Have you ever had this fantasy? You befriend a curmudgeonly stranger, and one day, out of the blue, the old grouch bequeaths you a gift to change your life.
For most of us, that fantasy is priceless. But for Mark Herman, a former dog walker now living on Social Security, an auction house in Dallas told him exactly how much that fantasy was worth.
In his cluttered apartment in upper Manhattan, New York, on Tuesday, Herman watched speechless as the auctioneer declared the final bid on Lot 77070, an untitled Chuck Close painting that briefly, improbably, belonged to him.
On hand to record Herman's reaction was Amy Sargeant, one of two filmmakers who contacted him after the story of his painting appeared in the New York Times this summer. She had read about it on a ferry to a remote island in Tanzania.
That story, in brief: About six years ago, Herman began walking a toy poodle belonging to a retired lawyer and professor named Isidore Silver, who in the late 1960s represented Chuck Close in a First Amendment lawsuit against the University of Massachusetts. Herman and Silver, despite very different temperaments, became friends.
Silver casually mentioned a large canvas he kept rolled up in a closet, unseen by anyone. Last March, as Silver's health declined, he brought up the painting again. "He basically said, 'Take the painting,'" Herman said.
Herman did. Silver died a few days later, at 87.
Herman, who said he considered Silver "like a second father," Googled his inheritance: a Close painting once fetched $4.8 million. Herman arranged with Sotheby's auction house to sell the painting. The day he dropped it off, he said, "I was on cloud nine."
Herman is what might be called a man of substances. One night after a course of magic mushrooms, he received a vision of the painting's value. That vision was $10 million.
But of course, drama. Close died in 2021, and his estate and gallery had no record of the painting and could not authenticate it. Sotheby's pulled it from sale the day before the auction, leaving Herman with a $1,742 bill for having the rolled-up canvas prepared.
Herman, frustrated, tried other auction houses, museums and galleries; all passed. Now he had a 6-foot abstract nude that no one would sell.
Then, dea ex academia, as the Romans say: Caroline White, an archivist at the University of Massachusetts, unearthed a 1967 issue of the student newspaper with a photograph of Herman's painting, proving that the painting – or one just like it – was indeed by Close.
To quote the classics again: Ka-ching!
Herman made plans. With money from a sale, he might move to a new home with his girlfriend.
On Tuesday at Heritage Auctions in Dallas, all signs were promising. Even before the formal auction began, there was an early bid of $40,000, well above the auction house's estimate of $20,000 to $30,000.
Herman, 68, had never seen an auction before. Partaking lightly of a cannabis pipe, he weighed in on some of the earlier lots. "That's horrible," he said of one painting. "That's even worse."
Using a title he gave his painting, he offered a headline for this article: "'Flop' Sells for $10 Million. The 'Shrooms Called It."
At Lot 77062, he started to get antsy. "I'm getting shpilkes," he said, using the Yiddish word for shpilkes. His hope – not unreasonable, he thought – was somewhere in the high six figures.
Finally, at 1:30 p.m., the auctioneer called Lot 77070. Sargeant's cameraman, Dennis Alberti, trained his camera on Herman.
"It's a David and Goliath story," Sargeant said. "Mark's an ordinary guy who found himself in the unfamiliar world of priceless art and auctions, and he decided to enter it and take it on."
The auctioneer started the bidding at $40,000. Herman perked up. The camera crew leaned in.
Then: crickets. By 1:32, with no live bids, it was all over.
James Pincow, a lawyer who bought the painting with his father, Robert, said the two were not big art collectors and had not expected to win.
But they had been drawn to the painting by the Times articles, for different reasons: the elder Pincow because it seemed undervalued, the younger because of the story behind it. He remembered the law case that started the whole saga. "I thought it would be cool to have the painting," he said. As of Tuesday afternoon, they had not decided in whose Long Island home it would hang.
As for Herman, by late afternoon, he had gone through some of the stages of grief. "I'm really disappointed," he allowed. "But then, I think, if I had a lot of money, it would put a lot of pressure on me. And that's the last thing I need."
Again, the dog walker abides.
This article originally appeared in The New York Times.
---