Idaho shores up playoff seeding with emphatic 63-21 win over rival Idaho State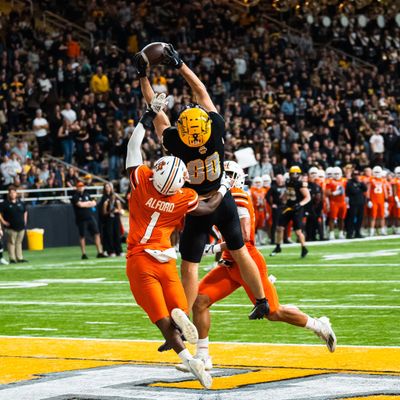 MOSCOW, Idaho – Idaho's quarterback matched a single-game program record with six touchdown passes. The Vandals' defense recorded four takeaways. Their offense accumulated more than 400 yards and set a season-high in points scored. The team added a special-teams TD for good measure.
And that was all before halftime.
In an important game – a rivalry matchup on senior day with Football Championship Subdivision playoff positioning at stake – everything went right for the sixth-ranked Vandals.
Idaho clicked in all phases during the first half, amassing 56 points – a program record for points in a half – while holding the visiting Idaho State Bengals off the board.
It was a regular-season finale to remember for the Vandals, who steamrolled Idaho State 63-21 on Saturday afternoon at the Kibbie Dome.
"We really wanted to play our best football and rest our case with the (FCS playoff) committee that we're one of the top-eight teams in the country and deserving of a first-round bye," Vandals coach Jason Eck said. "I think we're clearly one of the top-eight teams in the country."
With the win, Idaho (8-3, 6-2 Big Sky) has most likely locked up one of the eight coveted seeds in the FCS playoff bracket. The Vandals will presumably receive a first-round bye and home-field advantage for the second round when the FCS postseason field is revealed Sunday morning.
"I think we did enough," receiver Jermaine Jackson said. "When you're up 56-0 at halftime, you're doing pretty well. Everybody came to play today."
The FCS playoff selection committee should certainly feel convinced after watching the Vandals' performance against the Bengals (3-8, 3-5), a team that had been competitive in recent weeks.
Idaho, despite missing starting quarterback Gevani McCoy due to a lingering injury, played lights-out from the start.
Led by a remarkable effort from redshirt freshman quarterback Jack Layne, the Vandals marched downfield for TD drives on their first four possessions – Jackson, a senior, had a 78-yard punt return for a score late in the first quarter, and the Vandals shot out to a 35-0 lead after 15:31 of game time.
Layne passed 18 of 23 for 264 yards in the first half, tossing all six of his TDs before the break. He was accurate on passes of every variety, completing nine straight attempts during one stretch.
"I think he's the best backup quarterback I've ever been around, as far as a guy who's really smart, really works his tail off, is committed and a guy you can trust," Eck said of Layne, a second-year Vandal out of Lake Oswego, Oregon. "We knew we had to win to have a shot at a seed, and he just played tremendously, executed the game plan.
"We kinda knew that (McCoy) was doubtful early in the week, but he's getting better. I expect Gevani to get back, especially if we get that bye. But we have nothing but confidence in Jack. We know he can step in and our offense won't miss a beat with him in there."
Star receiver Hayden Hatten caught TD passes of 24 yards – a leaping reception in between two defenders – and 11 yards in the first half. Both of those scoring passes from Layne were precisely thrown, placed in the perfect spots for Hatten.
Redshirt freshman receiver Jordan Dwyer broke free down the middle of the field midway through the first quarter, and Layne placed a high-arching pass on the money for a 45-yard TD. Dwyer also had a 49-yard catch in the second quarter, setting up a 15-yard TD grab by Jackson.
Idaho tailback Anthony Woods, returning from an injury that sidelined him during the Vandals' loss at Weber State last week, opened the game with a 7-yard rushing TD and added a 13-yard scoring catch in the second quarter, putting his team up 49-0 with 8:38 remaining until halftime. At that point, Layne had completed 13 of 15 passes for 222 yards and five touchdowns.
"A big part of playing quarterback is having a rhythm," Layne said. "It's nice when you catch that rhythm – you get more comfortable. I just felt good out there today.
"(McCoy) is a great player. I look up to him every single day. I just wanted to do what I could, stepping in for him, and let the offense run smoothly, as if he was in there."
For the game, Layne went 20 of 26 for 275 yards. Woods finished with 115 yards on the ground, averaging 6.4 yards per carry. Most of the Vandal starters sat out during the second half.
Idaho State managed just 69 yards in the first half. The Bengals entered the game with the No. 1 passing offense in the FCS, but the Vandals' conference-leading passing defense dominated.
Idaho safety Kyrin Beachem jumped over a Bengal receiver for an interception on Idaho State's first drive. Vandals cornerback Dwayne McDougle recorded a pick on the Bengals' fourth series. Idaho cornerback Ormanie Arnold snatched an interception on the first play of the Bengals' sixth drive. McDougle had another pick late in the second quarter.
"We knew they were gonna pass the ball like 90% of the time," McDougle said. "We knew it was coming. In the back end, we told each other it's our game this week."
Idaho totaled 579 yards against 304 for the Bengals. Freshman Idaho State quarterback Jackson Sharman came in off the bench early in the second quarter and finished the game. He tossed two second-half touchdowns, throwing for 124 yards and one pick on an 11-for-21 completion rate. Chedon James paced the Bengals with 145 receiving yards.
The result marked a fitting send-off for the Vandals' class of 17 seniors, who have been crucial to the program's resurgence under Eck.
Notable senior performances included Hatten (74 yards, two TDs on five catches), Jackson (two TDs), linebacker Tre Thomas (team-high eight tackles, two for loss, one sack) and tight end Jack Schuster, who caught his first-career TD, an 18-yard pass from third-string QB Jack Wagner, in the fourth quarter.
"Those guys are gonna leave a legacy, helping to turn Idaho football around," Eck said. "To have back-to-back winning seasons for the first time since 1998-99 … going back-to-back in the (FCS) postseason for the first time since 1994-95, what a legacy.
"We don't wanna do what we did last year, playing one playoff game and being done," the coach added. "We want to play very well and make a run at this thing."
---