Jacob Thorpe: Washington State, Pullman say goodbye to the Pac-12 with a blowout for the ages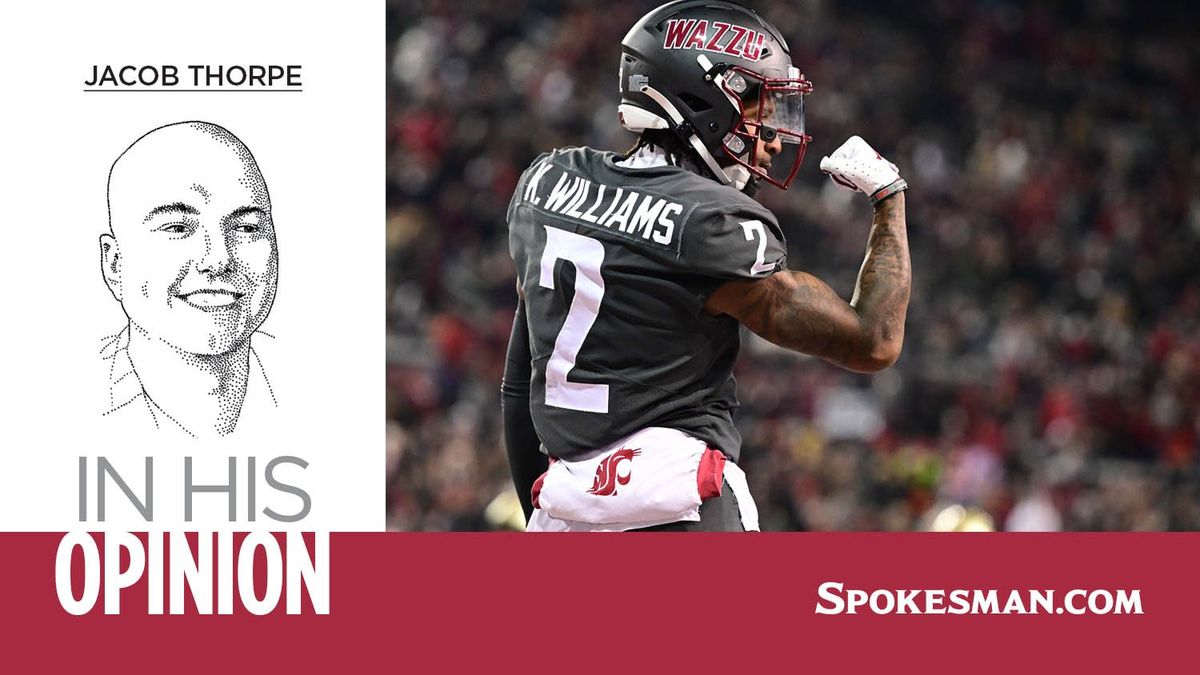 PULLMAN – Tim won't tell you his last name – his wife is already a little annoyed he spends the occasional Saturday banging his drums next to a highway, jamming out next to US 195, trading beats for honks from trucks heading to Pullman.
And why was Tim sitting at his drum set near the Hatch exit on a rare Friday, wearing goggles and enough red winter gear to stave off the sub 40-degree until his drumsticks could warm up?
"I wanted to remind folks that Cougs find a way. And this is one of those times."
For Tim this is the legislative fight to create WSU Medical School. It was pushing ESPN for years to finally get College GameDay in Pullman. It is every other school in the Pac-12 save Oregon State abandoning the notion of a premier football conference on the west coast in favor of becoming odd newcomers elsewhere.
Tim's drumbeats called the fans home, and though Friday's matchup against Colorado was WSU's last home game as a Pac member, anyone expecting a funerary atmosphere doesn't know many Cougs.
Not even a wake, this was a party.
Friday's romp was a straight-up good time in Pullman. A flashback for the 27,869 fans who made the trip to all the other times conference opponents made multi-flight trips to Pullman for the privilege of getting their butts handed to them in frigid November temperatures.
Do you remember Gardner Minshew's seven touchdown passes against Arizona? Were you there when Gabe Marks and River Cracraft caught five touchdown passes while the running backs still rushed for more than 250 yards against Cal? Maybe you're an old-timer who remembers when Rien Long stole the show from Arizona State's star pass rusher Terrell Suggs, sacking the 16th-ranked Sun Devils three times during a 44-22 drubbing.
Friday's Pac-12 home sendoff was cut from similar cloth.
The game itself was just silly, with WSU scoring in all three phases before halftime. Reporters who have been with the team all season were left scratching their heads in the press box, wondering what had come over the same players they had watched lose six straight games.
Brennan Jackson had a memorable senior night, returning two fumbles for touchdowns, lugging the football 114 yards in the process. There was a play in which CU's third-string walk-on QB threw a pass, caught it on a ricochet after it was deflected, then threw it once more. To a WSU defender. This prompted the lead official to say uncommon things like "there were two fouls on the play … both on the passing team… the ruling on the field is interception by Washington State."
The Cougars were the bullies, taunting and jeering and having a jolly old time. Colorado's five-star superstar – two-way player Travis Hunter – got the best of WSU receiver Kyle Williams on one first-half play, pushing him all the way into the watercoolers on the Buffaloes' sideline. But after that, the Cougars seemed to make a sport out of making big plays on Hunter. Williams especially seemed to relish the payback, first drawing a pass interference call late in the second quarter and then scoring a 34-yard touchdown pass on Hunter to put WSU up 49-7 in the third.
The Cougars could not have found a better occasion, or opponent, to continue this season's rebuke of college football's era of mergers and realignments. How ridiculous that the team that scored 14 points on Friday is the one jumping ship to the Big 12 Conference, and the team that scored 56 is left without a power conference home. For the season's first half anyway, the Buffaloes were the darlings of college football's entertainment complex, with new coach Deion Sanders and his bevy of talented transfers drawing celebrities and cameras to Boulder.
The Buffaloes are 4-7 now and cannot qualify for a bowl game. Yet, they remain one of college football's most watched teams on a weekly basis. This is the modern era of college football, and maybe WSU has no place in it.
Maybe people filled the stands at Gesa Field because folks know college football is changing. NIL money and the transfer portal and conference realignment and night games and streaming and $10 million coaching salaries have destabilized what was once a pretty simple afternoon pastime. Maybe when things settle down there won't be a place for a land grant university that's Too Far from any Big Enough cities to make More Money for the Right People.
Maybe all these people came to Pullman because, maybe this is it?
But on Friday the football team and its fans reminded everyone one more time that WSU's exile has nothing to do with football merit, that there is joy and victory in hard times, and that to be a Cougar means to find a way.
---