100 years ago in Spokane: Goldie Flaugher's 'sweetheart' was convicted of manslaughter in her shooting death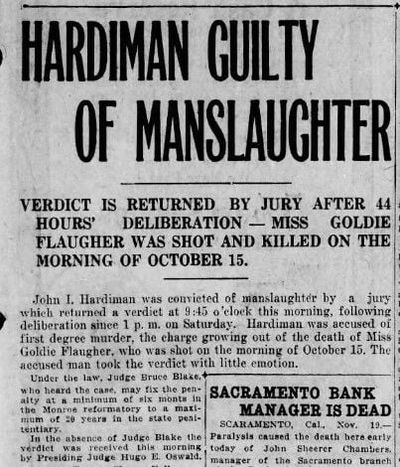 After 44 hours of deliberation, a jury convicted John L. Hardiman of manslaughter in the shooting death of his "sweetheart," Goldie Flaugher.
Hardiman had been charged with first-degree murder, but the jury settled on the lesser charge of manslaughter after two jurors balked at the first-degree charge.
Hardiman and his lawyers claimed that Flaugher had threatened to kill herself, that she was in possession of the gun and that it went off during a struggle when Hardiman tried to take it away from her.
From the tribal beat: The "associated Colville Indian tribes" had been awarded $165,000 in back pay for various grazing, timber and water leases – but the money still had not shown up.
Every tribal member was entitled to not less than $60, said Mary Lloyd of Spokane, a tribal member who had been working for years to obtain the funds. In spring 2023, she finally succeeded in "getting the claims before the right bureau," with help from Eva Gale Poindexter, Senator Miles Poindexter's wife.
"In spite of this fact, though, and the fact that winter is coming on with a great deal of actual want on the reservation, I have now been informed that the funds will not be distributed until spring, and then only half of it at a time," Lloyd said. "I have returned from an extended tour of the reservation. I have found a great deal of dissatisfaction at the seemingly unwarranted delay in distributing the money which is rightfully ours, at a time when it will do the most good. … It is not much for each member of the tribe, yet $60 worth of food would provision the tribe for the entire winter and eliminate the actual suffering which is being experienced there now."
---