Idaho rewarded for statement win, earn No. 4 seed and first-round bye for FCS playoffs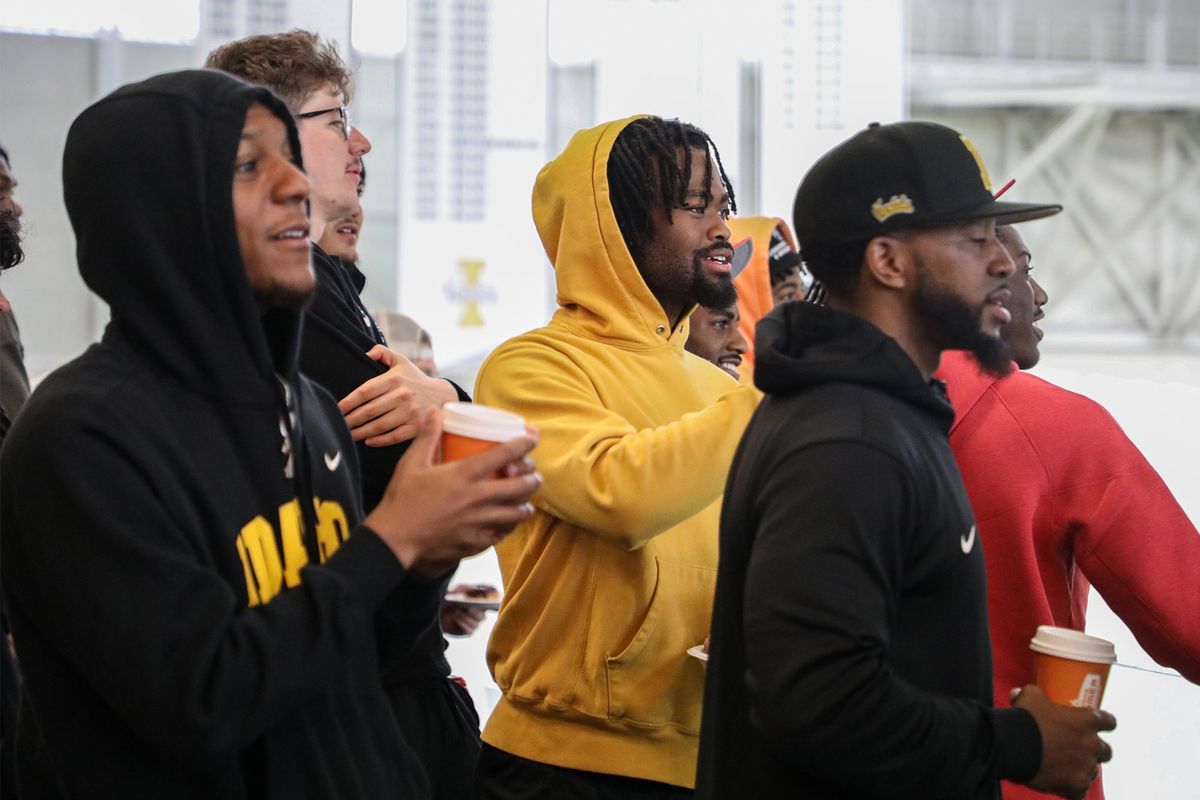 This is what redemption looks like.
After falling to Weber State, 31-29, Nov. 11, Idaho coach Jason Eck said he worried whether the Vandals would even get a seed and a first-round bye in the Football Championship Subdivision playoffs.
But after rallying for a 63-21 season-ending blowout of Idaho State Nov. 18, the 8-3 Vandals, their coaches and about 100 of their supporters erupted with an explosive cheer Sunday at a watch party in the Kibbie Dome when Idaho secured a coveted No. 4 seed in the tournament.
Following a first-round bye, Idaho will host the winner of the Nicholls State-Southern Illinois first-round game on Dec. 2 in the Kibbie Dome, and if they prevail there, the Vandals will have the opportunity to host a third-round game Dec. 12 against either fifth-ranked Albany or the winner of the North Carolina Central-Richmond game, which plays Albany in the second round.
Idaho was among four Big Sky Conference teams to make the tournament. Montana (10-1) secured a second seed, behind defending national champion South Dakota State (11-0), and will play the winner of Lafayatte (9-2) and Delaware (8-3) in the second round.
Montana State (8-3) is a sixth seed and will play the winner of Drake (8-3) and North Dakota State (8-3) in the second round. Sacramento State also made the field. The Hornets (7-4) will visit North Dakota (7-4) Nov. 25 in Grand Forks, North Dakota. The University of California Davis, also 7-4, which beat Sacramento State, 31-21 in the Causeway Classic last Saturday, did not make the 24-team tournament field.
Eck said he was disappointed about that and likened UCD to the Vandals last year, when they got a first-round berth against Southeastern Louisiana, where they narrowly lost, 45-42.
That defeat has apparently set the foundation for an Idaho team that is hoping for greater things this season.
"I did not like the feeling in the locker room" after losing the game, Eck said. "We should have beat that team."
Vandals' linebacker Mathias Bertram said, "Coach Eck always says our team was built on that night when we lost to Southeastern Louisiana State."
Idaho senior long snapper and former linebacker Hogan Hatten focused on numerology after the Vandals learned their playoff fate. He said four was a "special number." In the 2021 spring COVID season, Idaho was 2-4. The following fall, they were a disappointing 4-7.
"To be the fourth seed in the country is unbelievable. It is a change of pace for this program," he said.
The Vandals are approaching this playoff opportunity differently than they did last year, Hatten said, when they were simply happy to make the field.
"We are kind of like Mike Tyson. … We've got that killer mentality. We've got that black towel on our head, and we want to throw some killer punches."
He suggested that few teams have won a championship without a bye.
"We are in a pretty good place ," Hatten said.
He also reminded that college football players only get to play for a finite amount of time.
"You might as well go out on the highest of notes," he said.
Although Idaho's win tally improved by only one this season, Eck said this does not reflect how far the Vandals have come. Last year, Idaho had a signature win against then No. 3 Montana in Missoula. This year, the Vandals beat Football Bowl Subdivision member Nevada, Lamar (6-5), and Sacramento State, and Montana State when they were highly ranked, Eck pointed out.
While the loss to Weber State (6-5) was a setback and caused Eck to question whether Idaho had acquired the habits of a championship team, the bounce -back rout of ISU to conclude the regular season suggests the Vandals can "keep upgrading our championship habits."
They will know they are there, Eck says, when they have raised a margin of error to the point when "on our worst day, we've got to be able to beat really, really good teams."
The first-round playoff bye is a godsend, according to Eck, and will allow Idaho to come into the second round at full strength, with all starters able to go. Quarterback Gevani McCoy, last season's Jerry Rice Award winner as the nation's outstanding FCS freshman, was among key contributors who sat out the game against the Bengals with minor injuries.
Where a year ago the Vandals were drinking from a fire hose to try to absorb within days the information they would need to face SELA and to deal with the logistics to get to the playoff game in Louisiana, the first-round bye this season gives them more time to prepare, but also provides challenges. In the coming week, Idaho will practice in the mornings Monday through Wednesday before turning the players loose for Thanksgiving. However, Eck will spend the early part of the week making sure everyone on the team has a place to go for Thanksgiving.
While the bye affords coaches an opportunity to take a deeper dive into game tape, Eck says, they will also be looking at two potential opponents instead of one.
In addition, while Idaho's ability to host at least one and perhaps two playoff games is an advantage, the Vandals have to commit to the National Collegiate Athletics Association to purchase tickets for the games, including tickets for students, whose activities fees allow them to get into regular season game but not playoff games. Idaho will be reaching out to boosters to purchase tickets for students, he said.
Whether Idaho breaks even, loses a bit or loses a substantial amount of money on the playoffs depends on how many tickets it can sell. So, as well as setting practice schedules, coaching, lining out Thanksgiving and the second-round playoff and bye week logistics, Eck expects to also shoulder responsibilities for helping to market the playoffs.
But make no mistake, after worrying a couple of weeks ago whether Idaho would even get a bye, he is more than happy to find himself in this situation no matter how crowded his days are.
"There is plenty of time," he says.
---