There's much to choose from at local record shops on Black Friday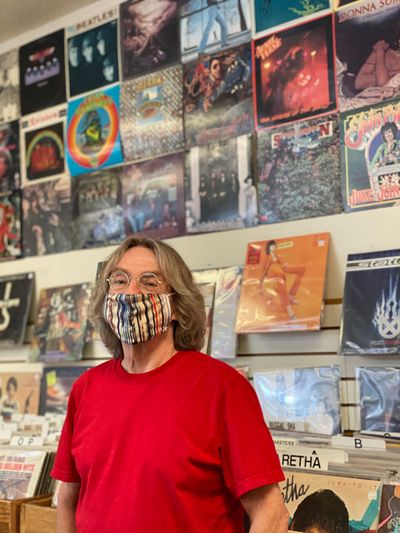 Every day is record store day for Taylor Swift. However, the ubiquitous pop star isn't issuing a new release for Black Friday. That's not music to retailers ears. However, there is a consolation, which is 200 new albums, which will drop Friday and there are an array of recently released box sets and albums.
The big seller at Resurrection Records is nu-metal.
"Linkin Park, Limp Bizkit, Korn and Incubus are selling well right now," Resurrection Records owner Mike House said. "There's a nu-metal resurgence."
House grew up with nu-metal while coming of age in the South Hill.
"That's what I listened to in middle school," House said. "But it's not like people my age (33) are buying Limp Bizkit. It's the kids of those who grew up on it 25 years ago who are buying it."
4000 Holes owner Bob Galllagher concurs. "We've been selling a lot of Limp Bizkit and other nu-metal and will probably do so on Record Store Day."
Gallagher anticipates new reissues by such disparate recording artists as alt-rockers Screaming Trees, jam band icons the Grateful Dead and jazz legends Dave Brubeck, Chet Baker and Gil Evans to fly off the shelf.
"I will not have enough of those," Gallagher said. "There's also some amazing reissues by The Doors, Lee 'Scratch' Perry, Gram Parsons and Joan Jett."
That's a wide spectrum of sounds, ranging from classic rock, to jazz to reggae.
"There will be something for everyone on Black Friday, which is a fabulous day for record store owners," Gallagher said.
4000 Holes opens at 9 a.m. but Gallagher suggests music aficionados arrive early.
"I have no idea when the line starts but it's usually a long line," Gallagher said. "The good news is that we have plenty of space in the store so everyone will get in. There are so many great releases for Black Friday and in 2023. There will be plenty to choose from."
Gallagher is on the mark. There are a number of exceptional offerings. The Smiths reissues are a great place to start. The original albums suffered from a flat sound but the remastered reissues are crisp.
The iconic British Band wasn't appreciated in the states during its brief 1980s run. A review of their final album, 1987's "Strangeways Here We Come," which ran in the Philadelphia Inquirer, couldn't have been more off the mark. The scribe slammed the album noting that "The Smiths don't deserve to be a footnote in rock history."
It was the same for Black Sabbath, who was underestimated by critics. The Sabs, a huge Spokane favorite, who played the Spokane Coliseum on five occasions, offers "Live Evil," the first of the band's live documents. A powerful performance by Ronnie James Dio, arguably the greatest metal singer, is the highlight. The diminutive former doo wop vocalist left the band while the album was being mixed in 1982. "Live Evil" delivers a solid punch to the gut.
"The Doors: Live at the Matrix" features one of the greatest American rock bands during its first year of existence. It's the earliest known live document of the Doors, which was primarily playing to an empty San Francisco venue in March 1967. A cover of the Gershwin classic "Summertime" is surprising and "Break on Through" belted out by a young Morrison is worth the experience.
The remastered "Substance" will please New Order fans. The compilation includes the hits and some B-sides by the greatest singles band of the '80s.
There is a reason Stevie Nicks is the first woman to be inducted into the Rock and Roll Hall of Fame twice. Nicks was enshrined as a member of Fleetwood Mac and as a solo artist. Regarding the latter, if anyone needs a reminder of how unique and talented Nicks is, check out "Stevie Nicks-Complete Studio Albums & Rarities." The remastered hits, "Edge of Seventeen" and "Stand Back" sound amazing.
When the Darkness hit 20 years ago, it seemed as if the group was going to be the next massive band. The British group features a singer, Justin Hawkins, with a massive set of pipes and a collection of anthemic tunes. "Permission to Land" is one of the best albums from 2003. The remastered cuts are a reminder of the power and cheekiness of The Darkness. "You're Growing on Me," ah, what a riff, is one of the finest songs of the aughts.
Van Halen's David Lee Roth era was fabulous but the period with Sammy Hagar deserves some love. "Van Halen: The Collection 2," covers the Hagar era. 1986's "5150" and 1988's "OU812" deserves the remastering treatment.
The 10th anniversary of Daft Punk's "Random Access Memories" has been commemorated with remastered tracks and 35 minutes of unreleased tunes. The hits sound terrific but it's the outtakes and demos that make this project worth the spin.
Much is made of Billy Joel's exceptional 1970s canon. However, the Piano Man released some great albums during the '80s. "Billy Joel: The Vinyl Collection: Vol. 2" includes 1980's "Glass Houses," 1982's "The Nylon Curtain," 1983's "An Innocent Man," 1986's "The Bridge," 1989's "Storm Front" and 1993's "River of Dreams."
Joel was still a hit machine during those 13 years and the many of the deep cuts from those albums are rock solid.
Not many recording artists have hits, which span six decades. But Willie Nelson, who is 90 and still touring, is unlike most of his peers. "Willie Nelson's Greatest Hits" is a nice stocking stuffer. "On the Road Again," "Pancho and Lefty" and the defining version of "Crazy," which Nelson penned, are included. Other highlights include "Just Breathe" with his son Lukas Nelson and "Last Thing I Needed First Thing This Morning." Nelson remains an American treasure.
---