A Grip on Sports: Seahawks bang their head against an open door once more and lose to the Rams in the final seconds A GRIP ON SPORTS • Ouch. It's a word we use whenever we do something that, well, hurts. Like early this morning, when we walked directly into a half-open door on our way back to bed. The Seahawks walked into a door themselves Sunday in Los Angeles and we're sure they used words other than ouch.
•••••••
• Words we can't type here.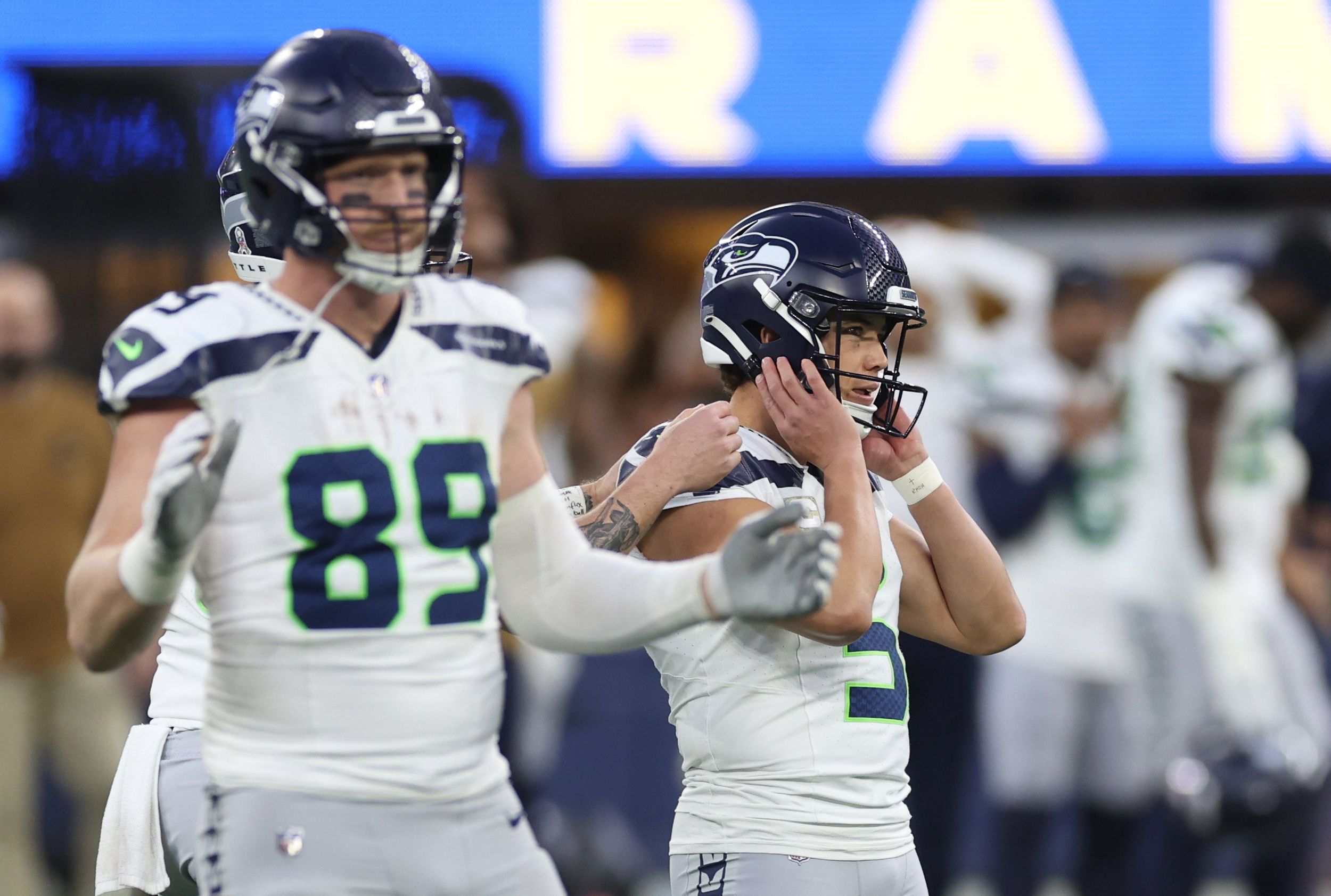 Some like those muttered under Pete Carroll's breath after one of the seeming 1,748 penalty flags. Some like the words of warning Phil Haynes must have screamed the many times Aaron Donald danced past him untouched. Some like the ones you may have yelled after Jason Myers' 55-yard game-winning attempt began to flutter dead right like one of our 7-irons at Indian Canyon.
But there were no trees awaiting to re-direct Myers' attempt, only defeat in a game it felt as if the Hawks had to win.
Spoiler alert. They didn't. Lost 17-16. And now they head into a four-week maze of many problems, the stretch of the schedule everyone recognized months ago would make or break their season. Funny thing, they may enter it with Geno Smith's carrying a right arm that, if not broken, may be at least cracked courtesy of Donald's high hit.
But don't blame the injury solely for the defeat. Don't blame the officials. Don't blame Donald or Myers. The biggest problem was Smith's helmet microphone. And his inability to hear what he was supposed to do.
Let this be a lesson for all of you contemplating using AI to write your school assignments or fulfill work obligations. When you rely on technology and it breaks down, you may not be able to see the door right in front of you.
The end of the game was looming. The Hawks, after leading all day, found themselves trailing by two points in the final minute. No more timeouts? A quarterback with a banged-up throwing arm? No problem.
Not when DK Metcalf is running free in the middle and Smith can find him for a 21-yard gain, giving Seattle a first down at the Rams' 39-yard line with fewer than 30 seconds left.
Everyone in the world knew what to do. Clock the ball, have about 25 seconds left to gain a few more yards and win the darn game. Except Smith. Mainly because he was, as every quarterback in the NFL does, waiting for instructions. Through his helmet microphone.
They never came. He called what he termed "the quickest play I could in that situation."
A run to rookie Zach Charbonnet? It not only gained just 2 yards, it also took up much of the rest of the clock – until Smith could get the offense set to clock the ball. Seven seconds remained.
And Myers was left with a 55-yard attempt. The NFC's special teams player of the week could have made it two-awards-in-a-row, adding a game winner to his 54 and two better-than-40-yard makes earlier, but he didn't.
Would closer have helped? If you argue the miss was so bad, no, we won't berate you. But we would point out the closer the kick, the more the pressure eases. A freer, easier leg swing usually occurs.
Twenty-five seconds. After the game, Carroll and Smith talked about the stretch. The decision. Neither really discussed the elephant in the room. Instead of doing what teams have done since Bart Starr was in the league, mainly because there were no instructions to do it, Smith took a chance and tried to pop a big run.
It was a chance he, or the coaches, if he was able to discern their wishes, could have taken, if wanted, after the ball was clocked. Or they could have gone in another direction, say, a quick pass or two to pick up yardage.
Of all the options available, Smith took the prize behind Door No. 3.
Surprise. It's a loss.
Ouch.
•••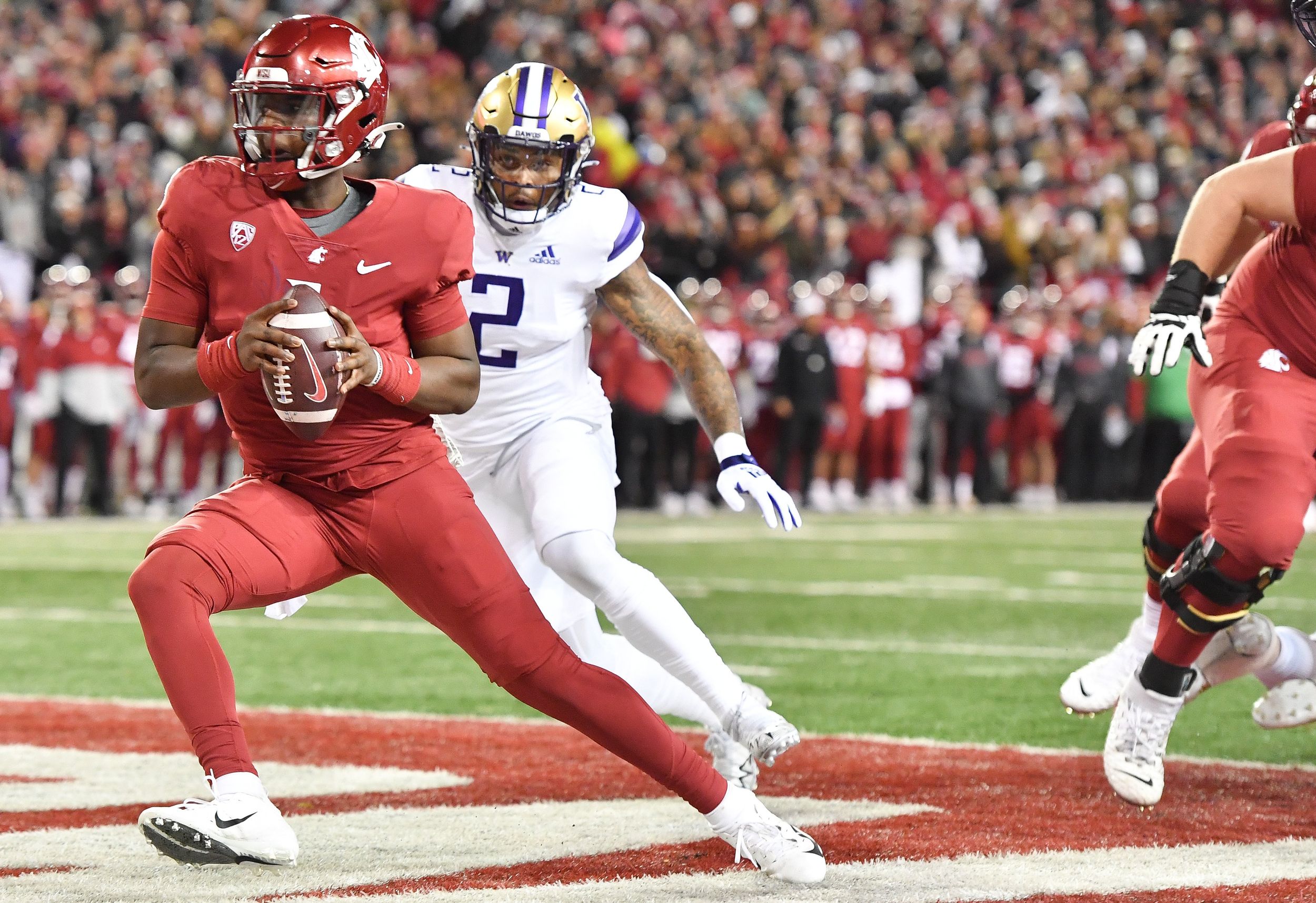 WSU: We will probably take some time tomorrow to delve into the future of the Apple Cup, after Sunday's news UW and the Cougars had agreed to a five-game, nonconference series beginning next season. But we want to think about it some more. Make a few calls. Dip into the files. That sort of stuff. Greg Woods doesn't get that luxury. He has the news story for you right here. … The news was big enough to garner attention nationally. … Greg also watched the Cougs go big and send Rhode Island home with a loss in their tournament in Connecticut yesterday. … The Washington State women rolled over Prairie View 81-43 en route to a holiday tournament in Cancun. … Elsewhere in the Pac-12 and the nation, Jon Wilner rewinds the weekend. … The Huskies moved into fourth in the A.P. poll after their hold-on 22-20 win at Oregon State. It's a win that earned some national cred. … Still sixth-ranked Oregon now plays the Beavers and someone had to ask: Is anyone playing better than the Ducks right now? The 15th-ranked Beavers want to make that a moot point this weekend. … All that is left for Colorado is to get better for next season. … Utah will be better. Cam Rising is coming back. We can't wait until the Utes play Arizona in the Big 12 game. … How did USC's lines turn out to be so poor? They will have to be part of huge rebuild. … UCLA took advantage of the Trojans' offensive line. … Arizona State has more injuries as it preps for 16th-ranked Arizona and the Territorial Cup. … In basketball news, Washington rallied to force overtime but lost to San Diego State in Las Vegas. … Oregon plays today minus a couple players. … USC outlasted Brown. … UCLA is also in Hawaii and will play Marquette. … No. 25 Colorado is full go in its tourney contest against Richmond. … Utah lost to St. John's. … Arizona rolled again at home. … The Stanford women defeated Duke in overtime. … Arizona State dominated visiting Idaho State.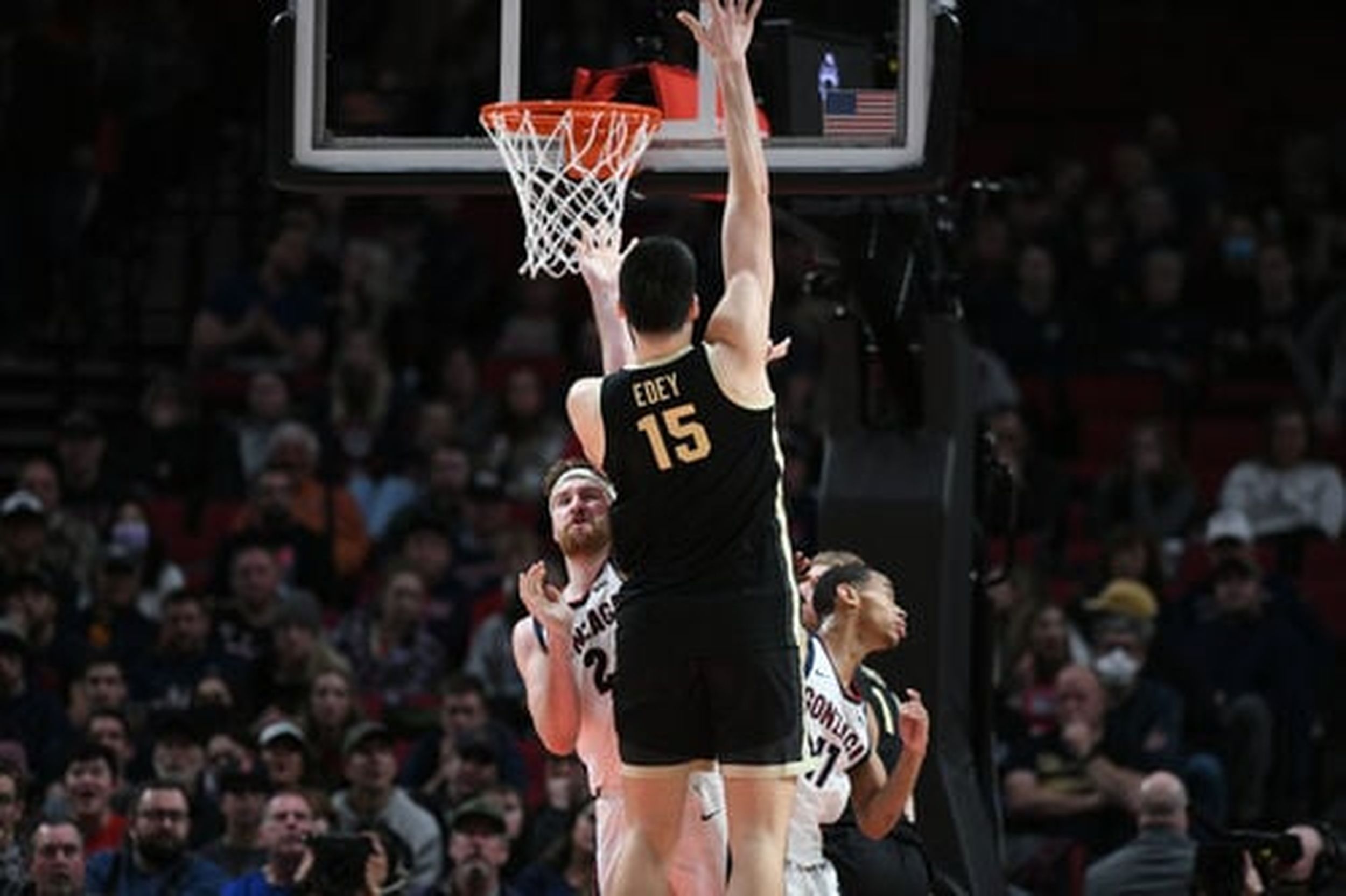 Gonzaga: We also could have spent this morning delving into the Zags' afternoon Maui Invititional game today with Purdue. But, as we're not sure when you will be reading this, we decided to let the work of the S-R staff speak for itself. We'll start with the overarching theme of being in Hawaii, as articulated by Dave Boling in this column. … We'll then call your attention to Jim Meehan's preview, looking back at last season's game with the Boilermakers. … Theo Lawson delves into Purdue in great detail, talking with someone who covers the team. … Meanwhile, Jim focuses on the "biggest" problem, Zach Edey, all 7-foot-4 of him. … Finally, we offer a link to the second edition of The Benny G Show, which you can listen to here. … Even Purdue coach Matt Painter thinks this is the toughest Maui Invitational ever and he doesn't even have to face his second-ranked team. … Elsewhere in the WCC, Saint Mary's lost again, this time by 17 to Xavier.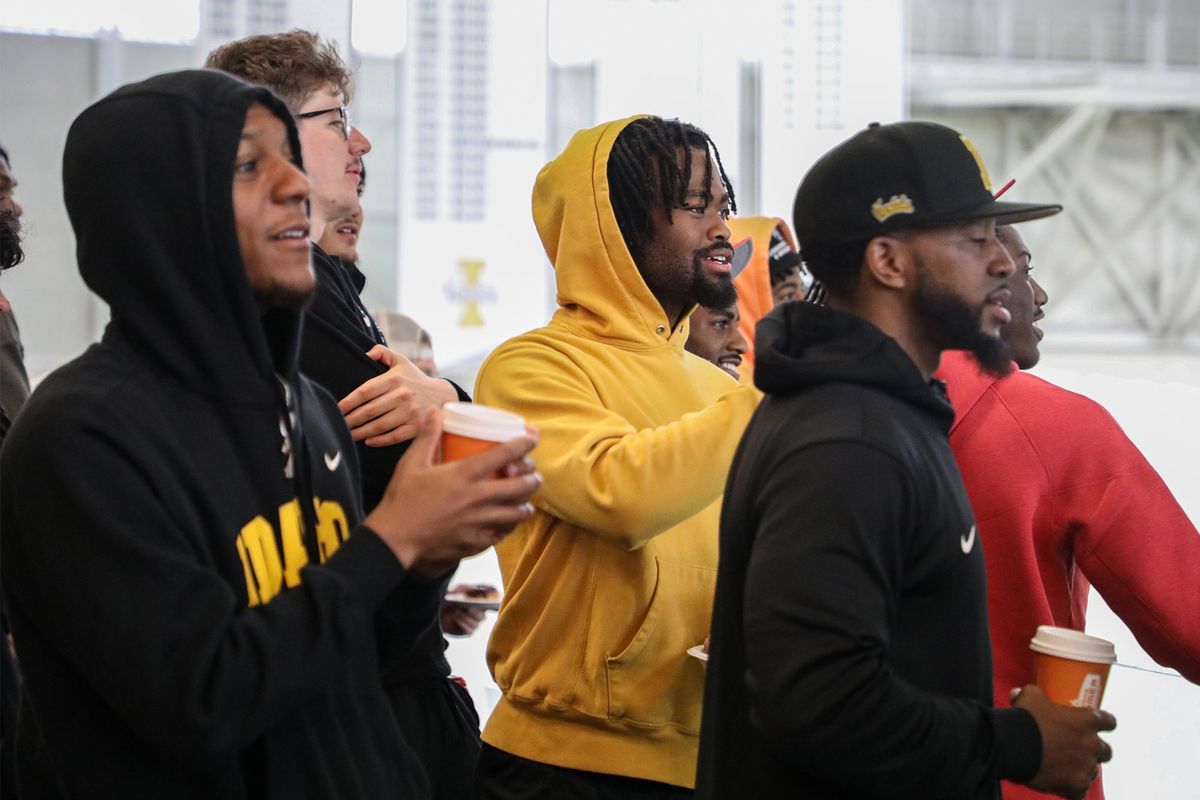 Idaho: As expected, the Vandals earned a spot in the FCS playoffs. And, as expected, they earned a seed (fourth) and a week off to get ready. Peter Harriman was in Moscow yesterday and at the event as UI learned its postseason fate. … Elsewhere in the Big Sky, what would an FCS playoff-bracket reveal be without one legitimate argument? This season it's UC Davis that has it. The Aggies defeated Sacramento State on Saturday by double digits. They finished ahead of the Hornets in the conference standings. They had the same record. And yet they aren't in the playoffs and SCSU is. … Montana, which bounced back from a loss to Northern Arizona to roll through the Big Sky, earned the second seed and will be at home though the semifinals. … Montana State was seeded sixth and also has a bye. … Cal Poly expects better things next season. … In basketball news, Weber State got the brush off against Colgate. Sorry.
EWU: Cooper Kupp hasn't been back from injury long for Los Angeles. But the Rams' star did not play long Sunday, leaving the game with Seattle after suffering a first-half leg injury. That news leads of Taylor Newquist's weekly look at local players in the NFL.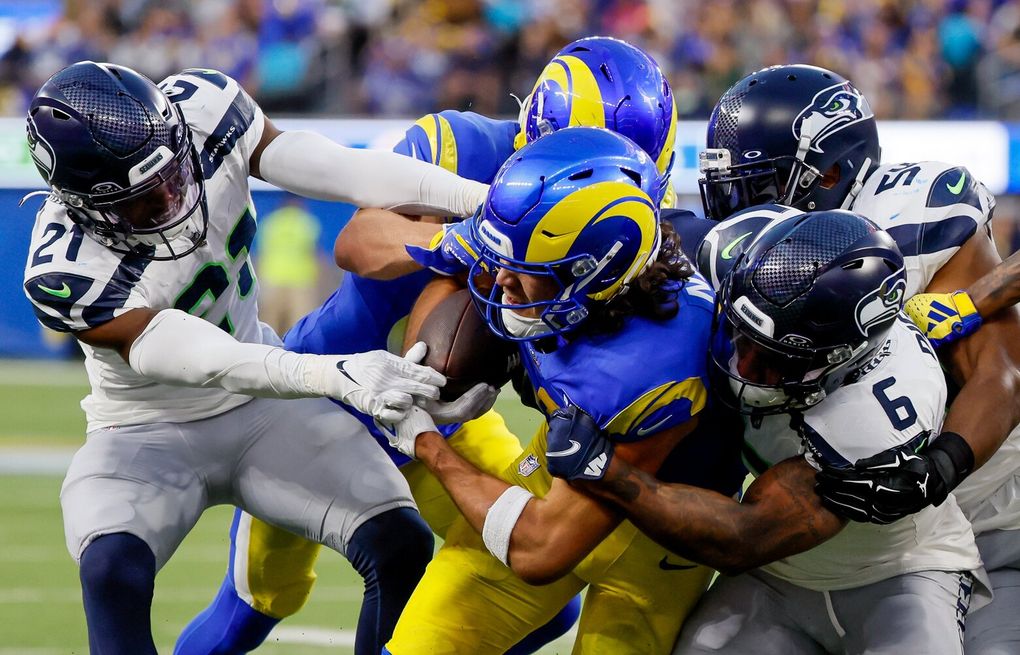 Seahawks: Two games with the Rams. Two losses. Ouch. … There are always grades. … And things to learn. … No one is throwing Myers under the bus after the miss.
Kraken: Matty Beniers is playing more like he did last season. Seattle hopes it will continue.
•••       
• We have a doctor's appointment to get to. Post-op stuff. We'll be back after the Gonzaga game with our TV Take. And then back here tomorrow morning. Until then …
---