How will the 2023 election change the direction of the Spokane Valley City Council? No one seems sure.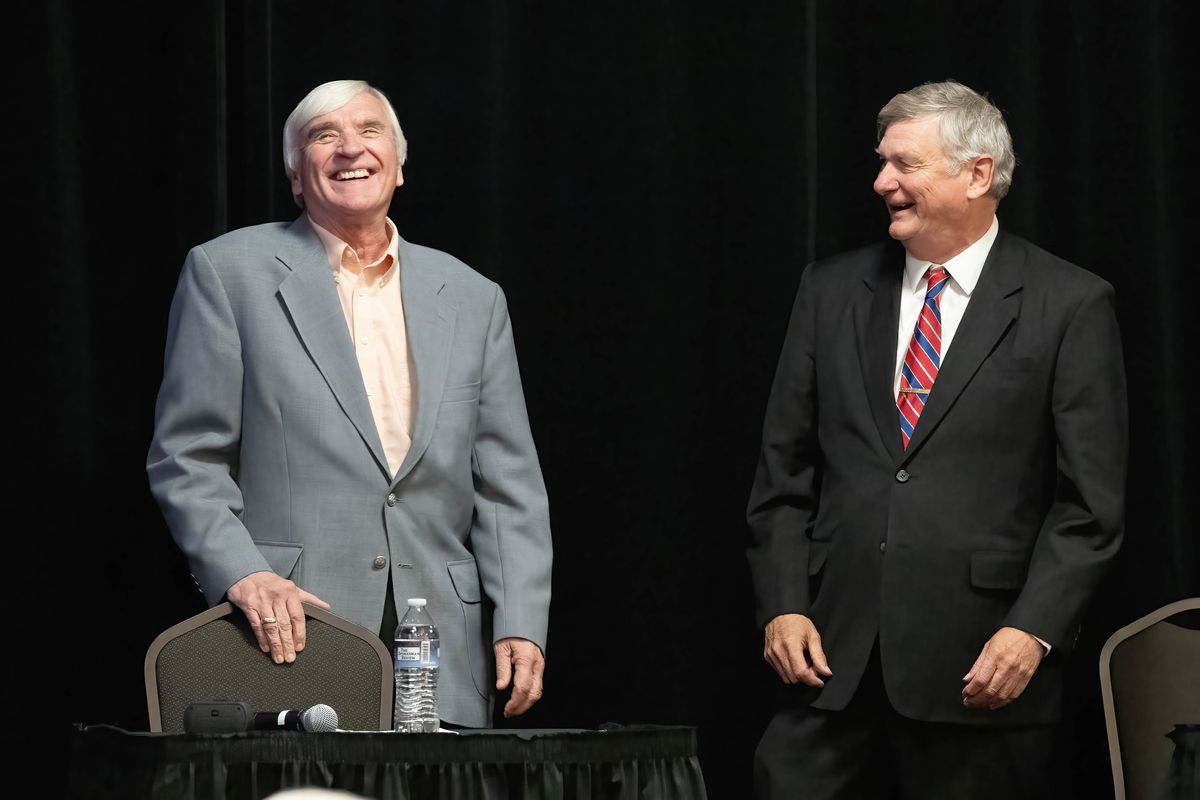 Spokane and Spokane Valley are next-door neighbors geographically but worlds apart politically.
The latter is red, the former is blue. One has a mayor elected by the people and entrusted with running the city. The other has a largely symbolic mayor, chosen by the City Council from among the City Council.
The cities' legislators operate differently. Seemingly every week or two, the Spokane City Council votes on a new law with the potential to bring about significant change. The Spokane Valley City Council, in comparison, spends a greater share of its time talking about apolitical topics, such as road construction projects and grant funding applications.
The Spokane Valley City Council's tendency to focus on apolitical issues, combined with the theoretically nonpartisan nature of municipal government, makes it relatively difficult to assess the importance of council turnover.
But come January, the Spokane Valley City Council will have two new members.
Al Merkel, who co-owns a dog grooming business with his wife, unseat longtime incumbent Arne Woodard. Jessica Yaeger, who has spent much of her career in the hospice industry, will replace Brandi Peetz, who did not seek re-election.
Merkel and Yaeger, like Woodard and Peetz, have connections to the Republican Party. It remains to be seen whether their elections will substantially alter the course of Valley government.
"I don't know Mr. Merkel well enough, or Jessica well enough, to know what their priorities are going to be," City Councilman Ben Wick said.
Today, the Spokane Valley City Council has a four-member majority comprised of Woodard, Pam Haley, Rod Higgins and Laura Padden. On rare occasions, Wick, Peetz and Tim Hattenburg find themselves voting together in the minority.
Most of the time, however, City Council votes are unanimous.
The ideological differences between Valley council members are murkier than in Spokane, where the City Council has clearly defined left-leaning and right-leaning voting blocs. With the exception of Hattenburg, every elected Spokane Valley official has served as a precinct committee officer for the Spokane County Republican Party.
Hattenburg has proven popular among Valley voters, despite previously running for office as a Democrat.
He won re-election with 52% of the vote, giving him a five-point margin of victory over Rob Chase, a former Republican state representative with libertarian leanings.
While Hattenburg is an outlier on the City Council, he's received praise from more conservative politicians.
"Tim tends to be kind of a straight shooter," Merkel said. "I think he tries very hard not to make things political and focus in on nuts-and-bolts policy."
Woodard expressed a similar sentiment, and commended Hattenburg for being a good steward of taxpayer dollars.
Yaeger won her seat in more dominant fashion than Hattenburg. She took 63% of the vote, while Rachel Briscoe got 36%.
On the campaign trail, Yaeger proposed few specific policy ideas. She did, however, argue on her website that Spokane Valley should separate from the Spokane County Sheriff's Office and form its own police department. The Valley contracts with the county for law enforcement.
Yaeger is the Spokane County chapter chair of Moms for Liberty, a parental rights group that has resisted mask mandates in schools and fought to limit discussions of gender and race in classrooms.
During a Christian rock concert this summer, Yaeger briefly stood alongside former state Rep. Matt Shea. Shea was ousted by the House Republican Caucus in 2019 after an independent investigation found he committed an act of domestic terrorism by helping plan an armed takeover of the Malheur National Wildlife Refuge in Oregon.
Yaeger has said she doesn't know Shea or share his views. She had the endorsement of Haley and the Spokane County Republican Party, while Briscoe had endorsements from Spokane County Sheriff John Nowels, Peetz and Wick.
Merkel won by nearly the same margin as Yaeger. He took 65% of the vote compared to Woodard's 34%.
It was a shocking upset. Woodard, the longest serving councilman in the Valley's 20-year history, won election in 2011, 2015 and 2019. He said the election results "don't make any damn sense."
While they're both conservative, Merkel and Woodard disagree on a number of issues. They have especially divergent views on development regulations.
Merkel has said he believes the city should be charging developers more in order to pay for infrastructure improvements necessitated by new construction.
Woodard says he believes developers already pay their fair share. Charging them more could negatively impact the Valley's economic growth, he argues.
Wick, Woodard and Merkel all said they're unsure how the next City Council may differ from the current one.
But Woodard experts fewer unanimous votes.
"It's going to be a much more contentious council," he said.
---