Napoleon's hat sells for $2.1 million at auction in France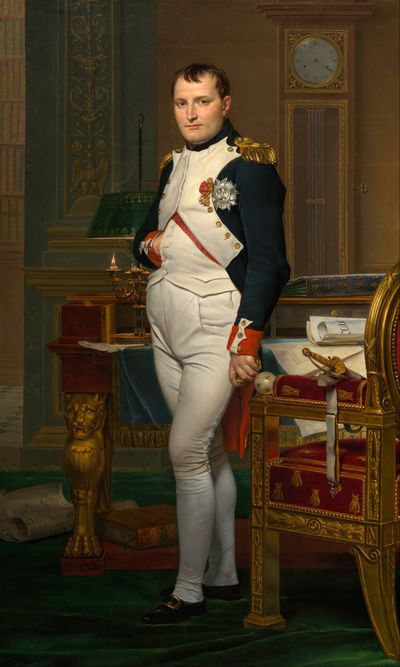 A black felt bicorn hat belonging to Napoleon Bonaparte sold for $2.1 million at an auction in Fontainebleau, France, on Sunday, fetching the highest price ever paid for one of the 19th -century French emperor's hats.
"There is something a bit mystical about it," said Raphaël Pitchal, of the French auction house Osenat. "It has a powerful image."
Two bidders were at the auction in person, and one called in over the phone, he said.
The winner of the hat, a French collector, requested to remain anonymous.
The sale comes just before the new Ridley Scott film "Napoleon," starring Joaquin Phoenix and Vanessa Kirby, hits theaters Wednesday.
The hat, which auctioneers had expected would garner between $650,000 and $900,000 , is one of some 20 hats said to still exist of Napoleon's 120 two-cornered military dress hats that he wore as part of his everyday uniform.
Just four or five of those are in private collections and the rest are displayed in museums or held by the French government, Pitchal said.
The one that sold Sunday had been part of a collection of Napoleon items belonging to a French businessperson, Jean Louis Noisiez, who died last year.
In 2018, a faded and torn black hat attributed to Napoleon and said to have been dropped on the battlefield at Waterloo sold for more than $400,000.
In 2014, one of Napoleon's hats sold for more than $2 million, the previous record, to Kim Hong-Kuk, the South Korean founder and chair of the Harim food conglomerate; it went for about five times the asking price.
That historical hat came from a collection belonging to Monaco's royal family.
Other auctions of Napoleon memorabilia in recent years have included portraits, letters, his cologne bottles, a knife used in a foiled assassination attempt, a gilded crib, a bejeweled hunting rifle and even his stockings.
An engagement ring belonging to Napoleon's wife, Josephine, went for $1.2 million in 2013.
Napoleon, an outsider from Corsica who rose to rule France in 1799, has long fascinated collectors around the world. The first auction of his belongings happened in the years after his death in 1821 on the island of Saint Helena, where he was living in exile, and the value of Napoleon relics has since risen, Pitchal said.
Most of the 130 items belonging to him at the auction on Sunday sold, but a few unsold items, including a sword belonging to Josephine and a pistol, will be auctioned off again, he said.
Napoleon rose to power after the French Revolution in 1789.
He became the French emperor in May 1804 and led France's recovery after the revolution.
Napoleon briefly conquered much of Europe in numerous wars across the continent before he was defeated in the spring of 1814 by a coalition that included Britain, Russia, Prussia and Austria.
---