One Spokane woman's exhausting journey as a Swiftie mom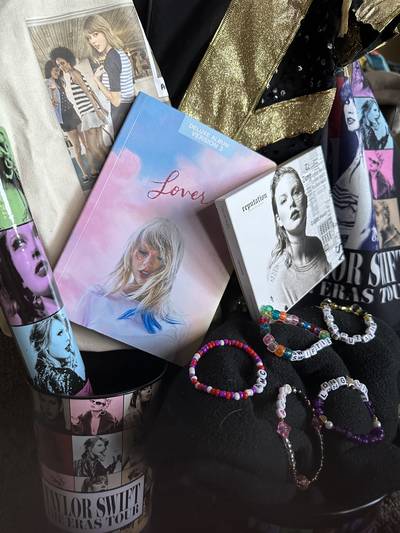 Taylor Swift recently added three Vancouver, British Columbia, dates to the 2024 leg of her "Eras Tour" concert schedule, but our family won't be attending. My battered and abused credit card is on lockdown after having partly financed the bejeweled beauty's climb to billionaire status. Taylor Swift has become a delicate topic in our home.
I knew I was in trouble when my 16-year-old daughter, Brianna, became a Swiftie. After Swift's Seattle "Eras Tour" concerts sold out, Brianna's pleas for expensive resale tickets began arriving fast and furiously. "What a great birthday present! We could make it a family trip," she said. My wallet trembled at the very thought.
It was a cruel summer. Each week, I received tailored updates from Brianna on Swift's dating status, favorite foods, fondness for felines and fascination with the number 13. My repeated appeals for her to pick up her bedroom often disrupted by cellphone dings with urgent requests for anything and everything related to the pop diva. A "1989" seagull crewneck. "Reputation" and "Lover" CDs with mini posters. Alphabet beads and crafting supplies for friendship bracelets. A "1989 (Taylor's Version)" viewfinder. "It's so cute. I would die for it. In fact, I might if I can't buy it before it sells out," texted Brianna. Taylor Swift had hijacked my daughter's heart and I was seeing red.
While the vast majority of her expensive orders went unfilled, my resourceful Swiftie did manage to scrap together enough birthday money to purchase a limited edition "Speak Now" cardigan from Swift's official website. After it arrived, I stared from a distance in disbelief as Brianna modeled the gigantic garment which appeared to engulf her entire frame from head to toe. Sensing my concern, she quickly reassured me the cardigan fit "perfectly" according to Taylor's oversized style standards.
A sucker for Brianna's sob story about "missing out" on Swift's Seattle concerts, I reluctantly shelled out $20 for her to attend an opening night showing of the "Eras Tour" concert film here in Spokane. Knowing souvenir concessions for the event would sell out quickly, I offered to take her downtown to AMC Theatres early on the afternoon to purchase a $13 tote bag and light wand combo which was being sold exclusively at that location.
A life-size poster of the Grand Swift greeted us as we exited the escalator. After being directed to a merchandise purchase line, we watched as an usher wearing a colorful friendship bracelet with his name on it waved incoming theater employees past, offering each worker a swift warning. "There's still time to run away," he said. The fearless usher later counted down the final minutes to merchandise sales for a growing line of Swifties who had gathered behind us. On the way out, we each received a free AMC Theatres friendship bracelet.
Later that afternoon, Brianna left with a friend for the "Eras Tour" concert film wearing a stunning, black, sequined Taylor Swift-inspired outfit she had sewn herself. Handcrafted friendship bracelets for trading covered her arms from wrist to elbow. She arrived home from her enchanted evening clutching an expensive souvenir popcorn tub and drink cup. Ka-ching. "It was the best concession deal available," said Brianna, who has requested a second, oversized Taylor Swift cardigan for Christmas. "It's cheaper than the last one," she said.
My wallet is weary. My mind is frazzled.
This Swiftie mom is headed off in a getaway car.
---