U.S. lawmakers, including Idaho Sen. Risch, and global leaders grapple with moral dilemma of Israel-Hamas war at Halifax Forum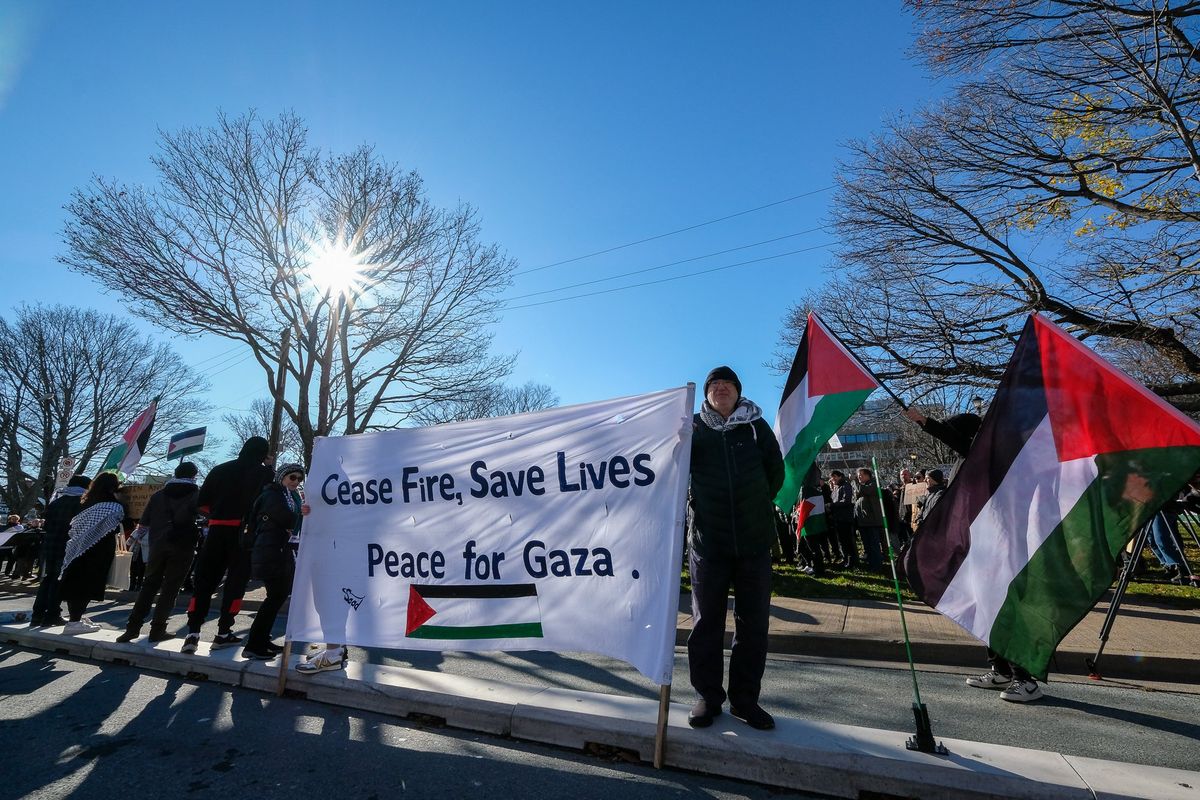 HALIFAX, Nova Scotia – The Halifax International Security Forum began with an unambiguous message, repeated in the title of each panel discussion during the three-day event that concluded Sunday: The world's democracies must unite in unwavering support for Ukraine in the war prompted by Russia's invasion.
A second theme of the annual conference in Nova Scotia's capital, added after the Hamas terror attacks that killed roughly 1,200 people in Israel on Oct. 7, was that Ukraine and Israel are both democracies facing the common threat of authoritarian neighbors bent on their destruction. But as the event progressed, the roughly 600 lawmakers, military officers and other representatives from more than 60 countries grappled with the moral questions raised by Israel's response, which has killed more than 12,000 people in the Gaza Strip.
Saturday began with the forum awarding the John McCain Prize for Leadership in Public Service – named for the late U.S. senator who helped found the event 15 years earlier – to all the people of Israel.
"Israel's story is a miracle," said Peter Van Praagh, the forum's president. "But most of all, it is the story of justice and freedom."
That narrative, and what one participant later called a "lazy comparison" between Israel and Ukraine, was complicated minutes later when Ehud Barak, Israel's former prime minister, shared his perspective on the conflict.
"I'm convinced that we will win this war," said Barak, a former general who also served as Israel's defense minister. "But how exactly, it's not yet clear."
After saying he wasn't sure the reported number of civilian deaths in Gaza is accurate, because it comes from the territory's Hamas-controlled Health Ministry, Barak said, "It doesn't matter. If they are civilians, they should not be killed."
"Hamas deliberately deployed itself among the civilian population, even deliberately used them" and bears the greatest responsibility for civilian deaths in both Israel and Gaza, Barak said. But he acknowledged that the scale of Palestinian civilian casualties risks Israel losing its "legitimacy in the world."
Sen. Jim Risch of Idaho, the top Republican on the Senate Foreign Relations Committee and part of a six-member U.S. congressional delegation, said in an interview that while he is concerned about the Palestinian civilians killed and wounded in Israel's counterattack, the blame lies with Hamas.
"It is a war crime to target civilians," Risch said. "It is not a war crime to kill civilians that happen to be caught in the fog of war, particularly when it's caused by their own army."
He compared Israel's military campaign to World War II, when U.S. and Allied forces killed an estimated 110,000 to 210,000 people in the atomic bombings of Hiroshima and Nagasaki and hundreds of thousands of civilians in Germany, where estimates also vary widely.
"When we went across Germany, we killed a lot of civilians getting to Hitler," he said. "When we ended the war in Japan, in a very short period of time we killed lots and lots of civilians, but the war was over."
On Friday, after participants arrived past a few dozen protesters calling for a cease-fire outside the Westin Nova Scotian hotel, Israel's special envoy for combating antisemitism, Michal Cotler-Wunsh, lamented that she doesn't hear the same "moral clarity" in the response to the Israel-Hamas war that is applied to the conflict between Ukraine and Russia.
"Even in some of the comments that we hear today," Cotler-Wunsh said. "Definitely in traditional press, and definitely on the streets, definitely on university campuses. Where have we made a mistake? Because I don't think that we can win unless we have the same clarity on Israel, a democracy fighting for its life, attacked by genocidal terror."
Sen. Jeanne Shaheen, a New Hampshire Democrat who co-led the U.S. delegation to Halifax with Risch, said Biden and other world leaders had clearly condemned Hamas for the attacks, when the group and other Palestinian militants took some 240 people hostage. Everyone, Shaheen said, should denounce both anti-Jewish and anti-Muslim hate.
"I think it's really important for all leaders to condemn that kind of hatred, wherever it exists," Shaheen said, adding that "one of the things that we're seeing in the United States is that some of these emotions are so heated that it's really hard to have a respectful, reasonable conversation about what's happening."
Canada's minister of national defense, speaking on the panel alongside Shaheen and Risch, echoed the need to condemn hatred in all its forms before asserting that some pro-Palestinian protesters are motivated by sheer antisemitism.
"I'm seeing people who are marching on our streets who have never cared about Palestine," Minister Bill Blair said, "They don't care about innocent civilian lives, but they have a hatred in their heart and that hatred comes out."
When Canada's chief of defense staff, Gen. Wayne Eyre, led forum participants on a 5K run at sunrise on Sunday, the group returned to see three silent protesters holding a sign that read, "You cannot run from the souls of those you've slaughtered."
By the time the conference concluded that afternoon, hundreds of demonstrators had gathered in a park across from the hotel, chanting slogans and waving Palestinian flags.
Mouaz Moustafa, executive director of the Syrian Emergency Task Force, a D.C.-based advocacy group that opposes the current Syrian government, said there should always be moral clarity when it comes to any kind of bigotry or racism.
"It should be clear that anyone who is antisemitic, anyone who's Islamophobic, that is bad," Moustafa said in an interview. But he challenged the logic of comparing Israel to Ukraine, which has not killed Russian civilians in response to Russia's invasion.
Moustafa was born in Damascus to a Syrian mother and Palestinian father before moving to Arkansas as a teenager. He said he was the only Palestinian among the participants invited to the forum – a claim event organizers confirmed.
"No one said, 'Don't go and get the bad guys,' " Moustafa said. "We're just saying, 'Don't kill a bunch of babies in pursuit.' That shouldn't be a tough thing to ask. It really shouldn't. And that shouldn't be controversial, but it is controversial."
The forum's message on Ukraine and Israel – which closely mirrored Biden's message to the American people a month earlier – reflected not only the composition of its participants but also how quickly global sentiment has shifted, even as the Biden administration has stood behind Israel.
On Oct. 7, Biden expressed staunch support for Israel, saying, "We will not ever fail to have their back." On Nov. 10, Secretary of State Antony Blinken said, "Far too many Palestinians have been killed, far too many have suffered these past weeks, and we want to do everything possible to prevent harm to them and to maximize the assistance that gets to them."
Barak, a political moderate who as prime minister advocated for peace between Israelis and Palestinians, told The Spokesman-Review he was mindful of the political pressure Biden faces from voters who question the arms and other support the United States provides to Israel.
"We are aware of the fact that the president is entering an election year," he said in an interview. "We are aware of the fact that from the progressive rank of the Democratic Party, there are certain reservations. Even Trump expressed certain kinds of questionable positions about this conflict. … But I think that the events – especially the pictures of what happened – left an impact on many Americans as human beings."
---