100 years ago in Eastern Washington: A rum-running bust in Ferry County led to several bombshells about the illicit industry up north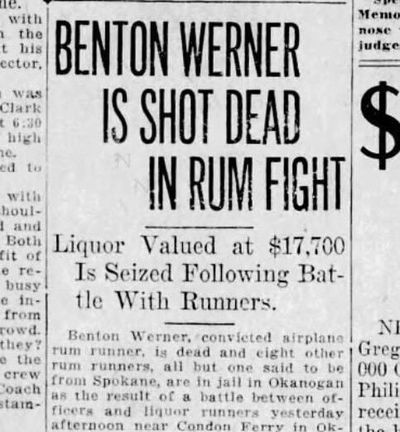 Several sensational new developments emerged from the investigation into a running gun battle with bootleggers in Okanogan County, which resulted in one death and eight arrests.
Here's what had come to light:
One of the eight bootleggers captured was O.J. McCullough, a former Ferry County deputy sheriff. He had served during the tenure of former Sheriff Thomas Barker, who was currently doing time at McNeil Island for aiding and abetting bootleggers.
One of the bootleggers pulled aside the Okanogan County sheriff after his arrest and said he had "paid $500 for safe passage." The sheriff rebuffed him.
The rum runner who had been shot dead was in fact Benton Werner, a convicted airplane rum runner. He had previously been falsely identified as "Sterling."
Werner was shot in the head by the Okanogan County sheriff after Werner "attempted to make his escape by running away from his stalled car."
Werner and his wife had previously told acquaintances that they had paid $3,000 in protection money to assure "safe convoy" for auto caravans of liquor from the Canadian border.
All of the other seven men arrested were from Spokane, but they gave what appeared to be assumed names. The captured cars were found to be either stolen, or fitted with stolen plates.
The Spokane Daily Chronicle took credit for "paving the way" for the raid with a series of articles exposing the Prohibition enforcement problems in Ferry County and elsewhere.
The Colville Reservation superintendent said, "Those articles apparently have borne fruit in stimulating local and federal officials to greater activity in running down the rum runners."
---