Iconic Eateries: Dolly's Café, Spokane's beloved staple, reopens with a fresh spirit and 60 years of cherished hospitality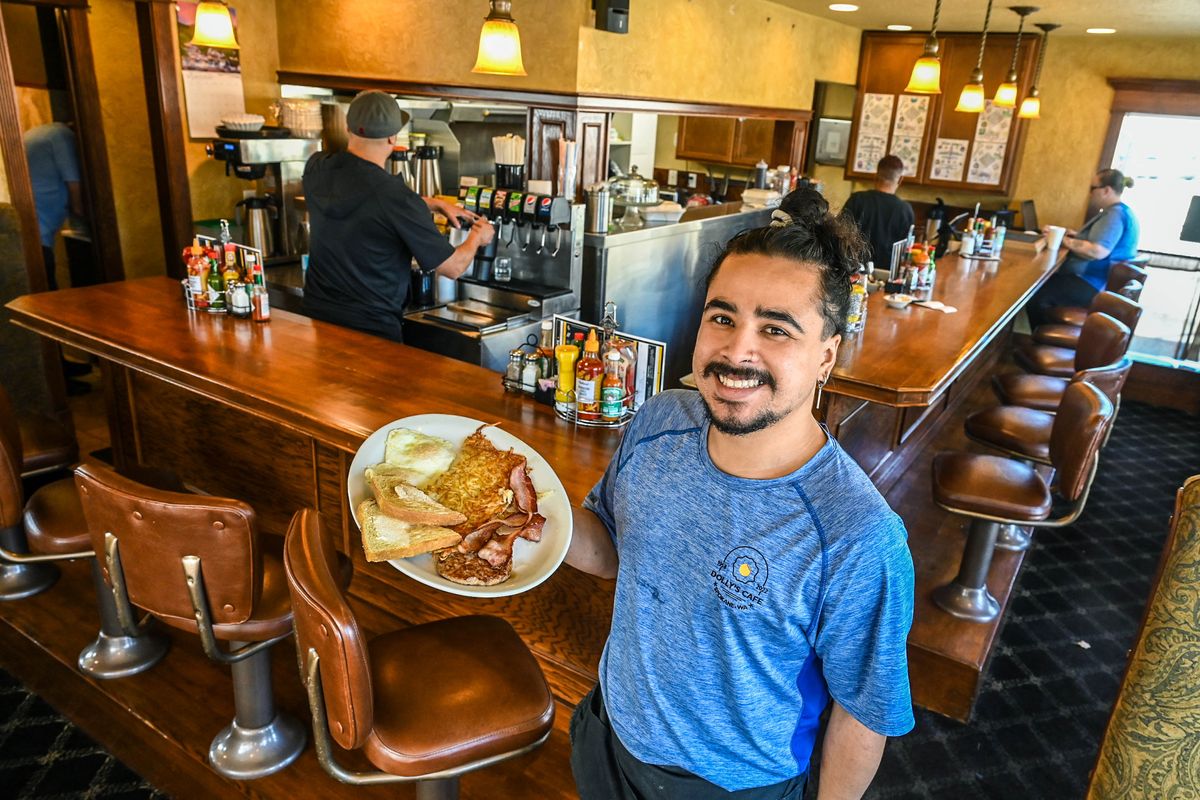 Dressed in a fresh coat of paint and a shiny new sign stands a piece of Spokane's history for the past 60 years.
On the corner of Washington and Indiana lies the small, 47-seat Dolly's Café opened in 1958 by owner Dolly Muller. She was famous for her pie baking and made them for many of the hotels around Spokane. Muller would walk to Dolly's from her home four houses down the street. After less than a year of ownership on Jan. 8, 1959, Muller was hit by a drunken driver crossing the street.
The café was created to be a space for community and breakfast and has stood as a consistent staple of Spokane history.
The retired owner, Desiree Olsness, was at the helm of the Café for 30 years while maintaining Dolly's name. After years of serving the community, Olsness decided to pass on the legacy to current owners Nicole Derose and Luae Benlitifah after putting Dolly's up for sale in the summer of 2022.
"It's a stamp of Spokane's history. We bought it to keep it here and running for generations," Benlitifah said.
Although the couple don't come from the restaurant industry themselves, they reached out to Spokane local Jory Hustad for help as an operations manager to reopen Dolly's. Hustad has been running restaurants in Spokane for the past 11 years. He attended North Central High School and ate at Dolly's often during his time as a student.
"I jumped in on that opportunity because Dolly's was closed, and I didn't want to see it go away. And it's been super fun to be a part of a Spokane staple," Hustad said.
The couple alongside Hustad worked closely with previous owner Olsness to maintain what customers knew and loved about Dolly's.
"We tried to keep as much of the integrity as possible," Hustad said. "But then we're putting our little stamp on it."
The new owners took notes from Olsness who broke down the inner workings of Dolly's for them. They made sure to implement her advice to make sure the cafe stayed the same at its core. From hiring the right people to keep the familial atmosphere, and maintaining most of the menu, to knowing each regular customer on a first-name basis and what they like and dislike.
"We tried to keep the menu similar and looked at prior sales. We made sure like 90% of the popular items that were sellers stayed and added things that had good feedback from our chef and operations manager," Derose said.
The menu featured classic diner fare such as egg dishes and pancakes for breakfast, and hamburgers and sandwiches for lunch and dinner.
Two main aspects stuck with Hustad that Olsness explained about Dolly's Café and the atmosphere that people love about it.
"I think the biggest that stuck with us is providing that customer service atmosphere of you're at grandma's house for breakfast, and then she just said to put extra care in the food, because that's what's gonna keep people coming back and she was right," he said.
Since taking over ownership the couple has made renovations to the restaurant to maintain it and bring it some new life. With the building freshly repainted and fixed up, a few changes have made their way inside of Dolly's. The new owners plan to pay homage in the future interior of the restaurant to its founding owner and Spokane history.
"Between her (Olsness) and Dolly's grandkids, we're going to be getting photos of Dolly," Derose said. "And when we redo the inside of this next year, we're going to want to put the history of Spokane but also why this was open in the first place."
The menu is a main update to Dolly's, with a new modern look with the same menu favorites. The owners wanted to have a narrower menu compared to the brochure menu predecessor to make it a little less intimidating and a bit more up to date.
'Kind of like modern with the old school still, it's still intact," Benlitifah said.
Benlitifah knew that they made the right choice in purchasing Dolly's after getting the chance to hear the older generations' memories when coming back to Dolly's.
"They're coming back with memories of when they were kids or when their grandparents took them here. It was like generations of generations of people around me that I didn't even know that have been here," Benlitifah said. "For me, it felt like we did the right thing when we picked it up and kept it as is because it really impacts a lot of people."
Staff member Adrian Amaya spoke of the many regulars coming back to Dolly's for its reopening as well as new customers coming to check out the café for the first time.
"Some old ladies that used to come in here as high schoolers talk about just kind of the old Dolly's, and how fun it was and how we're trying to keep that atmosphere here," he said.
The old regulars are transitioning well and new people who haven't been to Dolly's at all are coming to check it out now that it's reopened. It's both sides of the spectrum, Amaya said. "They're always full and happy," he said.
Generations are enjoying the nostalgia of Dolly's reopening just like Hustad, who grew up going to Dolly's. He reminisces on the atmosphere the restaurant has always had.
"I just remember going there all the time and just thinking, every time I came in here it's like you know everybody for years," he said, "So when I hired people, I was looking for people that were just going to do that same thing."
Hustad attributes this atmosphere to previous staff at Dolly's, specifically server Travis Schueller, who now owns local spot Travy's Waffles Plus with his partner Gabe. He wanted to hire people like Scheuller, who made customers feel like a family member was taking care of them and making them food.
"Even if you hadn't been there for a few months you walk in, and they remember you like, 'Hey Jory, good to see you. Do you still want your black coffee?' " Hustad said.
The new Dolly's café has yet to officially host a grand reopening. Owners plan to host an event in the upcoming months alongside a grand reveal of a new mural on the side of the building. They plan to host events to further support the community that has given Dolly's so much support during its reopening.
"As long as the two owners that I work for own that place, Dolly's isn't going anywhere," Hustad said.
---