Kyiv downplays lack of Ukraine aid in new U.S. spending bill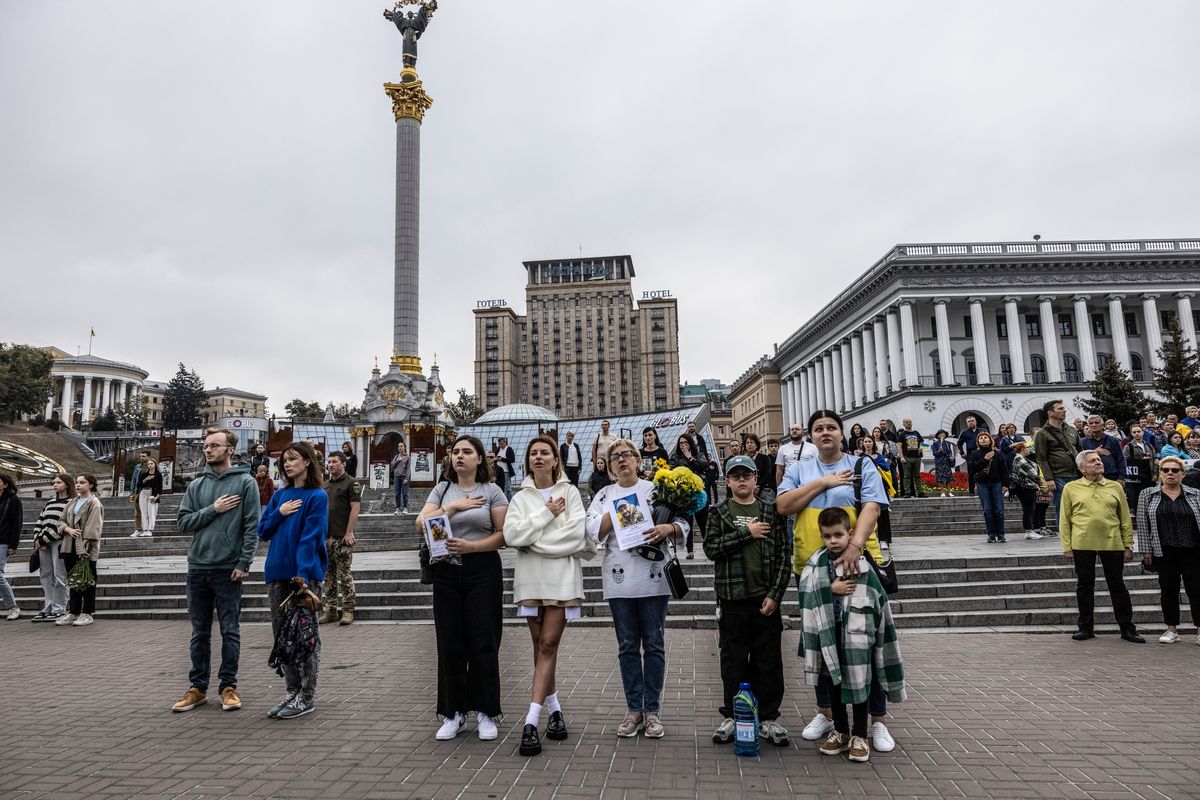 KYIV – Ukrainian officials are insisting that aid to their country is not in jeopardy, despite concerns over a new U.S. spending bill that excluded some $20 billion in assistance for Kyiv.
"There are funds," Ukraine's ambassador to the United States, Oksana Markarova, wrote on Facebook after the vote Saturday in Congress to approve the measure and avoid a government shutdown.
"The government will work, so there is no threat to the supply of previously approved weapons and equipment," she said. "There is time, there are resources and, most importantly, there is bipartisan and bicameral support for Ukraine."
Foreign Ministry spokesman Oleg Nikolenko also said Sunday that support for Ukraine "remains intact" across the administration and both houses of Congress. "Ukrainian authorities are now actively working with American partners to ensure that the new U.S. budget decision, which will be worked on over the next 45 days, includes new funds to help Ukraine."
The bill was passed late Saturday as a stopgap measure to fund the federal government through mid-November. But Republicans in the House, some of whom are opposed to President Biden's Ukraine policy, stripped the bill of a provision that would have earmarked billions of dollars in military and other aid for Kyiv.
The move was a potentially ominous sign that bipartisan U.S. support for Ukraine could be wavering, even as Ukrainian forces fend off a Russian invasion. It also comes at a particularly vulnerable time for Kyiv, which has struggled in recent months to regain territory from Russia, stoking fears at home and abroad that the war has settled into a grinding stalemate.
"We cannot under any circumstance allow America's support for Ukraine to be interrupted," President Joe Biden said Sunday, speaking from the White House. He said there was an "overwhelming number of Republicans and Democrats in both the House and the Senate who support Ukraine."
Biden had requested a funding provision that included $13 billion in new military aid and $8.5 billion in economic, humanitarian and security assistance for Ukraine and other countries affected by the war.
Defense Secretary Lloyd Austin also weighed in on the bill's passage late Saturday, urging Congress "to live up to America's commitment to provide urgently-needed assistance to the people of Ukraine as they fight to defend their own country against the forces of tyranny."
Ukrainian officials said they were reassured by the public support from the White House, Pentagon and other allies in Congress, and that they understood the United States was heading into an election year.
"Here in Ukraine, we do understand very well that the election process in the United States has begun," said Roman Lozinsky, a Ukrainian lawmaker who has also served in the military since the war started in February 2022. "And as a result of this, different decisions on the support of the partners could be made, for Ukraine in particular."
"But we are convinced that Ukraine on the battlefield proves what the struggle for democracy really is," he said. "I believe that the United States, as a real leader in spreading of democratic principles in the world, will not take any steps back in support of Ukraine."
Nikolenko, in his statement on Facebook, also emphasized that a U.S. government shutdown would have been bad for Ukraine, disrupting other assistance programs, such as those overseen by the State Department.
But for others, the growing politicization of aid for Ukraine marks a worrying shift, one that could cripple its fight against Russia, or send the Ukrainian economy into a tailspin.
"Congressmen are deciding to throw Ukraine under the bus while aid to Ukraine is probably the best-in-history return on investment of U.S. foreign policy," said Daria Kaleniuk, executive director of the Anti-Corruption Action Center in Ukraine, who has frequently met with Washington lawmakers to lobby for more aid.
She also appealed to what she said were American "values."
"America was built on values, which are universal for all human beings, and we in Ukraine die for these values," Kaleniuk said. "This morning, I understood that values mean nothing now for many U.S. politicians. What is more important for them is to stay in power at whatever cost."
To add insult to injury, the decision to exclude Ukraine funding from the bill came less than two weeks after Ukrainian President Volodymyr Zelenskyy traveled to Washington to court U.S. support.
During the visit, U.S. House Speaker Kevin McCarthy (R-Calif.) denied Zelenskyy's request to address a joint meeting of Congress – and the two leaders ended up meeting privately.
"Zelenskyy's recent visit to the United States did not seem successful enough," said Artem Bronzhukov, a Kyiv-based political analyst.
Zelenskyy had recently expressed concerns that foreign aid to Ukraine could sharply decline as the war drags on.
In an interview with a Ukrainian television channel in August, he said, "Ukraine needs to grow up and understand that at one point or another we may find ourselves alone, because one or another partner may break away due to internal processes, or even due to elections in their country."
"It's a big risk that we will be left alone," he added.
- – -
Heidi Levine contributed to this report.
---