Why 'Frasier,' now 30, is the great Seattle sitcom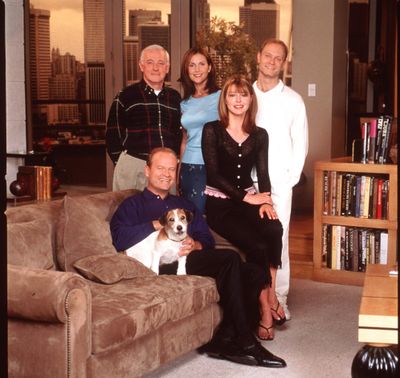 During the course of the TV show "Frasier," its main character was described as pompous, loquacious, overanalytical, pushy, pretentious, bossy, huffy, vain … and those are just the words used by his loved ones. And yet radio psychiatrist Frasier Crane – played by Kelsey Grammer first on "Cheers" and then for 11 seasons of "Frasier," the first of which premiered 30 years ago this month – remained utterly, bewitchingly lovable: a sherry-swilling, opera-loving, cashmere-blazer-wearing aesthete whose problems were, at heart, the same as anyone's. Ultimately, he was looking for love, for connection with his family, for friendship, and if he occasionally stumbled while finding those things, he nonetheless never stopped trying.
"Frasier," on NBC from 1993-2004 and currently streamable on Hulu and Paramount+, is one of the great sitcoms for the usual reason: It was very, very funny. Its splendid ensemble cast – Grammer, David Hyde Pierce as Frasier's brother Niles, John Mahoney as their retired-cop dad Martin, Jane Leeves as Martin's home health worker Daphne, Peri Gilpin as Frasier's producer Roz – all handled comedy as smoothly as Frasier intoned his catchphrase "I'm listening." These actors sparked off each other, in fast-moving farces or quieter character moments. In the way of great TV shows, you felt a sense of friendship between them – that these people had bonded, both as actors and as characters, and were enjoying the interplay as much as we did.
But there was something deeper to the show: a multiseason love story. I'm not talking about the romance between Niles and Daphne; that one, a delight for so many earlier seasons (Pierce moons so beautifully), sadly lost steam in the last few seasons when the pair finally got together – a typical fate for a long-teased-out will-they-or-won't-they. No, the one that matters is the one between Frasier and Martin, a worlds-apart son and father who began the show at odds, and ended it in loving acceptance. Each initially a mystery to the other, these two characters made their way through a lovely arc that ends, in the final episode, with Martin speaking the heartfelt "thank you" that Frasier desperately wanted to hear in the show's premiere. Martin may never remember to use a coaster, and Frasier may never understand sports terminology, but the 11 seasons of the show brought father and son together, a development made all the more moving for its deliberate pace.
Re-watching "Frasier," you're struck by how very well Frasier Crane lives – has any man on television ever had so many dressing gowns, each of them impeccable? Or been so enamored of expensive hand towels? If that lavish life seemed a bit much for a part-time local radio personality, well, it was never clear how Carrie Bradshaw afforded her brownstone either. But watching "Frasier" taught us things. Do not fold cashmere (you'll misdirect the nap). If someone wants coffee, bring out an elaborate tray with a full coffee service. Wine is best enjoyed accompanied by parliamentary procedure. If you don't like some of the ingredients in your muffin, remove them with tweezers. ("Away, wrinkly thing!" sniffed Niles while doing so.) Re-season your crepe pans every year.
And though it only filmed here once (for the show's 100th episode), "Frasier" is the great Seattle sitcom. Frasier, Niles and Martin are all born-and-raised Seattleites; Frasier's '90s-chic apartment overlooks the Space Needle, and Martin reads real copies of the Seattle Times in his battered recliner. Seattle is shown as a city of art, culture and caffeine, with all of the characters spending a great deal of time having coffee at Café Nervosa. I've never quite sorted out Nervosa's business model (you order at the counter, servers bring coffee to your table, and maybe you pay later?), but it's a place that would fit in nicely on any Seattle street.
While a few aspects of the show have dated, "Frasier" is still a delightful re-watch. I've no idea what to think about the upcoming reboot of the show, premiering Oct. 12 on Paramount+, in which Frasier has returned to Boston to be near his now-grown son Freddy (an opposite-coast funhouse mirror of the original "Frasier" premise), except that the idea of Frasier without Niles just seems wrong. (Pierce won't be participating in the show.) Without Niles, whose symphonic fussiness almost makes Frasier seem like a regular guy, it's hard to imagine Frasier existing. While Frasier can and did go home again, I'm not sure that "Frasier" can, but we shall see.
In the meantime, while we wait, I took on an impossible task: making a list of my 10 favorite "Frasier" episodes. A list of 30 might have been doable; whittling it down to 10 required the sort of ruthlessness that Frasier's deliciously amoral agent Bebe (Harriet Sansom Harris) routinely displays, and you may well find your own favorites missing. But that's the sign of a great show. Happy anniversary, "Frasier"; we're listening.
1. "The Good Son" (Season 1): Most shows take a while to find their tone; "Frasier" had it right from the start, with a delightful premiere episode that's so silky smooth you'd think it had been running for years.
2. "A Mid-Winter Night's Dream" (Season 1): The first of many great Niles-loves-Daphne episodes, this one features a stormy night, candlelight and the immortal line, "Dr. Crane! Your glockenspiel has sprung to life!"
3. "Moon Dance" (Season 3): Every list of great "Frasier" episodes includes this charmer, in which Daphne teaches Niles to dance and poses as his girlfriend at a ball. Pierce's performance, when Niles realizes that Daphne is only pretending to be in love with him, will quietly break your heart.
4. "The Two Mrs. Cranes" (Season 4): Daphne's old flame Clive shows up, and instantly a web of wonderfully silly intrigue is spun, with Roz posing as a sultry-eyed Maris and Martin as an astronaut. (Maris Crane, by the way, could well be TV's greatest unseen character; "like the sun, but without the warmth.")
5. "The Ski Lodge" (Season 5): The classic "Frasier" bedroom farce: a perfectly conducted orchestra of door-slamming, bed-switching, lustful gazing and missed connections.
6. "Room Service" (Season 5): The great Bebe Neuwirth, as Frasier's frosty ex Lilith, made many appearances on this show; my favorite is this one, in which Lilith wakes up in bed with Niles and complications ensue (particularly with the wonderfully arch room service waiter).
7. "The Zoo Story" (Season 5): Frasier's feral-eyed agent Bebe – described by Niles as "Lady Macbeth without the sincerity" – was always a joy; this episode earned my pick for the impeccable spin she puts on her final line: "Oh darling, there's always a chance."
8. "Merry Christmas, Mrs. Moskowitz" (Season 6): Another great door-slamming farce (and one of many great Christmas episodes), in which Frasier pretends to be Jewish to appease a date's mother and Niles shows up wearing – well, you have to watch it.
9. "Radio Wars" (Season 7): My favorite detail in this laughfest, in which a new duo at the radio enjoy playing pranks on Frasier, is that we learn that Frasier has a "proprietary blend" of bath salts ("jasmine, lavender, rose hips and a little Tahitian vanilla").
10. "Daphne Does Dinner" (Season 10): Daphne, now married to Niles, officially becomes a Crane with a dinner party in which everything goes spectacularly wrong.
---