St. Luke's leader saw rise of regional rehab hub from the start Thirty years ago, a stream of caregivers walked outside to bring patients in wheelchairs down the hill from Providence Sacred Heart Medical Center to a newly formed joint regional rehabilitation hospital.
Nancy Webster can describe that September day, because she already was employed as a recreational therapist at the rehab center months before it was called St. Luke's. In 1994, she also was among those witnessing a rare venture between rival hospitals.
Sacred Heart and Deaconess leaders joined forces to create a long-term rehabilitation facility, today's Providence St. Luke's Rehabilitation Medical Center. They began Inland Northwest Health Services, now disbanded, to manage the rehab center, an air ambulance service, a then-shared electronic medical records system and other programs.
At St. Luke's helm the past seven years, Webster hasn't forgotten that humble start.
"This building for a very short period of time – one year – was Deaconess Rehab Institute," said Webster, St. Luke's chief operating officer. "I've definitely been here since the opening of the doors, so to speak." But that early Deaconess name didn't get out into the community, she said, before the joint effort under the St. Luke's name.
"It was quite a feat to bring two hospitals together. It was amazing to watch it happen because you had two very different cultures merging together but with the same passion to provide rehab care.
"They literally brought patients in their wheelchairs, wheeling them down – the ones that didn't need an ambulance – to come over here. So you saw this stream of therapists, patients and nurses coming down the hill."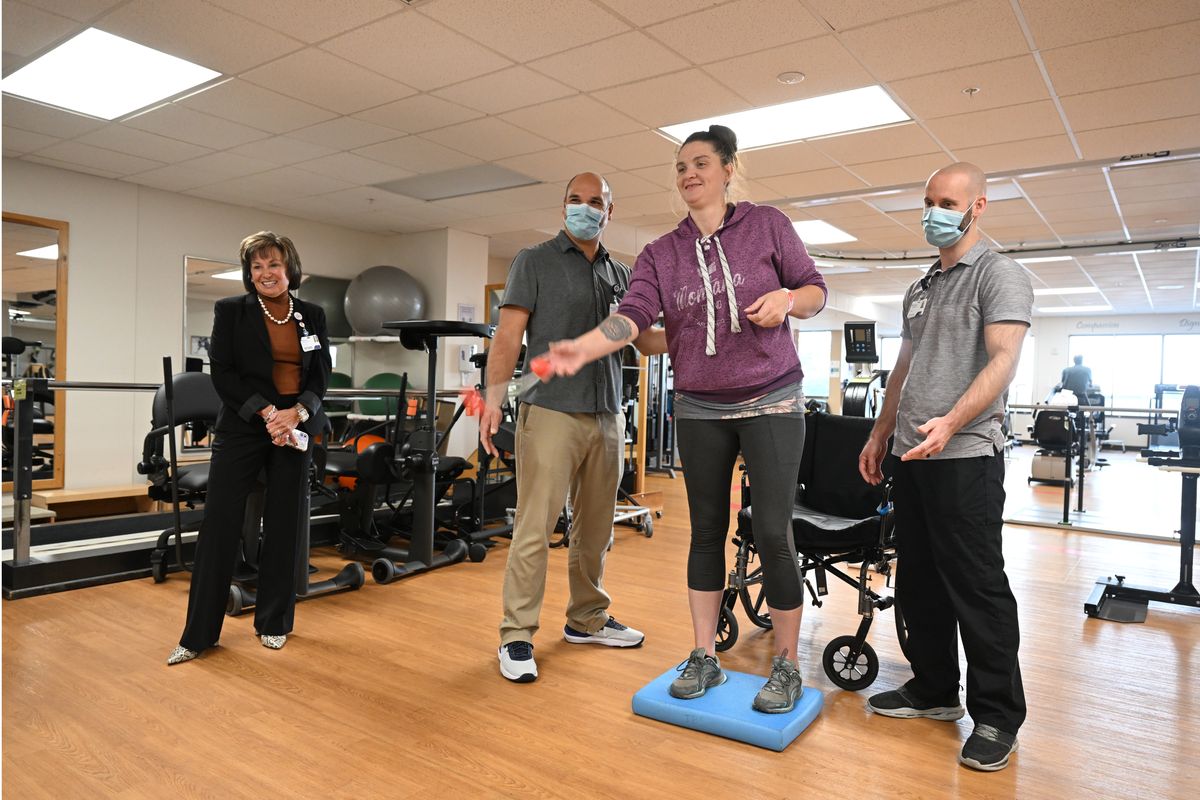 In 2011, Deaconess severed its partnership stake in INHS. Then in 2016, Northwest Medstar as an INHS-run nonprofit air ambulance company was integrated into the Oregon-based Life Flight Network. INHS as a governing body began to fade into history.
"We wholly integrated into Providence in January of 2020," Webster said.
St. Luke's had grown into a regional hub, she said. It is the Northwest's largest freestanding inpatient rehabilitation center for patients recovering from strokes, amputations, and injuries of the brain and spinal cord. The facility also provides outpatient rehab there and at other locations.
At the site, there are outpatient clinics for pediatrics, cardiac-pulmonary and an adult clinic for therapy two or three times a week. State-of-the-art rehabilitation equipment fills a therapy gym and other spaces. It also has an area called "Community," with real-world environments such as a vehicle so patients can work with therapists on returning to daily activities.
It runs three external clinics at Providence Medical Park in Spokane Valley, Providence Urgent Care that's focused on injured workers, and the Holy Family Hospital campus. Also, it has therapists based at Sacred Heart and Holy Family.
St. Luke's still takes patients discharged from all of Spokane's regional hospitals, including Holy Family and MultiCare's Deaconess Hospital and Valley Hospital. The patients arrive typically after specialists determine they can tolerate three hours a day of therapy exercises.
Other patients come from Oregon, Wyoming, Alaska and farther away, Webster said.
In 2022, St. Luke's cared for 9,139 patients in both inpatient and outpatient care. It had 1,093 hospital admissions last year, and 71,026 outpatient visits that considers multiple appointments. St. Luke's has 440 full-time equivalent employees, she said.
Webster, despite her long career in rehabilitation, initially wanted to be a park ranger.
Growing up in Pennsylvania, she enjoyed the outdoors, hiking and camping. She followed her high school sweetheart to the University of Idaho. Wrapping up her freshman year, Webster got tapped by an instructor to chair a Special Olympics basketball game.
"I fell in love with working with people with disabilities," she said. "That's when I switched from outdoor recreation to therapeutic recreation."
Webster was a recreational therapist at Spokane nursing homes before the couple moved to Arizona, where she worked at a hospital. They returned to Spokane in 1993 with two young daughters. "I'm now divorced, but at the time we had children, and we wanted to raise them here."
At St. Luke's, she transitioned into manager positions until becoming COO in 2017.
She often goes to St. Luke's by 6 a.m. once a week to see night crew workers. With a goal to greet other caregivers, she'll walk the grounds once or twice weekly, covering such areas as three inpatient units for brain injury, spinal cord and neuro-stroke care. Webster often calls them by name and acknowledges a new marriage or extra shift.
She'll also show visitors a wall of history panels, describing when the facility in 1975 was St. Luke's Memorial Hospital, then a general hospital, with roots back to 1900 at another location. It held Spokane's first nursing education program.
Today, St. Luke's applies a team multidisciplinary approach, she said, as patients see nurses, physical therapists, speech therapists, occupational therapists and physiatrists, who are doctor specialists in physical medicine and rehabilitation.
Under Webster's watch, St. Luke's in 2021 launched its Physical Medicine and Rehabilitation residency program for training physiatrists in direct patient care.
She said one major change between now and 30 years ago is, literally, the length of patient stays.
"Patients used to stay in rehab for six months to a year when I first started, and insurance payers and Medicare would approve for patients to stay that long," she said. "We are now on an average length of stay of 12 to 14 days for patients in rehab, so that's a big change."
Reasons that patients go home sooner include better technology and health care efficiencies, and even the surgeries and interventions before rehabilitation, such as for strokes. Today's rehabilitation can focus on what's best for a patient, she said, such as transitioning to home health services or outpatient therapy.
In her free time, Webster enjoys being around family that include four grandchildren, ages 3 to 9. She still loves to go boating, camping and walking.
She plans to stay at St. Luke's at least two more years – or longer – to help tackle challenges such as today's nursing shortages. She gives credit to the center's caregivers.
"The one thing I would say is how amazing St. Luke's is," she said. "Just watching the clinical expertise within our walls … we have amazing outcomes. Truly, I think St. Luke's is a top-notch rehab facility within the nation."
---