A Grip on Sports: The Seahawks give us a peek at the future while playing like a great team from their past A GRIP ON SPORTS • Ten years ago, we sat, mesmerized, as the Seattle Seahawks bludgeoned their way to a Super Bowl title. Their formula was simple. A turnover-forcing defense featuring lots of pressure, along with an offense that controlled the clock and the ball. Oh, and penalties. Lots and lots of penalties.
•••••••
• Seem familiar? If you watched last night's 24-3 win from the Meadowlands, it should. Pete Carroll seems to have borrowed Doc Brown's DeLorean and taken his entire team back to that golden year. For at least one night. Because, as we all know thanks to one play at the end of the next Super Bowl, no one can predict what the future will hold.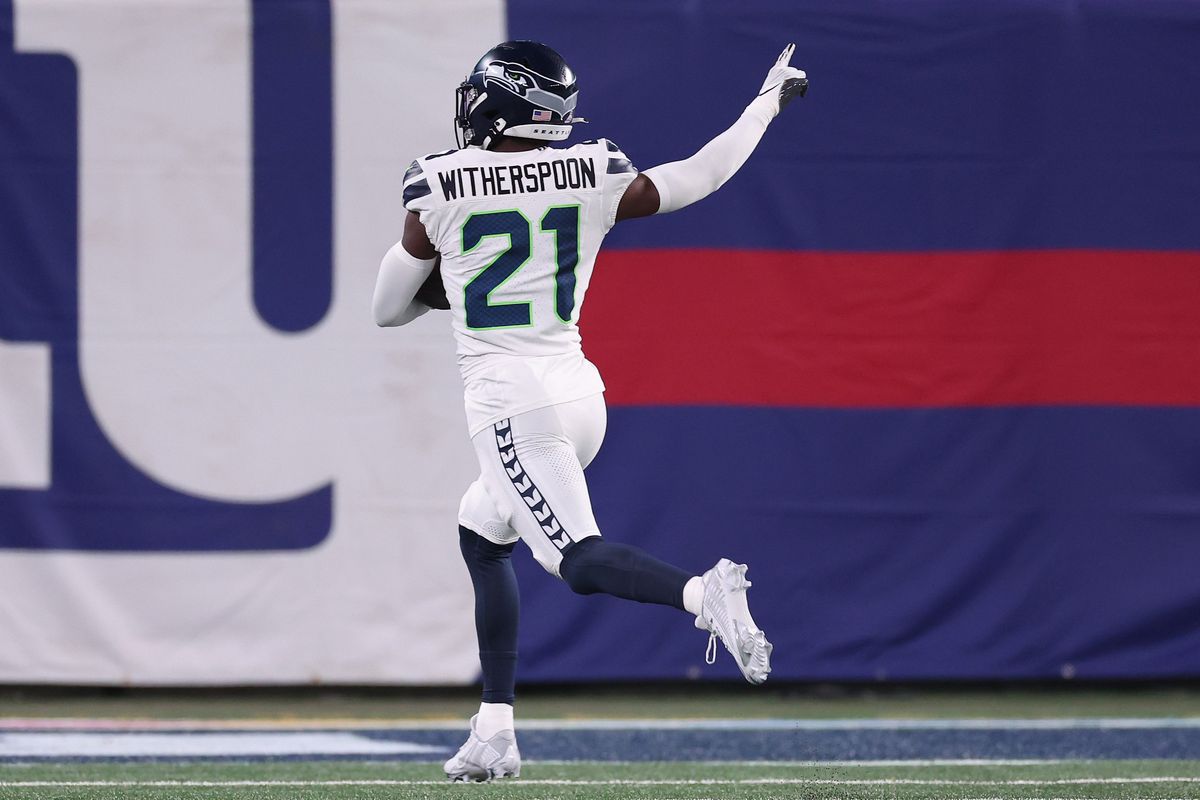 For one night, though, we can marvel at the super-hero play of the defense, from Devon Witherspoon's precociousness at the nickel, to Bobby Wagner's steadiness at linebacker to Jarran Reed's stoutness up front.
The Hawks looked like something Monday night. Something we've seen before. And, in some areas, something we've never experienced. Or not in a long, long time.
How often has the franchise featured a quarterback who seemed ready to fight everyone in the building, from the Giants' embarrassed defensive backs to their coaching staff to, heck, that guy from Hoboken in the stands who just hoping to catch a glimpse of Taylor Swift.
Like the Giants, who thought they could intimidate the Hawks by getting physical with their quarterback, he was off by just a day or two. That quarterback is no longer in town. The one holding the Hawks' reins now is a feisty son of a gun. A guy who spent years wandering the NFL wilderness and is not about to let some cheap tackle go unnoticed. Not when it could easily cost him – and his team – a bright future.
Geno Smith got angry. And found out if you point twice at the opponents bench, you suffer the same penalty as thrusting your hips in celebration. Who knew referees count such things? But the 15-yard unsportsmanlike conduct penalty showed Smith's character. A character shared with Carroll. And most of this year's team.
They may get beat – L.A. has already shown that – but they are going to stand up and fight. Fly around. Talk trash. Smash you.
Sound familiar?
• Want to know where Monday's game was won? On the offensive line. Weird, huh?
Both teams came in with starters out. By the end, not one of the Hawks' first week starters were in the same position they played against the Rams. (Center Evan Brown was the only starter on the field and he was playing guard.) The Giants were in a similar boat.
But one team gave up 11 sacks. The other? Two – one on the first series. Why? Seattle offensive coordinator Shane Waldron came up with interesting schemes, using tight ends and running backs – from, at times, unusual spots – to supplement the offensive line's effort. He tried to limit the number of times the tackles needed to win one-on-one battles. He focused on the run, called more screens and delays and did whatever he could to keep Smith safe. And that included using Smith's legs, until they were cut down from behind out of bounds.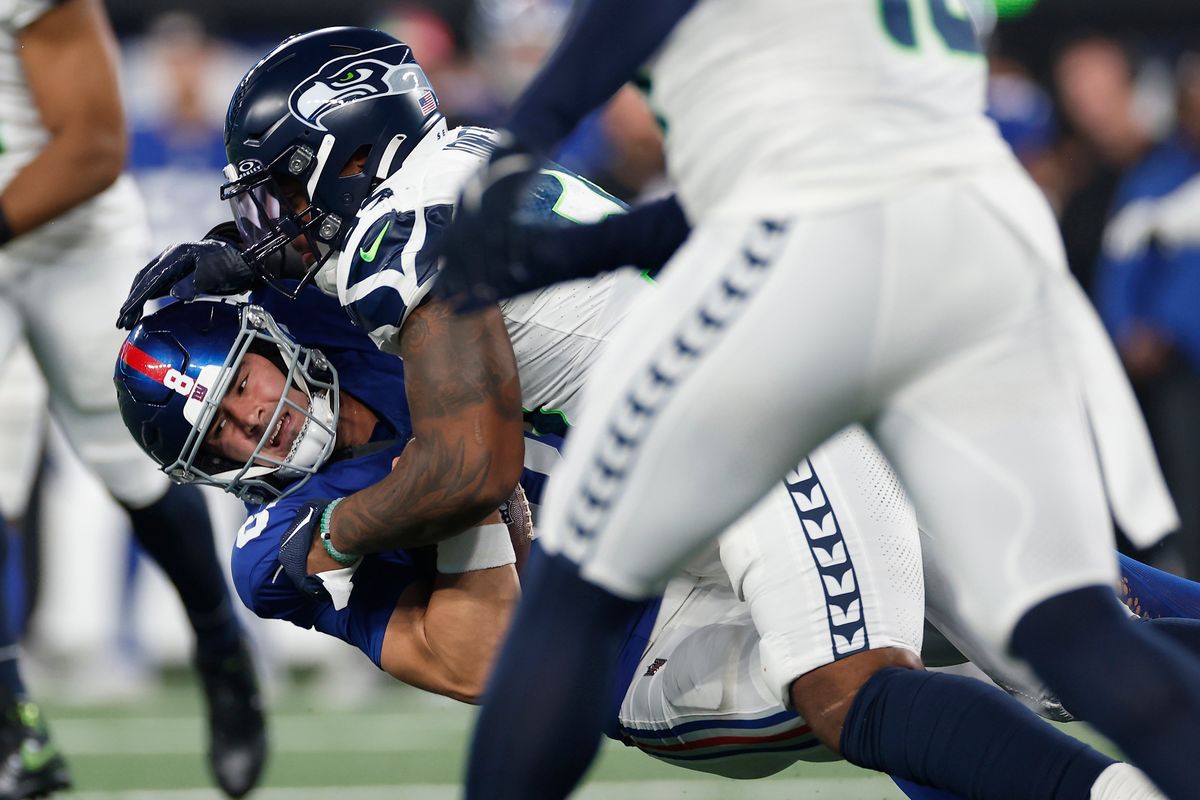 The Giants? It was almost as of Daniel Jones isn't well liked. The quarterback seemed to be alone out there at times. If a Hawk won their battle up front, they knew where Jones was and where he was going to be. Ten times – the 11th sack (tying a franchise record) was on a trick play – someone from the defense introduced themselves to Jones in the rudest manner possible. And then Giants' coach Brian Daboll would yell at him as Jones left the field.
How fun. Say what you will about Carroll, and we've been as vocal as anyone over the years, there is no way you'll see him yell at his quarterback as he leaves the field. Hug? Yes. Encourage? Sure. Yell at him behind closed doors? More than likely. But in front of millions? No way.
That part of him hasn't changed since long before 2013. And isn't changing now.
•••
WSU: These days in college football, all you can ask of anyone – players, coaches, administrators, janitors – connected to your favorite football program is that they stay focused on the here and now. Next year? That's then. Jake Dickert is no different. He reiterated his commitment to the now for Washington State yesterday as he addressed reports Michigan State may target him for its open head coaching position. A lucrative opening, more than likely. But Dickert is a Cougar this year, as Greg Woods tells us, and that's enough in 2023. … The here and now includes a trip to Pasadena to play UCLA in the Rose Bowl midday Saturday. Greg has his first look at the game. … It looks as if Lincoln Victor is getting better. That's part of this story from Greg. … Next week? The Cougs host Arizona. The game will be on the Pac-12 Network and start at 4 p.m. Greg has that news as well. … Former S-R employee Ed Condran has a travel guide to the Pasadena area for this week's game and it's worth reading. But it's been our experience WSU fans are probably more interested in beer pubs and hamburger joints (the Pie 'N Burger Ed mentions is about the size of Cd'A's Hudson's, so expect a wait). We're sort of out of practice concerning the beer joints but Lucky Baldwin's has a good reputation among folks we talk with. Now, hamburgers, we know. The best onion rings we've ever eaten are available at The Original Tops on Colorado, near Arcadia (east side of town). Greasy, sure, but so good. And so many. Charbroiled burgers are a thing in So Cal, so you should try one at Lucky Boy. There are two locations but we've only eaten at the one on Walnut. It was a high school hangout. The one on Arroyo Parkway has better reviews. Of course, you can't go wrong at In-N-Out, with the Pasadena store, one of the original five, located on Foothill Blvd on the east side of town. … Is UCLA's defense for real or have the Bruins played an easy schedule? Both could be true. … Elsewhere in the Pac-12 and the nation, Jon Wilner's power ranking of the conference's football teams in the Mercury News has Washington State third. … Wilner also has a Mountain West ranking as well. … Washington has talent, sure, but not as much as some other national contenders. … The Huskies have a bye this week as well, and then a showdown with Oregon at 12:30 on Oct. 14. Which means Kenny Wheaton. And John Canzano writing about the former Duck defensive back. … With UW needing an athletic director, Scott Barnes' name came up. The Oregon State AD says he's not interested. … The Beavers will be missing a couple folks this week. … When Colorado leaves the Pac-12, it will leave without ever having defeated USC. That's remarkable. And, no, Deion Sanders isn't the most famous college football coach ever. … The Utah defense is really good. The offense, not so much. And the injury report? Oh, boy, it's bad. … Arizona State has Colorado next in its attempt to avoid an 0-9 conference season. … Arizona's Jayden de Laura will start against USC if he's healthy. … In basketball news, Tommy Lloyd isn't about to forget Arizona's NCAA loss to Princeton last season any time soon. … Colorado uses its NBA alumni to help in recruiting.
Gonzaga: Nope, recruiting never stops. Theo Lawson has some news this morning. … If you want to attend Kraziness in the Kennel and need a ticket, read this. Before noon.
EWU and Idaho: Around the Big Sky, there was a Pac-12 game last weekend that featured a number of Big Sky alums on both sidelines.
Preps: Dave Nichols has a roundup of Monday's action.
Velocity: The soccer franchise has added some folks to its front office as consultants. That news kicks off the S-R's latest local briefs column.
Seahawks: Dave Boling focused in on Witherspoon's outstanding performance last night. And Dave found a lot to like, which he shares in this column. … Witherspoon, with a pick-six, was in the spotlight. … There is the game coverage as well from the Times. And some thoughts from the Giants' side of things, courtesy of the New York Post. … We couldn't find a lot about Jamal Adams' short night but we were interested. The poor guy is snakebit. … There are always grades. And things to learn.
Mariners: The playoffs begin today though we're not all that interested without the M's in play. … Not sure where we should have put this but our friend Christian Caple lost his uncle this week to ALS. This is by far the best thing we've read about Jim Caple's sports writing career.
Storm: Jordan Horston was named to the WNBA's all-rookie team.
Kraken: The power play is still a work in progress.
•••       
• We have an early flight tomorrow. Headed out to visit family. We will write if we can. As of now, we expect to have a column available but it hinges on aircraft wi-fi. We'll see. Until later …
---