'Everybody was a Cougar fan': Meet edge Malachi Wrice, WSU's newest commit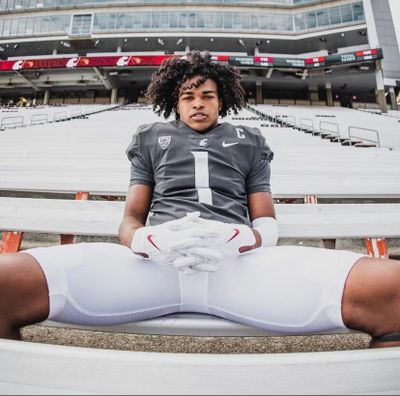 PULLMAN – As Malachi Wrice rode through the streets of Pullman, taking in the scenery on his official visit, the Washington State recruit couldn't shake one observation.
"You could tell everybody was a Cougar fan. There was no question about where you were at," Wrice said. "I think I'd seen a jersey almost everywhere I looked."
Wrice, an edge rusher from Oklahoma, was already off to a hot start to the weekend. A few hours later, he headed over to Gesa Field to watch Washington State take down Oregon State, the team's second ranked win in three weeks, and he liked that even more.
"I've never seen or been a part of anything like that," Wrice said. "It was something else."
On Friday, before Wrice took the field for McAlester High's home game, he called WSU coach Ray Brown with the news : Wrice was ready to become a Cougar.
He joined WSU's class of 2024 commits that day, and on Wednesday, he announced the news publicly.
Wrice, 6-foot-5 , does not have a star rating on 247Sports or Rivals. He fielded other offers from FCS South Dakota and D-II schools Central Missouri State, Central Oklahoma and East Central, also in Oklahoma.
"Nothing changed from the phone to in person," Wrice said, explaining why he chose WSU. "Really, everybody just showed so much love, and everybody seemed like a real genuine person."
How did WSU coaches become aware of a prospect in a small town in Oklahoma whose only other offers come from the FCS and Division II ranks? The credit for that, Wrice says, goes to defensive ends coach Frank Maile, who got in touch with Wrice via X, the social media platform formerly known as Twitter.
There, coach and player began messaging before beginning to text and FaceTime. On their first video call, Maile made Wrice an offer. Then they set up the visit.
"It was kind of surreal," Wrice said.
With his commitment, Wrice becomes the third edge in the Cougars' class of 2024, alongside Camden DeGraw (Coeur d'Alene; three stars) and Hyrum-Benjamin Moors (Kahuku, Hawai; three stars).
Wrice has totaled 28 tackles this season, including seven for loss, plus two sacks and a forced fumble, according to the McAlester News-Capital. He will join WSU tight end Andre Dollar as the only Cougars from Oklahoma.
"It's kind of like reality hasn't really hit me yet," Wrice said. "It's something I've always dreamed of and wanted, and I've kind of always thought of it that way – or like carried myself that way, and thought of myself that way. For it to actually, finally be here, it's kind of crazy."
In other recruiting news, WSU can expect a decision on Oct. 21 from Dylan Riley, a three-star running back from California who posted that he will share his commitment on that day.
A class-of-2024 prospect at Rancho Verde, Riley is set to visit WSU on Oct. 14, the day the Cougars host Arizona.
WSU has two more visits scheduled. On Oct. 28, the weekend of their road game against Arizona State, the Cougars will host Terrell Bradshaw, a three-star wide receiver from Inglewood, California. On Nov. 17, the day it hosts Colorado, WSU will welcome Zacharyus Williams, a 6-foot-2, three-star wideout from Gardena, California.
---